PRODUCTS UPDATE
Compiled by Jon A. Bell
START Associate Editor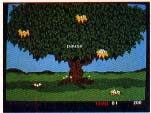 Crack'd.
New Games From Atari
Atari has just released two new ST games: one completely original, one an ST version of an arcade classic. Crack'd is the new one--a strange entertainment in which you have to protect a treeful of eggs from being devoured by an entire menagerie of hungry animals. Use your slingshot to zap the attacking animals (owls, snakes, rats and bats) while running around and catching falling eggs. (And they say computer games aren't realistic enough.)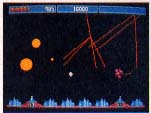 Missile Command.
Missile Command is finally here--the ST version of the nerve-wracking game that was a hit in both coin-op and Atari 8-bit versions. Protect your cities from incoming warheads by using your anti-ballistic missiles. You can fire from two missile bases, using your right and left mouse buttons to switch between bases. (Did this game predict SDI?) Crack'd, $29.95; Missile Command, $29.95. Atari Corp.,1196 Borregas Ave, P.O. Box 3427, Sunnyvale, CA 94088, (408) 745-2000.
Plotter Software for Drafix/1
Foresight Resources, makers of the Drafix/1 CAD package for the ST has just announced a companion product--DotPlotter, a software package that allows high-quality Drafix output on dot-matrix, ink jet and laser printers. The company promises that the output is comparable to that produced by expensive pen plotters. DotPlotter also comes with built-in drivers that support a wide variety of pen plotters for professional ST users. DotPlotter, $45. Foresight Resources Corp., 10725 Ambassador Dr., Kansas City, MO 64153, (816) 891-8018.
Switch Back
Switch Back, a new utility from Alpha Systems, is a combination hardware/software package that allows you to swap between your ST programs, back up programs or go back to a previous point in a program. You can save a game at almost any point (and return to that point at any time), load two or more programs into your ST and switch between them as often as you like. The Switch Back hardware plugs directly into the printer port on your ST (and it includes a pass-through connector for your printer). Requires one megabyte of memory. Switch Back, $69.95. Alpha Systems, 1012 Skyland Drive, Macedonia, OH 44056, (216) 467-5665.
Stop That Static
If you have a problem with static electricity (which can give you glitchy computer performance or even destroy your disks), then EDP Staticide may be the solution. Staticide is a pump-action spray designed especially for static-sensitive computer and electronics user environments. It's non-flammable, nonstaining and helps to prevent dust attraction. Staticide, $4.95. ACL Incorporated, Elk Grave Village, IL, 60007, (312) 981-9212.
Home Construction Estimation
There are two home construction estimation programs for the ST: Ashment's House Estimator, a commercially available program, and Michael O'Massey's Construction Estimator, which is available as shareware.
Ashment's House Estimator does 70 types of automatic estimates of home construction costs, and features full GEM operation. The program has drop-down menus, onscreen help, graphic status boards (up to 80 different supply/cost categories) and sequential or random estimating modes. Ashment's House Estimator, $49.95. Michael Ashment Building and Software, 5809 Bennion Drive, Salt Lake City, UT, 84118, (801) 966-5187.
The Construction Estimator is designed to be used in conjunction with the Ashment program. Construction Estimator allows you to input your material sizes and costs per unit and then calculates the overall costs in a spreadsheet format. It also allows you to print out costing sheets for everything you may need for your new home--roofing materials, doors, windows, bathroom and kitchen figures, flooring and the like. The program is available from CompuServe and GEnie; just go to the Business Library on CompuServe and download ESTIMATE.PRG. On GEnie, you'll find it in Library Six under the name ESTIMATE.ARC (you'll have to decompress the file with ARCX.TTP). Its file number is 6119.
If you already have the program, you can get the documentation from Michael O'Massey for $15; if you need both the program and manual, they're available for $25. Michael O'Massey, 9910 U.S. North, Reno, NV 89506.
Customized Hard Disks
If you need a hard disk tailor-made for your ST system, then talk to Megabyte Computers of Webster, TX. They'll design a hard disk system to your specifications, including a battery-backed clock, three foot connector cable, 60 watt power supply, LED power indicator, formatting and parking utilities, daisy-chaining capability (extra DMA ports) and more All of their hard drives come with a one year parts and labor guarantee, and if you want a specific brand of hard disk mechanism for your system, Megabyte will be happy to accomodate you. 20-megs, $549; 30-megs, $669; 40-megs, $849; 60-megs, $949. If you want a 5 1/2-inch floppy added, add $125; to add a 3 1/2-inch floppy, add $135. Megabyte Computers, 109 W. Bay Area Blvd., Webster, TX 77598, (713) 338-2231; (800) 255-5786.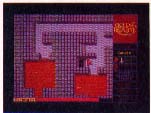 Gold of the Realm
Gold of the Realm
Gold Of The Realm is a new graphic adventure game from Magnetic Images, makers of ST fonts and clip art. Realm author David Lindsay, an award-winning computer artist, has spent a year designing and programming the game. Realm features over 300 highly-detailed screens, MIDI-compatible music, multiple difficulty levels and thousands of different game variations. Requires a color monitor and joystick. Gold Of The Realm, $39.95. Magnetic Images, P.O. Box 17422, Phoenix, AZ 85011, (602) 265-7849.
Do you have a new ST product? If so, we'd like to hear about it. Please send your press releases and product photos to New Products, START, 544 Second St., San Francisco, CA 94107.