ON DISK!
GFA Object
Now in Monochrome
PROGRAM BY GFA SYSTEMTECHNIK
ARTICLE BY ANDREW REESE, START EDITOR
In the May 1989 issue of START, we brought the color version of GFA Object to your START disk. In order for every ST owner to be able to use this great program, we now bring you the monochrome version. GFA Object lets you create three-dimensional objects that you can use in your own GFA BASIC programs. If you're at all interested in 3D, read on. . .
Monochrome owners, rejoice! GFA Object is on your START Disk in the files OBJMONO.ARC, OBJDOCS.ARC and ANIMATOR.ARC.
Most of you are aware of the power of GFA BASIC. Version 2.0 of the Interpreter has become the standard against which all BASICs for the ST are judged. Because of its power, GFA Systemtechnik created a whole series of programs designed to work with it--and many were actually written in GFA BASIC itself. GFA Object is an example of such a program.
We originally featured the color version of GFA Object on the May 1989 START disk. But to make it accessible to all START readers, we're including the monochrome version this month. You can use it to create objects or images for use in your own GFA BASIC programs or as macro-data for use in GFA Draft Plus. You can also use objects created in GFA Object with GFA Vector, GFA's 3D animation program on your June 1989 START disk.
Getting Started
GFA Object is on your START disk in the file OBJMONO.ARC along with six module files. Copy OBJMONO.ARC to a blank, formatted disk and un-ARC it, following the Disk Instructions located elsewhere in this issue. When you are finished, double-click on the OBJ_MONO.PRG icon to run the program. You will need an ST or Mega system with a monochrome monitor to run this version of GFA Object.
If you have a copy of the May 1989 issue, you may want to turn to page 55 for instructions on how to use GFA Object. If you don't have that issue, we've included the same instructions in the file OBJDOCS.ARC on this issue's START disk. Simply copy GFADOCS.ARC to a blank, formatted disk and un-ARC it. You can then View or Print the ASCII instructions file, OBJDOCS.ASC, from the Desktop.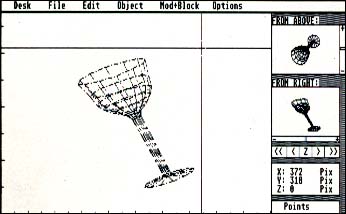 GFA Object's Edit Field, in which you create and modify your objects.
All functions are selected from the extensive dropdown menus for easy
operation.
Animation with GFA Object
We've also included on your START disk an animator program that does two things: First, it lets you convert your GFA Object .OBJ files into .DAT vector files so that you can load them into GFA Vector and GFA BASIC as objects. Second, it lets you experiment with animation of any object with fewer than 1,024 points.
The Animator program is called ANIMATOR.PRG; you will also need to have ANIMATOR.CHN in the same directory to run Animator. These two files are contained in a separate ARC file named ANIMATOR.ARC. To use Animator, unARC ANIMATOR.ARC following the Disk Instructions located elsewhere in this issue and then double-click on ANIMATOR.PRG in either medium (color) or high (monochrome) resolution.
Manuals
Depending upon the demand from our May publication of GFA Object, we may still have available some of the original 150-page manuals for GFA Object. The price for the manual is $12.95, plus $3.50 shipping and handling. For VISA and MasterCard orders, simply call the Disk Desk toll-free at (800) 234-7001 and ask for #TH0002 or send your check or money order in the amount of $16.45 to: GFA Object Book Offer, 544 Second Street, San Francisco, CA 94107.
We're sorry to report that our entire stock of manuals for GFA BASIC 2.0 published in the January 1989 issue has been sold out.