The ST/MIDI Connection
Atari At The NAMM Show
BY JIM PIERSON-PERRY
START CONTRIBUTING EDITOR
WITH JAN PAUL MOORHEAD
Every January, the music community holds its breath waiting for the new wave of instruments, electronic wonders and software to be released at the Winter NAMM (National Association of Music Merchandisers) show. This year was no exception and Atari was right in the mainstream, showing its commitment to the music/MIDI market. The large number of exhibitors showing products for the ST really reinforces its role as the "musician's computer."
The main work area for RealTime, the multi-tasking sequencer. The
display shows the MIDI note data and same graphically edited pitch-
bend data. The painter is being used to add additional notes in step
time.
The major software news is availability of multi-tasking environments for music and other applications on the ST. This is real multi-tasking, not just program switching a la Multifinder on the Mac. First honors for implementing this ability go to Intelligent Music's new sequencer program RealTime. In fact, while writing this report with ST Writer I am running songs through RealTime in the background. Coming close on its heels is M-ROS, the Music Real Time Operating System, from Steinberg/Jones, which is envisioned to provide multitasking across ST, Mac and IBM AT computers. This system was demonstrated by simultaneously running Cubit (an advanced new sequencer), Synthworks M1 (new patch editor for the Korg M1) and the Mimix desktop automated mixing system.
Patching Things Up
Generic patch editor programs are a hot new MIDI application. Previously, dedicated patch editor programs were required for each synthesizer to deal with instrument-specific sound parameters (sysex data). The new approach is to use a single program with numerous screen controls (e.g., sliders) that can be assigned to any desired type of sysex data. The first entries in this field are Tweak It! from Savant Audio, X-Or (formerly Orchestrator) from Dr. T's Music Software and GenEdit from Hybrid Arts.
NAMM is also a prime time for major upgrades to sequencer programs. Hybrid Arts has released new versions of their MIDI Track sequencers along with a new member of the family, EditTrack. All are mutually compatible, the differences being in hardware synchronization capabilities. This upgrade also includes support for MIDI files (format 0 and 1).
Dr. T has finally broken the GEM barrier. His KCS version 1.7 features a standard menu bar, scroll bars and access to desk accessories, and it can work with up to eight program modules under the multi-program environment (MPE). Two new modules were released: Tiger, for graphical editing, and CliX for cue sheet and film scoring support. And Passport Designs showed its Master Tracks Pro version 3.0 with the MIDI Transport Command synchronization box.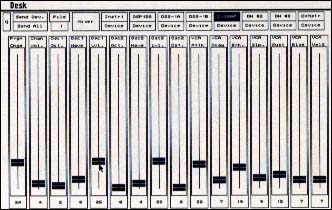 Tweak It! is a generic patch editor program that can be configured
for virtually any instrument, controller or effects unit capable of
responding to sysex data.
Good programs continue to be ported to the ST from established Mac MIDI software developers. Kurzweil entered the ST market with Object Mover, an editing/librarian program for their K1000 and compatible tone modules. Another new entry comes from Opcode Systems with a patch editor for the new Proteus sound module from E-mu (the hottest new instrument hit of the show). Digidesign unveiled the ST version of Turbosynth, a do-it-yourself software sound construction kit. A variety of sound synthesis and processing modules are provided that can be strung together in any order, with the final results being sent to your sampler.
Of course, one major product introduced at NAMM was the Hotz Instrument, discussed at length in "Jimmy Hotz's MIDI Magic" in the April, 1989 issue of START. For details of the Hotz Instrument at NAMM, see News, Notes and Quotes in last month's issue.
Jan Paul Moorhead is a professional musician who runs a recording studio in Los Angeles. Jim Pierson-Perry is a research chemist who lives in Elkton, Maryland.
PRODUCTS MENTIONED
RealTime, $350. Intelligent Music, 116 North Lake Avenue, Albany, NY 12206, (518) 434-4110.
M-R0S (Music Real Time Operating System), included as a part of three packages. Steinberg/Jones, 17700 Raymer Street, Suite 1001 Northridge, CA 91325, (818) 993-4091.
Tweak It!, price not available. Savant Audio, 2140 Bellmore Avenue, Bellmore, NY 11710, (516) 826-6336.
X-Or $250. KCS version 1.7, $275; Tiger module, $129; CliX modules, $195. Dr. T's Music Software 220 Boylston Street, Suite 306, Chestnut Hill, MA 02167, (617) 244-6954.
GenEdit, approximately $200; MIDI Track II, $94 alone, $193 with MIDI Mate; MIDI Track III, $98 alone, $197 with MIDI Mate; EditTrack, $199. Hybrid Arts 11920 W. Olympic Blv., Los Angeles, CA 90064, (213) 826-3777.
Object Mover, $50. Kurzweil, 411 Waverley Oaks Road, Waltham, MA 02154 (617) 893-5900.
Master Tracks Pro ST version 3.0, $395; MIDI Transport Command synchronization box, $395. Passport Designs, 625 Miramonte Street, Half Moon Bay, CA 94019, (415) 726-0280.
Patch editor for E-mu Proteus, no price set. Opcode Systems, 1024 Hamilton Court, Menlo Park, CA 94025, (415) 321-8977.
Turbosynth, $349. Digidesign, 1360 Willow Road, Suite 101, Menlo Park, CA 94025, (415) 327-8811.