Your Turn at Bat
Sports Forum on CompuServe
BY HARRY CONOVER
"Welcome to Talking Sports. You're on the air."




"Hello? Am I on?"

"Yes, but please turn down your radio so we can understand you."

"I've got a great idea for a trade. What if...."
How many times have you sports fans heard that? The radio call-in sports show: people from around the block and around the country calling to praise, pan or pontificate about hot (and not-so-hot) sports topics. There's always been something missing from these shows. Callers, frustrated by busy signals, give up. Bored hosts act rude. Long commercial breaks add to the lack of spontaneity.
But there's another way to reach out and touch someone: an online forum for discussing sports with people all over the country; a place to get vital statistical information; an opportunity to participate in America's hottest game: Fantasy Sports.
It's the Sports Forum on CompuServe, America's largest commercial online telecommunications service. Generally, a CompuServe Forum has three areas of activity: the message base (also known as subtopics); Libraries where files can be uploaded (for free!) and downloaded; and the real-time Conference area. The Sports Forum can be reached from any CompuServe prompt by typing GO FANS.
What's New In Sports
Here's a tour of the Sports Forum's activity areas:
SPORTS FORUM TOUR MAP
Sports Forum Message Sections
1 Forum Business
2 Football
3 Basketball
4 Hockey
5 Sport of Kings
6 Baseball
7 Other Sports
8 The Sox Exchange
9 Fantasy Sports
10 FBB Statistics
11 Fantasy BB Talk
12 AL FBB Transactions
13 NL FBB Transactions
15 Fantasy Football
16 FFB Transactions
17 Sports Collectibles
Virtually every message subtopic in the Sports Forum also has a "sister" Library, making it easier for users to navigate around the Forum.
Message Subtopics
The heart and soul of the Sports Forum is its message base, where people indulge in their passions about sports, whether real or fantasy. Messages can be composed online using one of two editors provided through the Forum's own software, or off-line using a word processor or telecommunications program. A typical message might look like this:
#: 190961 S6/Baseball
22-May-89 12:29:30
Sb: NY Yankees
Fm: Harry Conover
(*Sysop) 76701,220
To: G. H. Ruth 76789,714

So you think that his bat was _really_ loaded with mercury? The AL office sure handed down a heavy fine for _whatever_ they found in it, that's for sure!
Harry
Since all public messages can be read and replied to by any other Sports Forum member, any number of people will join in and create what is known as a "thread," a series of messages which occasionally remain true to the original subject but can go off on almost any tangent.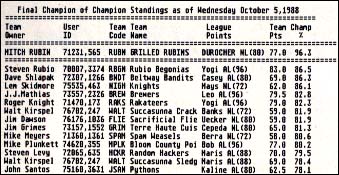 Fantasy Baseball is big business in CompuServe's Sports Forum.
Listed here are the top Fantasy teams for 1988.
The Sports Forum also lets you send private messages which only you and the recipient can view. This enables Fantasy Sports owners to negotiate "in secret" with other owners without having to leave the Forum at all.
Dream On
The Sports Forum Tour Map shows that there is a large area devoted to Fantasy Baseball (not unlike the popular "Rotisserie" baseball leagues, except that in the Sports Forum, no money changes hands). Owners in the Sports Forum's 25 leagues can leave transactional messages in the appropriate message subtopic involving their teams, view weekly standings and add to the textual history of their teams.
Exclusive to the Sports Forum is the presence of The Sox Exchange, which owns and operates a Red Sox-oriented Fantasy Baseball Camp in Winter Haven, Florida. Forum members can leave messages for the camp liaison, including a completed online signup form, and receive information through either the message board, CompuServe EasyPlex electronic mail or regular U.S. mail. The overall winner of Sports Forum Fantasy Baseball is awarded free registration to the camp, thus adding further incentive for Fantasy Baseball owners to participate in this burgeoning "real-time" sports activity.
Sports memorabilia and trading card collectors also have a message subtopic devoted to their specialized interests. Perhaps because of the return on investment on some cards, this is a well-read message section on Sports Forum.
Data libraries
The Sports Forum Library area boasts 16 sections filled with files and programs for baseball, football, basketball, hockey--even sports trivia.
For instance, message subtopic 6, baseball, has a sister library, also called Baseball, containing major league schedules, the most current end-of-year Official Major League Baseball statistics, even a program to run your own Fantasy Baseball League.
Libraries 10, 11 and 15 contain the most current playing rules, league rosters, player statistics and information files for Fantasy Baseball and Football.
Library 1 contains the Forum's Help files to assist users with answers to their most commonly asked questions and tips for easier Forum navigation.
The special Forum Library menu lists uploads to the Libraries to aid in finding the latest and greatest uploads.
Conference Area
As if the message base, subtopics and libraries weren't enough for the enthusiastic fan, the Sports Forum's 18 live online conference channels let several people communicate, in real-time, from anywhere. Special Conferences (CO's) with sports personalities and "news-makers" are announced on the Forum's News Flash page well before the target date and are usually standing room only. A recent conference with former Red Sox pitcher Bill "Spaceman" Lee was attended online by hundreds of people.
The CO area also serves as the Forum's "neighborhood couch" because of its informal, spontaneous get-togethers. Users are bound to come across an online acquaintance in the CO areas and are sometimes pleasantly surprised by a surprise visit from a sports personality. In addition to those activities, the Fantasy Sports leagues hold all their pre-season player drafts in the CO area.
If you're a sports fan and you haven't tried the Sports Forum on CompuServe, you owe it to yourself to log on, sign up and drop in.
Harry Conover is Chief Sysop of CompuServe's Sports Forum (user I.D. 76701,220) and Chief Executive Officer of Computer Simulated Sports, a Boston-based sports database company. His articles have appeared in BYTE, MacUser and Computer Gaming World magazines.
CompuServe, CompuServe, Inc., 5000 Arlington Centre Blvd., P.O. Box 20212, Columbus, OH 43220, (614) 457-0802, (800) 848-8199.