Products Update
---
New ST Software and Hardware
Compiled by Tom Byron
START Assistant Editor
New Games from Microdeal, Sierra and Mindscape
In Jug, the latest arcade adventure from Microdeal, you're a shape-changing humanoid composed mainly of Titanium fleximetal. Within the living core of the planet Spiraeus is a deadly virus that causes its brain to malfunction and all the living organisms to die as the planet's life force is sucked dry. You must find and destroy the deadly tumor before the planet becomes an empty shell drifting in the lonely depths of space and time. Jug, $39.95. Microdeal (MichTron), 576 S. Telegraph, Pontiac, MI 48053, (313) 334-8729.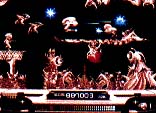 Jug, the latest creation from
Microdeal.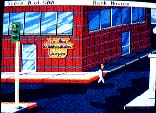 Leisure Suit Larry II.
Who else but Leisure Suite Larry Laffer could win the Lottery, a dream date on "The Dating Connection" and a romantic cruise on "The Love Tub"--all in one day? In Leisure Suit Larry II: Looking for Love (In Several Wrong Places), Sierra On-Line's sequel to the popular 3D animated adventure, it seems Larry gets lucky this time--but wait! Behind this beach blanket of fun and frivolity lies a ballyhoo of espionage and intrigue. With foreign agents, the Hairy Krishnas and Dr. Notoonyt and the Henchettes on his tail, Larry's good fortune could vanish quicker than his hairline. Leisure Suit Larry II, $49.95. Sierra On-Line Inc., P.O. Box 485, Coarsegold, CA 93614 (209) 683-4468.
In Sega's smash arcade hit After Burner, you pilot an F-14 Tom Cat through a variety of rescue missions. Feel the power and the rush of being airborne as you control air speed, flight direction and weapon selection. You're outnumbered but that's okay--your ability to maintain Mach 2 speeds and use your state-of-the-art battle computer, guided missiles and Vulcan cannon has already earned you the nickname of Ace. After Burner, $49.95. Mindscape, Inc., 3444 Dundee Road, Northbrook, IL 60062, (312) 480-7667.
Alternative Desktops: NeoDesk 2.0, VDOS ProQueue
Gribnif Software announces the latest rendition of their ST "Desktop alternative." NeoDesk, version 2.0 includes almost all the changes suggested from users of the original version.
Among the many upgrades, NeoDesk 2.0 lets your Desktop show files as text with multiple text sizes and columns, place a picture in the background and edit background patterns. It provides support for "twisted" formatting and the ability to move files or folders. NeoDesk 2.0 takes up as little as 24K of RAM. NeoDesk, version 2.0, $49.95. Gribnif Software, P.O. Box 350, Hadley, MA 01035, (413) 584-7887.
Another alternative to the ST's built-in Desktop is VDOS ProQueue from Marathon Computer Press. VDOS ProQueue will keep track of your ST's vitals, catalog and execute your programs and give you much of the utility of UNIX through its numerous resident and distributed disk utilities. You shouldn't confuse VDOS ProQueue with the classic command-line-interpreter style of shell that accomplishes assigned tasks in a non-graphical mode. ProQueue brings you the best of both worlds, and presents it in a graphics-based Desktop that is far more user-friendly than its ancient predecessors. VDOS ProQueue, $69.95. Marathon Computer Press, P.O. Box 68503, Virginia Beach, VA 23455, (804) 460-5227.
Scenarios from Rainbird
Rainbird Software's Universal Military Simulator brings to life the great battles of military history. Now, recreate the legendary struggles of the American Civil War on three-dimensional, contoured landscapes with The American Civil War: Scenario Disk One. With the Scenario disk, you can design your own maps or re-enact three of the most memorable battles of the War Between the States--Shiloh, Chattanooga and Antietam.
Also available from Rainbird is Vietnam: Scenario Disk Two. Written by historian Edward Bever, author of Conflict in Vietnam and a number of strategy simulation programs, this Vietnam scenario brings to your screen the reality of this devastating war. Vietnam: Scenario Disk Two includes three significant fire fights from the battles of Dak To--Hill 823, Ngoh Kam Leat and Hill 875. The American Civil War and Vietnam scenario disks, $19.95 each. Rainbird Software, P.O. Box 2227, Menlo Park, CA 94026, (415) 322-0412.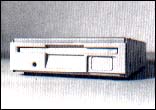 The new Professional FD-1
720K disk drive.
Professional FD-1
PCM Industries announces their new Professional FD-1 720K double-sided, double-density disk drive for the ST. The FD-1 is housed in a compact metal case with an extra-long cable that makes it easier to position the FD-1 along either side of your computer.
The Professional FD-1 will read up to 83 tracks, steps as fast as two milliseconds, has an Epson mechanism and is compatible with all ST software. Professional FD-1, $199.95. PCM Industries, P.O. Box 5772, Arlington, TX 76050, (214) 660-4780.
Fonts from Magnetic Images
Magnetic Images has just released a major update to their font series, plus an entirely new series of fonts for GDOS programs.
The new GDOS fonts are compatible with programs such as Publisher ST, EasyDraw, WordUp, DEGAS Elite and Fleet Street. The GDOS fonts are identical in style with the original series of Magnetic Images fonts. They come in various point sizes and include printer fonts for Epson-compatible printers.
The upgraded line fonts are now compatible with Page Stream as well as the original Publishing Partner. Each disk contains three fonts (scalable line fonts) with files for either program. Line Fonts, $34.95; GDOS Fonts, $34.95. Magnetic Images Co., P.O. Box 17422, Phoenix, AZ 85011, (602) 265-7849.
IEEE-488 Interface
The IEEE-488 Interface from Vivitro Systems plugs into the cartridge port of the ST and provides full talk/listen/control capability to the IEEE-488 bus through a standard 24-pin connector.
The Interface turns the ST into a low-cost programmable controller or data logger for IEEE-488 instruments in applications not requiring a hardware interrupt facility. Also, a standard clock/calendar circuit with battery backup has been incorporated into the module.
Software supplied with the module includes sample driver programs written in TDI Modula-2 and GFA BASIC to send and receive character strings to and from instruments on the bus. IEEE-488 Interface, $478. Vivitro Systems, 1900 Fort Street, Victoria, BC V8R 1J8, (604) 595-9578.
---
Do you have a new ST product? If so, we'd like to hear from you. Please send any press releases and product photos to Products Update, START, 544 Second Street, San Francisco, CA 94107.