News, Notes & Quotes
---
What's Happening in the Atari World
Atari and Hotz Team Up!
Last month, START featured an exclusive interview with record producer Jimmy Hotz about his revolutionary MIDI musical instrument. At that time, we reported that he was negotiating with Atari for the Hotz Instrument to be produced by them. Negotiations have now borne fruit: Sam Tramiel, president of Atari, has confirmed that they will produce the Hotz Instrument.
Atari featured the Hotz Instrument in their booth at the Winter NAMM (National Association of Music Merchants) Show in Anaheim, California in January. Hotz was on hand to demonstrate his creation throughout the show and was joined at various times by such rock luminaries as Mick Fleetwood and Mike Lawler, keyboardist for Steve Winwood.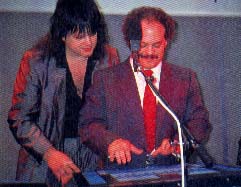 The odd couple? Sam Tramiel, President of Atari,
and Jimmy Hotz, creator of the Hotz Instrument,
together at the NAMM Show. Atari featured the
Hotz Instrument in its well-attended booth.
The Atari booth was jammed during the demonstrations by music professionals eager to see where the good sounds were coming from. They heard Fleetwood describe the Hotz Instrument as " . . .an answer to [his] dreams" and saw surprising performances by people new to the Instrument. Other musicians were more careful in their opinions, most wanting to spend a few hours playing it before making up their minds.
Tramiel confirmed that Atari would be selling the entire line of Hotz Instruments in a projected price range from $400 to $10,000. Atari already claims a 30 percent share of the music market and Tramiel confirmed that they were not going to let that slip. Said Tramiel, "We intend to pursue this market in a big way."
Next month, START will present a full report from the NAMM Show.ÑANDREW REESE
Atari's Plans For 1989
"My goal is to sell 25,000 computers a month in 1989."
So said Sam Tramiel, president of Atari, in an exclusive interview at the NAMM Show in Anaheim, California in January. And how is Atari going to achieve this?
"We're going to begin an aggressive advertising and marketing campaign in the third quarter and on into the fourth quarter. We'll be competing aggressively on price, as well."
Tramiel also reported on the state of the newest Atari's. "Tooling for the Laptop should be finished in March and it will be shipping in April. The TT [the 68030 machine] is running about a month behind, but it should be shipping in the second quarter."
START will report on these new machines as soon as they're available. Watch for complete reviews in the summertime issues.--ANDREW REESE
Emulator Update
Atari's Diablo 630 Emulator is being updated to fix bugs and address other complaints. WordPerfect currently does not fully support the Atari Laser printer because of problems they cite in the emulator. The German Laser Brain Epson emulator works perfectly with WordPerfect and the Laser. It may be available in the United States very soon.--STEPHEN MORTIMER
UNIX Derivative
Prentice-Hall has released a version of MINIX for the Atari ST. MINIX is almost completely call-compatible with UNIX V7 and lets the ST operate in a multitasking UNIX environment. Included with the MINIX operating system is a Kernighan-and-Ritchie-compatible C compiler, system shell, screen editor, over 90 utilities, over 100 libraries of procedures and full source code for the operating system and utilities. MINIX can read and write TOS-compatible disk formats and will work with certain hard disk drives. An extensive user support system exists on Usenet.
Although MINIX is copy-protected, a limited number of copies may be made in educational and research environments. The MINIX program does not include documentation, but complete manuals will be made available directly from Prentice-Hall. The ISBN number for the Atari version of MINIX is 0-13-584392-8 and it retails for $89.95. For more information, contact Prentice-Hall at Englewood Cliffs, NJ 07632, (201) 767-5937.--STEPHEN MORTIMER
Antic Software Obtains Rights to GFA
Antic Software, a leading developer of 3D graphics animation software for the ST, has just signed a major agreement with GFA Systemtechnik of Dusseldorf, West Germany. Antic will now be the exclusive distributor of GFA products in the United States and Canada and will conduct all marketing, production and product support there. Antic will also distribute GFA products in Australia.
GFA, formerly marketed in the United States by MichTron, is one of the best known publishers of languages, graphics and utility software for the ST and Amiga computers. For more information, contact Antic Software, 544 Second Street, San Francisco, CA 94107, (800) 234-7001.--TOM BYRON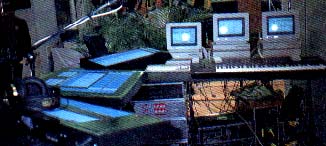 At the NAMM Show, the Hotz Instrument took center-stage in the
Atari booth. This is the top-of-the-line set-up, which is projected
to sell for around $10,000 and will bear both the Atari and Hotz
names.
Turbo C Nears Release
Turbo C is in the final stages of beta-testing in West Germany. The software is in English but the documentation and help files are in German. It was used to compile the new desktop publishing program Calamus, giving users more room for documents since Turbo C compiles very tightly. The package follows the ANSI-standard protocol and includes GEM and UNIX-style calls. The product supports the MEGA 68881 math co-processor board. Turbo C publisher Borland has no plans to release its powerful programming language in the United States at this time.--STEPHEN MORTIMER
Dot Dot Dot. . .
Sources at Atari say that several new versions of the Mega 2 will be arriving in the United States in 1989. More on this story next month.... TeX is now available in the United States. The high-powered desktop publishing system arrived here through international networks. It has several megabytes of associated files and can be downloaded from software library 15 of CompuServe's Atari ST Productivity Forum.... Reports from Taiwan indicate that Atari has dramatically increased production of ST computers, by as much as four times. (Editor's note: Word from Atari components suppliers supports these reports, also.).... According to the public relations firm of Winston & Winston, Atari now commands 30 percent of the MIDI market. The ST's technical superiority and relatively low price are cited as the main reasons for Atari's success.--STEPHEN MORTIMER