THE MULTIPOWER ST
by FRANK HAYES, START SENIOR EDITOR
EXPANDING YOUR BUSINESS CONNECTIONS
The low-priced power of the Atari ST makes it the perfect computer for business-and the ST is well-supplied with word processors, spreadsheets and database managers. But a growing business needs more-and the ST is equal to the challenge. Whether the need is for small-business accounting or a complete multiuser network, the ST is still the perfect business solution.
The ST has been getting down to business since the first 520 rolled off the assembly line in 1985. With the tremendous power of the 68000 processor and a price tag that didn't require another bank loan, the ST was the perfect computer for a business that needed to computerize but couldn't afford the cost of joining the IBM world.
Of course, there are ST word processors, database managers and spreadsheets- they're the basic tools of any modern business using desktop computers. But using a computer for a business isn't just a matter of electrifying your typing, filing and planning. Businesses need accounting software, too-programs for order entry inventory control, billing and payroll- along with specialized software like point-of-sale systems.
And using more and more desktop computers is not always enough for a business. When business data is spread out among many different computers, you'll find it's critical that the computers can share data - that means connecting them in a local-area network, or LAN. And when all the data is on one computer, you need an operating system that will let several people use up-to-date data-a multiuser system.
Atari spotted the need for a state-of-the-art network for the ST, and last November at Comdex, the software trade show held each year in Las Vegas, announced a spectacular array of software and hardware to catapult the ST into the multiuser, multitasking, networked business world.
Idris
The centerpiece of Atari's business solution for the ST is Idris, a Unix-like operating system. Unix is a popular multiuser operating system for mainframes and minicomputers, and Idris is one of the best microcomputer adaptations of Unix.
Idris was designed from the beginning to bring Unix's abilities to computers like the ST. That means the ability for several people to use the same computer (and its files) at once. It also means letting each user run several different programs at once (multitasking), as well as the ability for several computers to communicate in a network.
Sound ambitious? it is. But here's what's already available in the system:
CrystalWriter Plus (Syntactics) is an object-onented, WYSIWYG ("what you see is what you get") word processor. It offers automatic formatting, on-line help, spell-checking and mail merge, as well as a library of predefined document formats.
Crystal Document Management System (Syntactics) is a much more expansive version of CrystalWriter Plus, including such features as automatic formatting, multiple columns, spelling correction, predefined titles/headers/ footers, outlining, indexing, glossaries, multiple fonts and type sizes, laser printer support, and interfaces to many other databases and spreadsheets.
LEX P*D*Q (Trajectory Software) is a WYSIWYG word processor that includes on-line help, mail merge, a 120,000-word dictionary automatic hyphenation, an on-line four-function programmable calculator, and the ability to store and recall commonly used phrases.
LEXET (Trajectory) is a desktop publishing system that produces high-quality laser printer output of documents created with LEX P*D*Q. It can also be used as a stand-alone electronic typesetting system.
Word Era (Tigera) is a Wang-compatible word processor with voice annotation and recognition, multiple windows, footnoting, math capabilities, indexing, spell-checking, hyphenation. mail merge, redlining and support for all types of printers.
Fusion (Network Research Corporation) is network software that runs with Idris to allow several different computers to share resources. It's compatible with IBM, Apple and minicomputer networks and offers file locking, electronic mail and standard protocol support.
PromiseLAN (Moses Computers) is the physical connection among the computers in the network. Unlike many networking systems, it doesn't require using one computer as a "dedicated server" -all the computers in the network can be used.
We'll have a complete review of Idris and the business products that currently run under it on the ST in an upcoming issue of START.
Micro RTX
Micro RTX, from Beckemeyer Development Tools, is a TOS-compatible multitasking kernal. That means it's very similar to GEM, the regular operating system for your ST, and with a limited amount of work many programs can be converted to multitasking. If your company writes its own applications, Micro RTX can really increase the power of each ST-it's a true multitasking operating system that lets you run several programs at once.
Beckemeyer has also created an Advanced Business System that's designed as a multiuser, multitasking system using three 1040 STs. It works as a point-of-sale system (with or without an electronic cash drawer), prints receipts, updates inventory, maintains customer lists, handles accounts receivable, analyzes product movement and salesclerk performance and determines time to reorder. This isn't just a program to run on your ST-it's a complete hardware and software solution that's been working successfully in small businesses.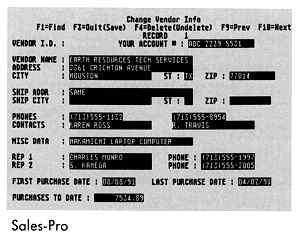 BOS
The Business Operating System (BOS) has many versions-it runs on IBM PCs, minicomputers and many different 68000-based computers. What's unique about BOS is that every BOS program will run, without changes, on any BOS system. That means you can run the same programs on your ST that run under BOS on multiuser minicomputers.
Because BOS software must run without changes on many different kinds of computers, they're "plain vanilla" programs that don't take advantage of the ST's special features. And ST BOS is a single-user system, not multi-user. But a wide range of applications software is available under BOS, including BOS/Finder (database manager), BOS/Planner (spreadsheet), BOS/Writer (word processor), BOS/AutoClerk (report generator), BOS/Accounts Receivable, BOS/ Accounts Payable, BOS/General Ledger, BOS/Inventory Control, BOS/Invoicing, BOS/Sales Order Processing, BOS/MicroCOBOL and special applications for credit unions, construction companies, country clubs, schools, doctors and many other enterprises.
Business Applications
If you're not ready for a new operating system, there are still plenty of business applications that run with the ST'S regular single-user operating system. Aside from word processors, spreadsheets and database managers, here are some of the more popular business packages available:
Dac-Easy Accounting (DAC Software) is the ST version of the IBM accounting program. It includes general ledger, accounts payable/receivable, inventory management, purchase ordering, billing and forecasting.
Inventory Manager (Regent) handles detailed part numbers and descriptions, price fields, custom reports, and stock and obsolescence management. it can automatically generate orders based on sales history and user-defined parameters.
Synsoft General Ledger (Synsoft) features automatic double-entry accounting, automatic check-writing and up to 500 active accounts. Ledgers are automatically posted using keyboard-entered data; continuous error-checking insures database integrity.
STAccounts (Ditek) offers accounting for small and medium-size businesses; it features stock control, sales, batch invoicing, order entry accounts payable/receivable, customer lists and reports. It also has a full GEM interface and extensive help facilities.
dLedger, dInvoice, dOrder, dPurchases, dStatements and dPayables (SBT Corporation) are well-tested accounting programs originally written with dBase III for the IBM PC, brought to the ST using dBMan and then compiled: dLedger is for general ledger/finance; dinvoice does billing, inventory control and accounts receivable; dOrder handles sales order processing; dPurchase performs purchase order processing; dStatements handles accounts receivables; and dPayables covers accounts payable and check writing.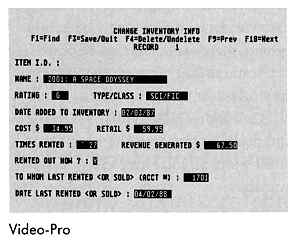 B.E.S.T. Business Management and General Ledger (B.E.S.T.) are a complete package designed to help non-computer-oriented businesspeople become productive quickly. Business Management includes inventory services, accounts payable/receivable, check and order processing, and general ledger. The General Ledger section, a complete double-entry bookkeeping system, is also available separately.
Sales-Pro, Video-Pro and Fuel-Pro (Hi-Tech Advisors) are designed for small businesses. Sales-Pro is a complete point-of-sale and inventory control program for wholesale, retail or mail-order businesses, with perpetual inventory control, cash-drawer support, transaction records, password protection and variable discounts. Video-Pro handles most aspects of video store management, including rentals, returns, sales, accounts receivable, inventory control and tracking, customer records and transaction receipts. Fuel-Pro is designed for managing one or more gas stations, with complete inventory control, reorder lists, merchandise tags. E.P.A. tank reports and total gas sales reports, with up to 99 locations and up to 9 shifts per day per location.
If you'd like to see more articles like this one, circle 226 on the Reader Service Card.

Products Mentioned
Idris Operating System, $300. Computer Tools International, Inc., 14900 Interurban Aye, Seattle, WA 98168, (206) 243-7060.
CIRCLE 227 ON READER SERVICE CARD
CrystalWriter Plus and Crystal Document Management System, price unavailable at presstime Syntactics Corporation, 4655 Old Ironsides Drive, Suite 400, Santa Clara, CA 95054, (408) 727-6400.
CIRCLE 228 ON READER SERVICE CARD
LEX P*D*Q $325-395 and LEXET, $165-200. Trajectory Software, Inc., 555 Goffle Road, Ridgewood, NJ 07450, (201) 447-5656.
CIRCLE 229 ON READER SERVICE CARD
Word Era, price unavailable at presstime. Tigera Corporation, 350 Bridge Parkway, Redwood City, CA 94065, (415) 594-9981.
CIRCLE 230 ON READER SERVICE CARD
Fusion, available initially only from Atari, Inc. Network Research Corporation, 2380 North Rose Avenue, Oxnard, CA 93030, (805) 485-2700.
CIRCLE 231 ON READER SERVICE CARD
PromiseLAN, price unavailable at presstime Moses Computer, Inc., 15466 Los Gatos Blvd., Suites 109-137, Los Gatos, CA 95032, (408) 370-7979.
CIRCLE 232 ON READER SERVICE CARD
Micro RTX (developer's kit), $250 and Advanced Business Systems, $6,950-9,950. Beckemeyer Development Tools, 478 Santa Clara Avenue, Oakland, CA 94610, (415) 452-1129.
CIRCLE 233 ON READER SERVICE CARD
Business Operating System (BOS/5), $112.50; BOS/Finder, $112.50; BOS/Planner, $112.50; BOS/Writer, $112.50; BOS/AutoClerk, $112.50; BOS/Accounts Receivable, $137.50; BOS/Accounts Payable $137.50; BOS/General Ledger, $137.50; BOS/Inventory Control, S137.50; BOS/Invoicing, $75.00; BOS/Sales Order Processing, $225.00; and BOS/MicroCOBOL, $112.50. BOS National, Inc., 2607 Walnut Hill Lane, Dallas, TX 75229, (214) 956-7722.
CIRCLE 234 ON READER SERVICE CARD
Dac-Easy Accounting, $99.95. DAC Software, Inc., 4801 Spring Valley Rd., Bldg. 110-B, Dallas, TX 75244, (214) 458-0038.
CIRCLE 235 ON READER SERVICE CARD
Inventory Manager, $79.95. Regent Software, 7131 Owensworth, Suite 45A, Canoga Park, CA 91303, (818) 882-2800.
CIRCLE 236 ON READER SERVICE CARD
Synsoft General Ledger S69.95. Synsoft, P.O. Box 561, Allen, TX 75002, (214) 727-2466.
CIRCLE 237 ON READER SERVICE CARD
STAccounts, $149.95. ISD Marketing, 2651 John St., Unit 3, Markham Industrial Park, Markham, Ontario, L3R6G4 Canada, (416) 479-1880.
CIRCLE 238 ON READER SERVICE CARD
SBT Database Accounting Library, including dLedger, S 295-395; dinvoice, $195-295; dOrder, $195-295; dPurchase, $195-295; dStatements, $70-100; and dPayables, $295-395. SBT Corporation, One Harbor Drive, Sausalito, CA 94965, (415) 331-9900.
CIRCLE 239 ON READER SERVICE CARD
B.E.S.T. Business Management, $395 and B.E.S.T. General Ledger, $79.95. B.E.S.T. (Business Electronics Software and Technology), Inc., P.O. Box 230519, Tigard, OR 97223, (503) 653-2544.
CIRCLE 240 ON READER SERVICE CARD
Sales-Pro, $99; Video-Pro, S199 and Fuel-Pro, $199. Hi-Tech Advisors, P.O. Box 7524, Winter Haven, FL. (813) 294-1885.
CIRCLE 241 ON READER SERVICE CARD