Products Update
Science Fiction
Simulations and
Submarines
Datasoft, a division of Intellicreacions, inc., has just released three new games for the ST, all of them strategy/action games with futuristic themes.
In Battle Droidz you control three different robot warriors as they engage in combat with an alien race. Your battle zone consists of contiguous hexagons, each with unique dangers; to win, you must complete a row of zones across your ST screen. The game includes 3-D scrolling graphics, dozens of landscapes, high score save and other options.
In Global Commander you must act as a "planetary policeman," overseeing a network of spy satellites orbiting the earth. You must keep a careful watch over the world's 16 nuclear powers, making sure that each has sufficient food, raw materials and defensive weaponry to feel safe from attack-or feel secure enough not to launch a preemptive strike against a neighbor.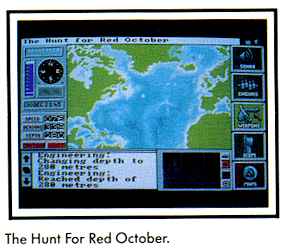 But the best from Datasoft I've saved for last: The Hunt For Red October, based on Tom Clancy's best-selling adventure novel. In the game, you portray Soviet Captain Marko Ramius, commander of the Red October, a Typhoon-class strategic missile submarine. Your personal mission? To defect to the United States, bringing your priceless submarine with you, while keeping your final objective a secret from a suspicious crew- and a vengeful Soviet Navy. The game's multiple screens allow you to monitor the status of your submarine, evade your pursuers-or else turn and attack. Battle Droidz, $34.95; Global Commander $39.95; The Hunt For Red October, $49.95. Datasoft, 19808 Nordhoff Place, Chatsworth, CA 91311, (818) 886-5922.
CIRCLE 260 ON READER SERVICE CARD
Personalized Productivity
Intracorp, a Florida-based company, has just released a variety of unusual software for the ST and other computers. Video Wizard is a combination videotape labeler/titler/database program that allows you to identify blank spaces on your tapes, print videotape labels and create character graphics for your tapes. Bumper Sticker Maker and Business Card Maker do exactly what their titles suggest: they let you print your own customized bumper stickers and business cards. They also include peel-off bumper sticker stock and business card stock. Love Quest and Interaction let you improve your personal relationships and straighten out your love life. (And they say computers are cold and heartless machines. . .) Video Wizard, $9.95; Bumper Sticker Maker and Business Card Maker, $59.95; Love Quest, $59.95 each; Interaction, $99.95. lntracorp, Inc., 14160 SW 139th Court, Miami, FL 33186, (305) 252-9040.
CIRCLE 261 ON READER SERVICE CARD
What's The Good Word?
ST owners have a variety of word processors to choose from: everything from public domain classics like ST Writer to full-blown packages like Word Perfect. And now there's another entry: WordUp, from Neotron Engineering. WordUp is a completely GEM-based, WYSIWYG word processor that lets you display a large number of font styles: Dutch, Swiss and Roman, in bold, italic, underline and outline, in sizes ranging from 8 to 48 point. You can even display a mixture of these on the same line!
WordUp has standard word processing features (block functions, search and replace, automatic formatting) allows you to import graphics (DEGAS or NEOchrome files) into your printouts and supports the Electronic Arts spell checker Thunder! Neotron also offers Fontz!, a font editor/conversion program for WordUp. With it, you can design your own typefaces and convert Macintosh, Amiga or DEGAS fonts into the GEM format. WordUp, $79.95; Fontz!, $34.95. Neotron Engineering, 908 Camino dos Rios, Thousand Oaks, CA 91360, (805) 498-3840.
CIRCLE 162 ON READER SERVICE CARD
Chess base
ChessBase is one of the most fascinating pieces of ST software START has ever seen. ChessBase is a chess database-a data handler that allows you to store and retrieve up to 6,000 separate chess games. You can study world-famous games dating back to the turn of the century or enter your latest bout against an opponent. ChessBase classifies games (either championship games or new ones) based on their openings (the program knows all of them). You can also search through the complete game list and pick out all games possessing common features, such as their openings, the period in which they were played and their players. ChessBase is endorsed (and used extensively) by World Chess Champion Garry Kasparov. ChessBase, $129.95; update game disks approximately $9.95 each. Sci-Sys, 2301 West 205th Street, Suite 108, Torrance, CA 90501, (213) 212-5412.
CIRCLE 263 ON READER SERVICE CARD