HOME
RECORDING
ON A BUDGET
SETTING UP YOUR OWN MIDI STUDIO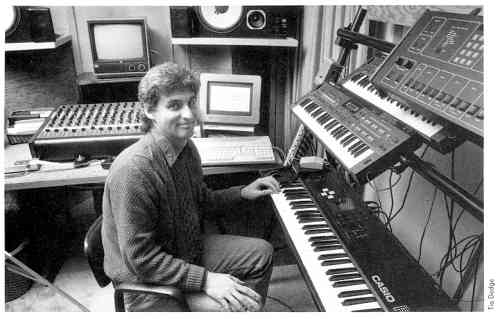 by JIM PIERSON-PERRY
Ever dream about playing center stage in a rock band? Do you write music, or want to learn how? Looking for a way to introduce music to your children? Whether you just like to doodle on the keyboard or want to produce demo tapes of your music, with the ST and MIDI, you can now do it all at home.
Setting up a home MIDI studio is a lot easier than you may think. The main requirements are an understanding of what you hope to do with the system and a willingness to learn a few new vocabulary words. Here, we'll go over the basics of putting together some sample home MIDI systems, ranging from a starter level to semi-pro. Along the way we will go over some guidelines for getting maximum power and flexibility for low cost.
The ST/MIDI Connection
As an ST owner, congratulate yourself. You have already taken the first step towards a low cost/high performance MIDI system. With its built-in MIDI ports, the ST is making quite a name for itself as the personal musician's computer of choice.
Atari itself is fully committed to supporting MIDI applications for the ST. Last summer they became the first computer company to exhibit at NAMM (National Association of Music Merchants), the major domestic music equipment trade show, where they provided showcases for software companies and signed up music retail stores to sell ST computers.
In software, 1987 was a great year for MIDI applications. Currently, there are over 120 programs available for the ST, ranging from player piano programs to professional-level sequencers. This number is constantly growing both from long-term ST supporters and from new converts who are porting over top performers from other computers.
MIDI Equipment Basics
When you enter the world of electronic music, you'll find yourself surrounded by many arcane terms. What are expanders, samplers and outboard effects processors? Is flanging and chorusing something you can do in front of guests? What about the different types of synthesizers: FM, analog, phase distortion?
Let's go through this maze one step at a time. First, if you're relatively new to MIDI, I suggest you look over Tom Jeffries's article on MIDI basics and my review of different kinds of MIDI software in the Spring and Summer 1987 issues of START, respectively. If you need any other terms defined, take a look at "MIDI Spelled Out," on page 67. Finally, for a shopping list of music equipment, read "Synths, Samplers and Drums" on page 82. What we'll cover below are the various kinds of MIDI instruments and their role in making music.
---
Setting up
a home MIDI studio
is a lot easier than
you think.
---
Synthesizers are usually classified by their method of sound generation. There are two broad classes, analog and digital, with various subgroups in each. Analog techniques take a simple starting waveform and put it through a chain of various electronic components (filters, modulators, amplifiers, etc.) to form the complex final sound. Digital synthesis approaches are based on mathematical manipulations of stored waveforms. Different kinds of manipulation lead to various synthesis families such as FM (Yamaha), Phase Distortion (Casio) and Linear Arithmetic (Roland). As you would expect, the various kinds of sound synthesis have their individual strong points, due to the different tone colors they can create.
Sound synthesis technique is not the only factor to consider when looking at a synthesizer. These include the number of notes that can be played at the same time, number of independent voices that can be played together. types of MIDI controllers supported, and various added sound processing features such as reverb, sequencer and others. The number of notes that can be played simultaneously ranges from one to sixteen, and is often limited by the number of voices played at once.
MIDI implementation charts detail the controller functions supported by a synthesizer. Important ones for musical expression are note-on velocity, volume, modulation and pitch bend. More esoteric (but nice to have) are aftertouch, note-off (release) velocity, sustain and breath control. These features are influenced by different controller devices such as wheels, sliders and keys on the keyboard, and peripherals such as foot pedals and breath controllers.
This leads to the concept of a single master keyboard for all controller functions coupled with multiple independent sound synthesis modules, or expanders. Modules are a very cost-effective way of adding sound sources to a MIDI setup, since you then don't have to pay for redundant keyboards. After all, you only have two hands!
An alternate sound source is a sampler. This device digitally records (samples) a sound, and then can reproduce it shifted up or down in pitch, enabling you to play the sound from a keyboard. Most samplers also include additional processing components to modify the starting sound. Samplers are especially useful for complex sounds that cannot be easily synthesized, such as an acoustic piano or human voice. You can even sample other synthesizers!
Not all synthesizers are for keyboard sounds. Another important instrument is the drum machine. This device typically plays sampled percussion sounds ranging from snare drums to ethnic and orchestral sounds (congas, agogo, gong). Features to look for include the ability to play individual drum sounds from a keyboard via MIDI, velocity sensitivity (to give playing dynamics-such as the different tones created when you strike a piano key either strongly or softly) and support of MIDI song position/select pointers.
Making music may be the heart of your MIDI studio, but you still need an audio system to hear it. At the simplest level, all you need to do is connect a synthesizer to your stereo set. For anything more complex, however, you'll need a mixer to blend your sound sources into a stereo signal. The type of mixer will be determined by the size of your system and whether you intend to run a pure MIDI system (where everything plays live) or a tape-based system (where you're recording music a part at a time). If you can't use an existing home stereo system, you may need to invest in a set of monitor speakers for your studio.
In between the mixing and the final sound, you can use a variety of outboard processing devices to add extra depth and special effects. The single most important such effect is reverb, which gives a "live" feeling to the sound. Other effects include chorusing (which multiplies the sound of an instrument), flanging (which adds a metallic "bite" to the sound), delay (which adds echoes) and equalization (which cuts or boosts sound frequencies). You can also include protection devices, such as a noise gate (to get rid of background noise), and a compressor/limiter (to maintain a desired dynamic range and prevent sound spiking).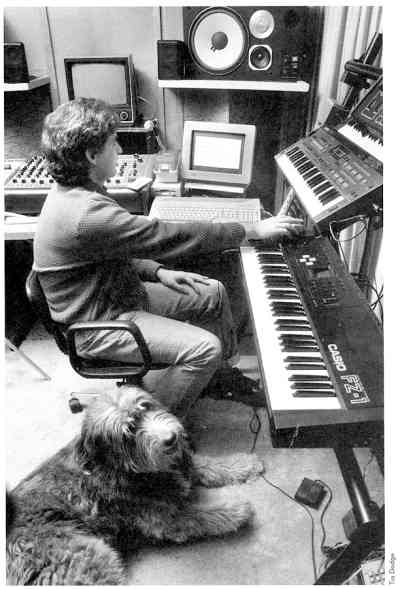 You can make beautiful music without a lot of cash - just an ST. Here composer Ray
Bachand works in his basement recording studio with his Casio FZ-1, accompanied by his
faithful dog Bruin. (Note: your home studio setup may vary. Dog not included.)
Tips And Traps
Hurray! You made it past the hard part. Now that you have an idea of the building blocks for a home MIDI studio, let's look at ways to use them. Below are 11 rules to keep in mind to help you better enjoy building and using your studio.
1. Know what you want to do with your studio. Your needs will dictate your studio's equipment and configuration. The range is from a pure live MIDI setup for a lot of voices playing at once to a tape-based studio which allows you to could get by with fewer sound sources by overdubbing parts.
2. Use a synthesizer with a good MIDI controller selection as a master keyboard. Sooner or later you will want to use multiple MIDI controllers to add expression to your music. Your options are an expensive master keyboard with every controller under the sun but no sound itself, or a keyboard synthesizer which may have fewer controllers but may double as a sound source For home use, the smart choice is a synthesizer.
3. As much as possible, buy modules. This is a corollary to Rule 1. Many synthesizers come in either keyboard or module form (sometimes called rack-mount version). Buying just the module saves money and studio space.
4. Avoid onboard synthesizer features that only duplicate your software. This refers to things like built-in sequencers. They're nice to have, especially for live performance, but for your home studio, why pay for the same thing twice?
---
There are
over 120 music and
MIDI programs
available for the ST.
---
5. Look for instruments supported by third-party patch programmers. While its great to be able to get a desired sound out of your synthesizer, most of us are users and not synthesis experts. Many high-quality patches are available at reasonable prices (look at the ads in Keyboard or Electronic Musician). This applies to drum machines and samplers as well as synths. It's a great way to build a sound library.
6. Look for software with an upward path. Several software houses offer their programs at a couple of levels. You can start with an entry level sequencer and, as your expertise and needs grow, trade it in for a more full-featured model.
7. Look for software in a family. One thing about MlDl programs- each uses its own kind of file format. For this reason you cannot get a sequencer from company X to work with a scoring program from company Y. Try to pick a company that offers a full product line for your intended uses. The exception to this rule is for programs that operate as desk accessories under GEM.
8. Beware vaporware. Computer software companies (and not just MIDI software publishers) frequently announce products well before they become available. A variation on this theme is the continual upgrade process by which originally promised features eventually work their way in to the umpteenth program revision. Your best recourse is to follow reviews and not to be afraid to call the software developers- they are often quite honest when questioned directly.
9. Use different kinds of synths. As you buy multiple synthesizers, you should acquire ones that use different synthesis technologies (eg., analog. sampler, FM digital). They will give you a much broader tonal palette to use than if they are all from the same background.
10. Get a reverb unit early on in your studio. Reverb is the single most useful sound-processing effect and can really give your music a "captured live" sound. Try using your drum box alone and then through reverb. You will be amazed at the difference.
11. Keep your perspective. It's easy to fall into the "new gear trap." You know the feeling-just like when the new model cars come out. Good music gear does not become obsolete. When you feel that you simply must have the new wonder toy, try to remember that the music comes from you, not the equipment. Some of the best music in the world was composed with a single piano, voice or guitar and no special effects.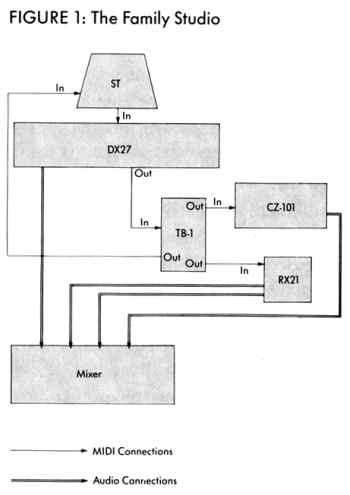 Sample Home Studios
Let's look at some model home MIDI studios, each designed to meet different needs. For each one, there is a description of its purpose and a table listing the studio components- both hardware and software. I'm assuming you already have an ST computer and the final sound will be heard through your home stereo system. The component prices are given for both retail list and an average price you would pay if you shopped around a hit. You could save even more money by buying at a reliable secondhand instrument store; musicians are notorious for trading in to get the current year's wonder synth.
I. The Absolute Beginner
Table I lists a good beginning package. It's built around the CZ-101, an ideal starter synthesizer capable of playing up to four monophonic voices simultaneously. It's probably the most widely supported synthesizer for the home market, with many third-party patches and public domain software available.
To set it up, run one MIDI cable between the CZ-l01 MIDI In and the ST MIDI Out and another cable vice versa. Either plug the CZ into your stereo or use headphones and you're ready to go. Of the software, all three programs are extremely well supported with public-domain patches and song files.
II. The Family Studio
The setup in Table II is a high-end family studio that would also satisfy a hobbyist. A DX27 FM digital synthesizer provides one sound source and also is used as a master keyboard for the system. The CZ-l01 provides four additional voices and the RX2I is the dedicated drum box. The TB-1 Thru Box is used as shown in Figure 1 to maintain MIDI connectivity since neither the CZ nor the RX possesses a MIDI Thru port. The audio outs are blended together through the four-channel mixer to be fed into a stereo system.
Both the DX and RX are widely supported with third-party patches and rhythm sequences. The software provides patch editor/librarians for the synths, a librarian for the RX, a sequencer and player program. A nice feature of the Data Dumpster librarian is that it comes with a standalone desk accessory that can load sequence data into the RX while running the GEM-based EZ-Track sequencer.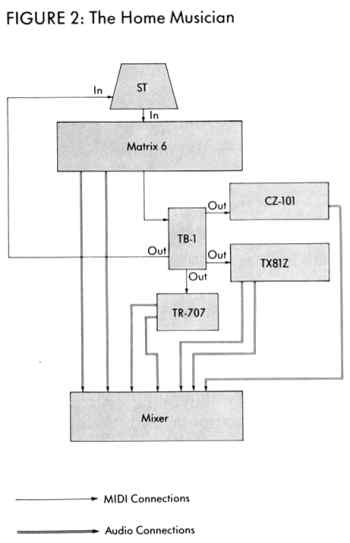 III. The Home Musician
Table III offers a setup for a serious home music studio. It is built around the Oberheim Matrix 6 synthesizer as a master keyboard. The Matrix 6 has a remarkably complete implementation of MIDI-controller options and is a good analog synth to boot. It provides both note-on and note-off velocity aftertouch from the keyboard along with two levers and pedal inputs that can be reassigned to any desired MIDI-controller function. It can do keyboard splits and play two independent voices, and has stereo outputs.
Adding additional synthesizer voicings are the TX8IZ (an enhanced module version of the DX27), the ever-faithful CZ-101 and the TR-707 drum machine. These give us three different kinds of sound synthesis: analog, FM and Phase Distortion along with the drums.
On the audio processing side, we are using a more sophisticated eight-channel mixer that allows for individualized volume, bass and treble boost, and panning adjustments. A stereo reverb unit is used for the TR-707 prior to the mixer, with the final audio out assumed to go into your home stereo unit. Although the instruments have sufficient MIDI Thru ports, I favor using the TB-1 as shown in Figure 2 to simplify the MIDI connections and prevent potential timing delays.
The software in Table Ill stresses music composition rather than entertainment. Patch editor/librarians are provided for the synthesizers, a librarian for the TR-707. and a professional level sequencer (Dr T's Keyboard Controlled Sequencer. or KCS). The KCS gives a tremendous amount of power to record, edit and fine-tune your music, and is also extremely well suited for use with a master keyboard/module system.
IV. Get It on Tape
A different approach is needed for someone who prefers to work with a tape deck rather than with pure "live" MIDI performances. Typical uses for a tape deck are to make demo song tapes or to add a soundtrack to video. The system given in Table IV provides a powerful tape-based MIDI studio for under $5,000 based on the Fostex 260 four-track tape deck.
Like the Home Musician Studio, the Matrix 6 is the master keyboard and analog sound source. If you have a limited budget and the number of concurrent voices isn't important to you, I recommend the Mirage rack mount sampler to replace the other sequencers because it offers the widest possible array of sounds. If necessary, you can use prerecorded samples to have the Mirage reproduce additional synthesizer sounds. At last count there were over 600 prerecorded samples available commercially or through public domain sources, ranging from a full orchestra to a barking dog. The TR-707 is used as a drum source due to its sound quality and ability to synch well with a tape deck/MIDI sequencer combination.
On the audio side, the Fostex 260 includes the equivalent of a six-channel mixer along with Dolby C for noise reduction. The MIDI VERB II sound processor is used to provide reverb, chorusing, flanging and delay effects- all selectable under MIDI control. Due to the design simplicity shown in Figure 3, all MIDI connections are made directly between the instruments with no need for a Thru box.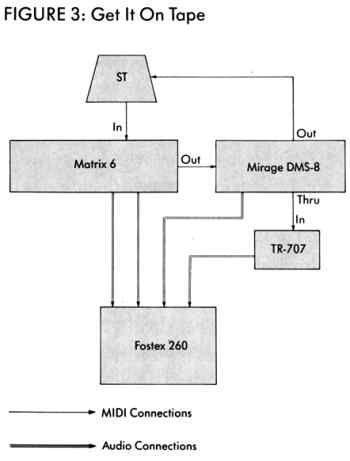 The software provides a patch editor/librarian for the Matrix 6, a sample editor/librarian for the Mirage, a librarian for the TR-707 that can also be used to call up presets for the MIDI VERB II, and a sequencer designed around synching to a tape deck. At press time, SMPTE Track ST is the only ST sequencer that truly caters to tape-based systems and supports SMPTE code synchronization. (Editor's note: See the article "The ST in Hollywood" in the Winter 1987 issue of START for a full description of SMPTE and its uses.) The Genpatch ST librarian sports a desk accessory that can be called within the SMPTE Track ST sequencer to load patches, samples, etc. to any of the MIDI equipment.
Closing Notes
I hope I've whetted your appetite for musical adventures with your ST. Bear in mind that there are still many more musical avenues that MIDI can be applied to than are covered here. For example, I focused on keyboard synthesizer control, but it's also possible to go at it with a guitar, drum set or wind instrument-based controller.
Right now, however, for less than the price of a hard disk, you can buy a home synthesizer and start to explore MIDI. But it's addictive-you may find your music equipment overtaking your computer gear! Whatever your musical interests may be. you'll find the ST/MIDI connection has got you covered.
If you'd like to see more articles like this, circle 197 on the Reader Service Card.
Jim Pierson-Perry is a research chemist and semiprofessional musician with an interest in all things MIDI. He lives in Elkton, Maryland.


Table1
The Absolute Beginner Studio



Item

Source
Retail
Price
Typical
Price
CZ-101 Synthesizer
Casio

$499

$275

2 10' MIDI Cables

20

20

CZ-Android1
Hybrid Arts

100

65

EZ-Track2
Hybrid Arts

65

40

Music Studio3
Activision

60

35

Totals

$744

$435

1 Patch editor/librarian.
2 Sequencer
3 Music composition/player program


Table II
The Family Studio


Item

Source
Retail
Price
Typical
Price
DX27 Synthesizer
Yamaha

$695

$650

CZ-101 Synthesizer
Casio

499

275

RX21 Drum Machine
Yamaha

315

225

TB-1 MIDI Thru Box
Casio

79

60

5 10' MIDI Cables

50

50

#32-1105 Mixer
Radio Shack

25

25

4 Op Delux1
Dr. T

129

95

CZ-Android1
Hybrid Arts

100

65

EZ Track2
Hybrid Arts

65

40

Data Dumpster ST3
Music Service

90

75

Music Studio4
Activision

60

35

Totals

$2107

$1595

1 Patch editor/librarian.
2 Sequencer
3Librarian
4 Music composition/player program
Table III
The Home Musician


Item

Source
Retail
Price
Typical
Price
Matrix 6 Synthesizer
Oberheim

$1595

$1200

TX81Z Expander
Yamaha

495

390

CZ-101 Synthesizer
Casio

499

275

TR-707 Drum Machine
Roland

695

350

TB-1 MIDI Thru Box
Casio

79

60

6 10' MIDI Cables

60

60

BX-800 8 Channel Mixer
Roland

460

330

Microverb
Alesis

249

190

Matrix 6 Tricks ST1
Dr. T

129

95

4 Op Delux1
Dr. T

129

95

CZ-Android1
Hybrid Arts

100

65

KCS v 1.52
Dr. T

225

160

TR-707 Dumpster3
Music Service

65

65

Totals

$4780

$3335

1Patch editor/librarian.
2Sequencer.
3Librarian.

TABLE IV
Get It On Tape



Item

Source
Retail
Price
Typical
Price
Matrix 6 Synthesizer
Oberheim

$1595

$1200

Mirage DMS-8 Sampler
Ensoniq

1695

1000

TR-707 Drum Machine
Roland

695

350

4 10' MIDI Cables

40

40

Fastex 260 Tape Deck
Fastex

995

800

Midiverb II
Alesis

399

340

Matrix 6 Tricks ST1
Dr. T

129

95

Mirage Sonic Editor1
Sonus

245

175

SMPTE Track ST2
Hybrid Arts

575

475

GenPatch ST3
Hybrid Arts

150

125

Totals

$6518

$4600

1Patch editor/librarian.
2Professional sequencer.
3Librarian.
List Of Manufacturers
Activision, Inc. 2350 Bayshore Parkway, Mountain View, CA 94039. (415) 960-0410
CIRCLE 198 ON READER SERVICE CARD


Alesis. 7336 Hinds Avenue, North Hollywood, CA 91605. (213)467-8000
CIRCLE 199 ON READER SERVICE CARD


Casio. 15 Gardner Road, Fairfield. NJ 07006. (201) 575-7400
CIRCLE 200 ON READER SERVICE CARD


Digidesign. 1360 Willow Run, Suite 101, Menlo Park, CA 94025. (415)327-8811
CIRCLE 201 ON READER SERVICE CARD


Dr. T's Music Software. 220 Boylston Street, Suite 306, Chestnut Hill, MA 02167. (617) 244-6954
CIRCLE 202 ON READER SERVICE CARD


Ensoniq Corporation. 263 Great Valley Parkway, Malvern, PA 19355. (215) 647-3930
CIRCLE 203 ON READER SERVICE CARD


Fostex. 15431 Blackburn Avenue, Norwalk, CA 90650. (213) 921-1112
CIRCLE 204 ON READER SERVICE CARD


Hybrid Arts, Inc. 11920 West Olympic Blvd., Los Angeles, CA 90064. (213) 826-3777
CIRCLE 205 ON READER SERVICE CARD


Music Service Software. 801 Wheeler Road, Madison, WI 53704. (608) 241-5615
CIRCLE 206 ON READER SERVICE CARD


Oberheim. 11650 West Olympic Blvd., Los Angeles, CA 90064. (213) 479-4948
CIRCLE 207 ON READER SERVICE CARD


Radio Shack. One Tandy Center, Fort Worth, TX 76102
CIRCLE 208 ON READER SERVICE CARD


Roland Corporation. 7200 Dominion Circle, Los Angeles, CA 90040. (213) 685-5141
CIRCLE 209 ON READER SERVICE CARD


Sonus Corporation. 21430 Strathem Street, Suite H, Canoga Park, CA 91304. (818) 702-0992
CIRCLE 210 ON READER SERVICE CARD


Yamaha. P.O. Box 6600, Buena Park, CA 90620. (714) 522-9011
CIRCLE 211 ON READER SERVICE CARD