SYNTHS, SAMPLERS AND DRUMS
A SHOPPING LIST OF MUSIC HARDWARE
by JAN PAUL MOORHEAD
Shopping for a powerhouse synthesizer? Looking for a drum machine that'll put Phil Collins out of business? How about a sampler, so you can play The Dog-Bark Sonata? Then let professional musician and studio owner Jan Moorhead tell you all about the hottest electronic noisemakers-the best equipment for $1,500 and under!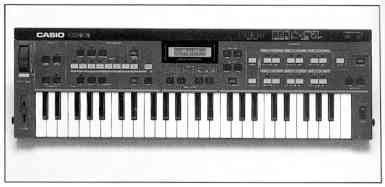 The Casio CZ-101 synthesizer
Putting together a MIDI system for your ST may seem overwhelming at first, but it's also fun! As a musician, it's always more interesting to spend your money on noisemakers, rather than interfaces and cables - the "quiet" technology.
When you're choosing your MIDI equipment, there are a lot of features you have to consider, and many features overlap on different machines. Your budget may be limited so you can only pick up one piece of hardware at a time. But if you think about what you need and how it will all fit together you can keep your complete finished system in mind.
Remember, there is no "best" piece of equipment- it all depends on what works best for you. Some synthesizers, samplers or drum machines may suit your needs better than others. Let your ear be the final arbiter of what gear you want to buy for your system. If you don't like the sound of a synth, you're not going to be happy no matter how many extra features it has.
SYNTHESIZERS
Many people think of any electronic music keyboard as a synthesizer, but that's not really true. A synthesizer is a particular kind of electronic music machine. It starts with a waveform (typically coming from a simple electronic circuit called an oscillator) and then modifies it by subtracting, adding or distorting the waveform.
Synthesizers have grown progressively more complex over the years. There are now analog and digital synths, using techniques such as subtractive synthesis, additive synthesis, wave table synthesis, phase distortion synthesis, frequency modulation synthesis and linear arithmetic synthesis. If you're deeply interested in the electronics of synthesized sounds, there are good books on this stuff. If you just want to make music, you'll find that most synthesizer manufacturers have taken care of the work for you. The patches that handle all the different available parameters for each synth have already been programmed into cartridges or disks.
Much more important for a synthesizer you'll connect to your ST is whether it's MIDI-controlled -will it plug into the MIDI ports on your ST?- and whether it has the sound you want. A Yamaha sounds different from a Casio, which sounds different from a Roland. The differences aren't just matters of price, but of how the sound is actually synthesized. But don't be taken in by buzzwords; the real question to ask is, which one sounds best to you? Since virtually all MIDI synths are compatible with the ST, the sound is the thing to pay attention to.
SAMPLERS
Unlike a synthesizer, a sampler doesn't make sounds. Instead, it records a sound, breaking it down into digital information and storing it in memory. Then you can transpose the sound across your synth keys and play it through MIDI. A sampler can thus emulate any instrument, traditional or electronic. It can also emulate sounds that aren't musical instruments at all. For example, if you sample the sound of breaking glass, you could play tunes on your sampler using that sound-a sort of "broken-glass-ophone."
A synthesizer cannot usually read or load sounds from another kind or brand of synthesizer. However, a sampler can have some synthesizer characteristics: once a sample is in RAM, you can manipulate it with synthesizer tools such as filters, envelopes and LFOs (low frequency oscillators).
---
Virtually
all MIDI synths
are compatible with
the ST.
---
If you want to emulate traditional instruments, sampling is the way to go. When you're buying a sampler, listen closely. Also, many sampler characteristics or specs are interrelated-they all use up memory. So when looking at the manufacturer's specs, look at them as a group. Any one characteristic won't necessarily guarantee a good-sounding instrument.
The most important characteristics of a sampler are the sampling rate and the resolution. The sampling rate tells you how often the sampler grabs a chunk of the sound that's being sampled; the resolution tells you how much of a chunk it grabs, and how accurately. Obviously, the faster the sampling rate and the higher the resolution, the more accurately the sampler will be able to reproduce a sound.
As with synthesizers, sampler manufacturers offer pre-sampled sounds, usually on disk. That means you can connect it to your ST and start making music immediately without having to sample a piano, violin, or breaking glass. Pre-sampled sounds also tend to solve the "formant" problem. Suppose you sample your own voice, then transpose it over the entire keyboard. As you get higher on the keyboard, it begins to sound more and more like Minnie Mouse-much higher and faster, like a record that's playing too fast. When you go lower, it sounds equally ridiculous. You can solve the problem by taking several samples at various pitches - that's the way it's usually done with presampled sounds.
---
A sampler
breaks down a sound
into digital information
and stores it
in memory.
---
High sampling rates, bits of resolution and sampling at numerous points all use up memory. but they also improve the sound you get from a sampler.
DRUM MACHINES
Drum machines are sequencers with sounds built into them. Most studios use drum machines, although they're probably unnecessary; an ST sequencer can play drum sounds loaded into your sampler, giving you the added benefit of its inherent sound-editing features. However, in normal practice, it's very nice to have a rhythmic "scratch pad" available. Also, the drum machine can play the basic pattern for your song while you lay the other parts down in the Atari. Then you can go back and record an official drum part into the sequencer.
Recording the complete drum part on the drum machine is time-consuming but does have two advantages: it's useful for live-performance gigs and it saves memory in your sequencer.
Velocity-sensitive pads are a nice thing to have in a drum machine, for a more "human" feel. (Depending on how hard you hit the pads, the sound will be either loud or soft.) For this reason, many studios use separate percussion controllers to do the MIDI data input. It feels a lot better to whack something with a stick than just poke it with your finger when you're trying to do drum parts.
---
It feels better to
whack a drum machine
with a stick than
just poke it with
your finger.
---
For serious studio applications, separate outputs for individual drums are a must. Putting the same reverb on the bass drum that you might put on the cymbals would give you a very muddy mix. Also, the ability to read sounds from RAM cartridges or cards means that you have at your disposal a much larger palette of sounds.
There are drum machines that sample as well, but this function is usually found only on the more expensive units. In lieu of sampling there are still many ways that sound can be manipulated in the machine in order to customize your sounds (if not program them). Tuning of the drums is a common feature as well as envelope control, equalization, damping and playing the sounds backward for special effects.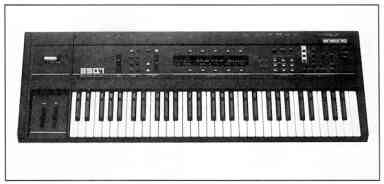 The Ensoniq ESQ-1 synthesizer.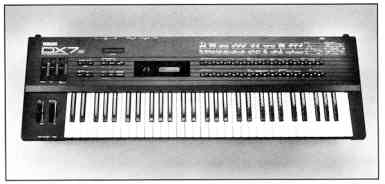 The Yamaha DX7S sythesizer.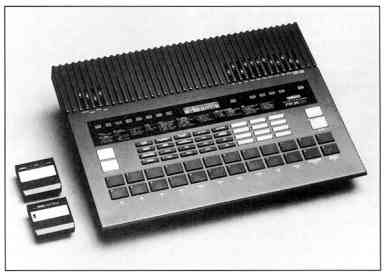 The Yamaha RX5 digital rhythm programmer.

CHOOSING AN INSTRUMENT
There are a number of general considerations in choosing a sampler or synthesizer for your ST. First of all, of course, is it MIDI compatible? Without MIDI compatibility, it's really just an electronic musical instrument-it doesn't have the power that your ST can add to it.
Second, do you need a keyboard? The synth or sampler isn't really the keyboard itself-it's just one way of getting information into the music machine. As you'll discover when you look at synths and samplers, many are available with or without a keyboard - and the keys add to the price of the machine. If you don't play piano and you just want to connect the synth or sampler to your ST through the MIDI port, you may not need or want a keyboard. On the other hand, if you're an experienced keyboard player you may want to look for advanced features like splits, overlapping zone limits and being able to control different synths with velocity switching and aftertouch.
Third, are you planning to use the instrument in live performance or in a home studio? And if you're buying a number of music machines, try to get a variety of different-sounding instruments. No one synthesizer is going to be able to get all the variety of sound you can get from different makes, and by layering the sound of different machines you can come up with sounds that are greater than the sum of their parts.
One feature of particular interest is whether the machine is poly-timbral (muiti-timbral is the same thing). This means that the synthesizer can receive MIDI data on more than one channel and assign different sounds to different channels. You can play different instruments at the same time on a single multi-timbral synth, and that may be exactly what you need in a live performance (though it may be less important for multitracking in a studio).
Study but don't get carried away with the manufacturer's specs. How does the instrument sound to you? If you like the way it sounds and the MIDI implementation is complete, all the statistics and sales talk are irrelevant.
THE CHARTS
The charts outline some of the machines currently on the market. Many discontinued, although excellent, synths are still in stores, and you can pick them up at a great price. You can go broke trying to keep up with the latest technical marvel, so don't forget the used market, either. It you're buying a used synth, inspect it thoroughly and try to get an idea of how the previous owner used it. If it was used on the road for three years by a bar musician with a drinking problem, you may want to steer clear of that one.
Finally, I tried to list only equipment that was below $1,500, but remember- any price is negotiable. Look for the deal, don't pay list price and let your ears do the walking!
If you'd like to see more articles like this, circle 195 on the Reader Service Card.
Jan Moorhead is a musician who runs a recording studio in Los Angeles. He has written for several magazines, including Antic and Keyboard.
References
The Synthesizer Handbook by David Crombie. Alfred E. Knopi, lnc., $13.95.
CIRCLE 196 ON READER SERVICE CARD
List Of Manufacturers
Akai Professional. P.O. Box 2344, Fort Worth, TX 76113.
CIRCLE 212 ON READER SERVICE CARD


Alesis. 7336 Hinds Avenue, North Hollywood, CA 91605. (213) 467-8000
CIRCLE 199 ON READER SERVICE CARD


Casio. 15 Gardner Road, Fairfield, NJ 07006. (201) 575-7400
CIRCLE 200 ON READER SERVICE CARD


Ensoniq Corporation. 263 Great Valley Parkway, Malvern, PA 19355. (215) 647-3930
CIRCLE 203 ON READER SERVICE CARD


Kawai America Corp., EMI Division. 2055 East University Drive, P.O. Box 9045, Compton, CA 90224. (213) 631-1771
CIRCLE 216 ON READER SERVICE CARD


Korg U.S.A. 89 Frost St., Westbury, NY 11590. (516) 333-9100
CIRCLE 217 ON READER SERVICE CARD


Oberheim. 11650 West Olympic Blvd., Los Angeles, CA 90064. (213) 479-4948
CIRCLE 207 ON READER SERVICE CARD


Roland Corporation. 7200 Dominion Circle, Los Angeles, CA 90040. (213) 685-5141
CIRCLE 209 ON READER SERVICE CARD


Yamaha. P.O. Box 6600, Buena Park, CA 90620. (714) 522-9011
CIRCLE 211 ON READER SERVICE CARD
SYNTHESIZERS
| | | | | |
| --- | --- | --- | --- | --- |
| Manufacturer: | Akai | Akai | Akai | Casio |
| Model: | AX6O | AX73 | VX9O | CZ-1 |
| Keyboard/module: | Key | Key | Mod | Key |
| Type of synthesis; | Sub | Sub | Sub | PID |
| Number of keys: | 61 | 73 | None | 61 |
| Number of voices: | 6 | 6 | 6 | 16 |
| Sounds on board: | 64 | 100 Int | 100 | 64 Int,64Crt |
| Polytimbral: | No | BIT | No | Yes |
| Storage: | Cass | Cass | Cass | R/C |
| On-board processing: | SIC | SIC | No | Crs |
| Splits: | Yes | Yes | No | Yes |
| Layering; | No | No | No | Yes |
| Velocity sensitivity: | RIO | Yes | R/O | Yes |
| Aftertouch: | R/O | Yes | RIO | Yes |
| Display: | LED, N/O | LCD | LCD | LCD |
| Cost; | $899.95 | $1199.95 | $799.95 | $1399 |
| | | | |
| --- | --- | --- | --- |
| Manufacturer: | Casio | Casio | Ensoniq |
| Model: | CZ-5000 | CZ-1O1 | ESQ-1 |
| Keyboard/module: | Key | Key | Key |
| Type of synthesis; | P/D | P/M | Wvt |
| Number of keys: | 61 | 491 | 61 |
| Number of yokes: | 16 | 4 | 8 |
| Sounds on board: | 64 Int, 64 Crt | 16 Int, 16 Crt | 40 Int, 80 Crt |
| Polytimbral: | Yes | Yes | Yes |
| Storage: | R/C | R/C | R/C |
| On-board processing; | Chs | Chs | No |
| Splits: | Yes | No | Yes |
| Layering: | Yes | No | Yes |
| Velocity sensitivity: | No | R/O | Yes |
| Aftertouch: | No | R/O | Yes |
| Display: | LCD | LCD | LED |
| Cost: | $1199 | $499 | $1395 |
| | | | |
| --- | --- | --- | --- |
| Manufacturer: | Ensoniq | Ensoniq | Ensoniq |
| | ESQ-M | SDP-1 | SPM-1 |
| Keyboard/module: | Mod | Key | Key |
| Type of synthesis: | Wvt | Wvf | Wvf |
| Number of keys: | None | 76 | 10 |
| Number of voices: | 8 | 10 | 10 |
| Sounds on board: | 40 Int, 80 Crt | 12 Int | 12 Int |
| Polytimbral: | Yes | B/T | B/T |
| Storage; | R/C | None | None |
| On-board processing: | No | No | No |
| Splits; | Yes | Yes | Yes |
| Layering; | Yes | No | No |
| Velocity sensitivity:; | R/O | Yes | Yes |
| Aftertouch: | R/O | Yes | Yes |
| Display: | LED | None | None |
| Cost: | $995 | $1395 | $895 |