RESOURCES
BY MATT LOVELESS,
ASSISTANT EDITOR
SE HABLA ESPAÑOL
ST Writer fanatic Bruce Noonan, the author of ST Writer Secrets in START #3 (Winter 1986), has made yet another enhancement to this fabulous word processor: foreign language support. Available now is a Spanish version of ST Writer, complete with foreign prompts and special characters. Also in the works is a German version, which should soon be available. "ST Writer has become the ultimate user response program," says Dr. Noonan, "People suggest changes and I make them." You can issue suggestions and changes to Bruce Noonan through his CompuServe PPN (72407,504).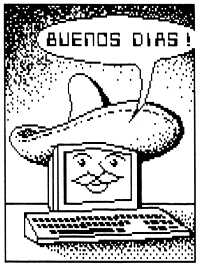 CP/M ON YOUR ST
Over ten years ago Digital Research the designers of GEM, wrote an operating system called CP/M (Control Program/Microcomputers) for an 8-bit 8080 machine. CP/M was soon adopted as the industry standard and has only recently been eclipsed by the ubiquitous MS-DOS. But there are lots of CP/M machines out there and lots of CP/M software. So Atari wrote a program to turn your ST into a 2 MHz Z80 CP/M machine. The program is called the CP/M Emulator and is available in the public domain, gratis. To get a copy, try your local users group, the Atari BBS (408-745-5308), or an information service such as the ATARI16 SIG on CompuServe or the ST roundtable on GEnie.
WHAT'S IN A NAME?
When the ST debuted just over two years ago at the January Consumer Electronics Show in Las Vegas, an air of mystique enshrouded the meaning of the cryptic "ST," Rumors surfaced pointing to the initials of Atari Corp. president Sam Tramiel. When the smoke cleared, the true meaning, "Sixteen/Thirty-two," a tribute to the 68000 architecture, resolved the mystery. But now some new letters have floated into the acronym. What of the STF and the STH? Simple. The "F" means built-in floppy and the "H" means built-in hard drive. (The latter, the 1040 STH, exists only as a prototype in Atari's lab. It was unclear at presstime whether or not Atari would market the STH.)
MULTIUSER ATARI
In a joint venture VME Trade Limited of England and d/SOFT Limited of New Jersey introduced a three terminal multiple user system running on a 520 ST, hoisting Atari into the small business minicomputer arena. The $2995 system includes a 20 MB hard drive and a hardware upgrade-you unplug the 68000 chip and plug in a piggyback board, replace a couple of the TOS ROMs, and you're ready to run the multitasking d/os (pronounced "dee-oss") operating system. The modified Atari emulates a Wyse 50 terminal and allows you to attach two additional terminals. The d/os system runs on a variety of minicomputers, including the Alpha-Micro, the original development environment. "The beauty of the system says d/SOFT's Michael Lewis, "is that any d/os program can run unchanged on an Atari ST, assuming it doesn't exceed the memory requirements." This vertical market, value-added system will soon find its way into medical offices, video rental stores, and other small businesses. For more information, contact: d/SOFT Limited, 310 Cedar Lane, Teaneck, NJ 07666. (201) 652-1413.
CIRCLE 150 ON READER SERVICE CARD
LIFE IN THE FAST LANE.
Kuma Computers Ltd,the prolific software company known best for their applications programs (such as A-Calc and A-Seka available from The Catalog), has produced a parallel 32-bit, 7.5 Mips RISC processor development package for the Atari ST. First, Mips are "Millions of Instructions Per Second," and at 7.5, that's over seven times faster than your ST. Second, RISC (Reduced Instruction Set Computer) processors allow faster program operations by using a smaller but faster set of instructions. In short: it cooks! Called the K-MAX Transputer, the system is based on the Inmos T414 32 bit processor and plugs into the ST's cartridge port, allowing program development with the included Inmos standard editor/assembler. This system promises to be a major advancement for inexpensive university and corporate research and development. Contact Kuma Computers Ltd, 12, Horseshoe Park, Pangbourne, Berkshire RG8 7JW. International phone number: 44-7357-4335. 1450 Sterling.
CIRCLE 153 ON READER SERVICE CARD
ST SMALLTALK
Smalltalk helped put Xerox PARC (Palo Alto Research Center) on the boards as the forerunner in object-oriented langages. Now in the public domain is a Smalltalk-like language called Little Smalltalk from the University of Arizona. It's an interpretive, non-graphics subset of Smalltalk-80 (a trademark of Xerox), originally transferred to microcomputers by Bill Kinnersley of Washington State University. The current version was ported to the ST by Dave Clemens. We know a version is available in DL 3 of Compuserve's ATARI16 SIG.
ANTIC ONLINE COMES BACK
After a short leave of absence, Antic ONLINE is now back in full service. Antic Technical Editor, Charlie Jackson, has been appointed Antic ONLINE Editor and oversaw the complete menu restructure and service improvement. Antic ONLINE now has color and black and white RLE pictures and a library of downloadable files (For example, check Antic ONLINE for data files of icon images for the Icon Editor in this issue). Of course, the familiar feedback areas are still available plus late-breaking news, reviews, and editorial. Type GO ANTIC at any Compuserve prompt.
CIRCLE 154 ON READER SERVICE CARD
FOR THE HOBBYIST
E. Arthur Brown Company of Alexandria, Minnesota publishes the Computer Hobbyist Catalog, selling innovative yet inexpensive software and hardware for the Atari ST. The catalog is free for the asking. Call or write: E. Arthur Brown Co., 3404 Pawnee Drive, Alexandria, MN 56308. (612) 762-8847
CIRCLE 151 ON READER SERVICE CARD
A BIGGER MONOCHROME SCREEN
Every Atari SM124 monochrome monitor has a one-inch border surrounding the usable portion of the screen. Circulating in the public domain is a small article written by architect and ST developer Jack Durre, detailing a process to expand the picture size of the monitor. With a Philips-head screwdriver, some TV tuning tools, and about an hour of work, you can expand your screen. Mr Durre's article has appeared in numerous ST users group newletters and is posted on most ST bulletin boards. Some Atari service centers may agree to make the adjustment out of warranty.
PEOPLE AND COMPUTERS
The University of Wisconsin-Parkside and the Parkside Computer Club are holding their eleventh annual Computer Fair This year's theme, "People and Computers Now," will illustrate how computer systems and software of today's high-tech society are being used by people. The Atari ST promises to be a main attraction. The fair will be held March 21 at the University of Wisconsin-Parkside's Molinaro concourse from 10:00 a.m. to 4:00 p.m. Admission will be $2. Children under 12 are free. For more information, contact Darryl Hahn, Box 2000, Kenosha, WI 53140.