Database DELPHI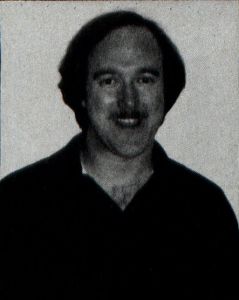 BY ANDY EDDY
Last month we left off our coverage halfway through the NEWS-WEATHER-SPORTS menu, a section of DELPHI that brings you up- to-the-minute information. Let's finish up our coverage of this powerful area—then we'll get to some exciting developments taking place in the databases.
And now the news...
Again, here's the primary NEWS-WEATHER-SPORTS menu:

NEWS-WEATHER-SPORTS Menu:
Newsbrief
Accu-Weather Forecasts
AP News Service
Astro Predictions
CompuBug
Financial News
Kyodo News from Japan
Movie News & Reviews
Press Releases: Business Wire
Sports
Quiz - Your News IQ
Today in History
Views on News
HELP
EXIT

Astrology fans will enjoy the diversity provided by the Astro Predictions submenu. You can get "readings" covering a variety of situations: that day's horoscope, a week-long summary, compatibility between zodiac signs, even a guide for gift-giving. For an additional $12.50, you can get a hardcopy chart done up by Phyllis (DELPHI ID: PHYL) of your own personal astrological aspects.
Compubug is a regular column written about computers in the news, containing both serious subjects and satirical looks at our favorite hobby. It always provides provocative reading.
For serious investors or novice businessmen, the Financial News selection will help you brush up on your dollars and cents. Here you can find out the prices of gold and the current value of the dollar, get a listing of NYSE or AMEX stocks, get a listing of the most active stocks that day and much more. This is what the Financial News menu looks like:
Copyright (C) 1989 by the Associated Press All rights reserved.
AP VIDEOTEX BUSINESS Menu:

General Business News
Govt Economic Figs
Dollar/Gold
Board of Trade
Money Supply
Stock Market Reports
Dow Jones
AP 60 Stocks
S&P Averages
NASDAQ
Markets at a Glance
Most Active Stocks
NYSE Lists
AMEX List
EXIT

Because the Japanese have a great deal of influence on how American business runs these days, Kyodo News from Japan is important in keeping up with current affairs. This menu is broken down into a bunch of categories, such as bonds, commodities, governments, money and stocks.
To prove this section isn't just devoted to serious topics, the next isn't just devoted to serious topics, the next selection, Movie News & Reviews, lets you check out what's going on in films. Not only can you get reviews of what is currently in the theaters and peek in on what's in the works for future films, but you can also search through a database of reviews on previously released films. Especially with the popularity of video cassettes, this is a good way to pick and choose what movies are best for you.
Press Releases: Business Wire is a briefing room for up-to-date business dealings. There you can pick from various articles to keep you abreast of the happenings with the world's movers and shakers. Here's a sample of the PR menu:

Business Wire--Press Releases and News as it happens.
Copyright (c) 1987 Business Wire Inc.
1	4-MAR	TIME INC. AND WARNER COMMUNICATIONS INC. FROM TIME WARNER INC.
2	4-MAR	FIRESTONE BREAKS GROUND FOR NEW EXPANSION PROJECT IN WILSON, N.C.
3	3-MAR    ADVISORY/EIGHT CALIFORNIANS TO BE HONORED FOR OUTSTANDING CONTRIBUTIONS IN THE FIELD
        OF ALCOHOL-RELATED SERVICES
4	3-MAR	NINTENDO INTENT ON WINNING LEGAL WAR AGAINST MAGNAVOX
5	3-MAR	ADVISORY/OREGON HEALTH CARE ASSOCIATION TO HOLD PRESS CONFERENCE MARCH 7 SUPPORTING
        SENATE BILL 903 AND SB677
6	3-MAR    CORVUS SYSTEMS APPOINTS NEW PRESIDENT AND CHIEF EXECUTIVE OFFICER
7	3-MAR	ADC REPORTS THIRD QUARTER FINANCIAL RESULTS
8	3-MAR	MARITIME RESORTS INTERNATIONAL, SOUTHERN SHIPBUILDING, DISCUSSING CONTRACT TO BUILD
        CRUISE SHIP
9	3-MAR	ROBERT M. BUTCHKO ASSUMES PRESIDENCY OF RENAISSANCE GRX
10	3-MAR	TRACE PURCHASES MAJORITY INTEREST IN VENTUNO CORP., A MANUFACTURER OF DISKETTE
        DUPLICATING PRODUCTS/SYSTEMS
Enter Item Number, MORE, or EXIT:

The Sports selection duplicates the sporting scores and summaries that we talked about last month as part of the AP News Service. Again, you can get reports on any sport from here, as the section is broken down into many submenus.
When you choose the Quiz Your News IQ selection, it runs some questions past you to test your current-events knowledge. No, there's no prizes—unlike the FlipIt and Trivia Quest games that can be found on DELPHI—but no matter how well you do, it's fun and educational.
Today in History is a glance back at events that have taken place on this date. It's an interesting compendium of data from past historical happenings.
We close up the NEWS-WEATHER-SPORTS menu with a SIG—yes, this is a strange place for a SIG, but in fact the Views on News SIG has no better place than right here. Here's the menu you'll see when you enter:

VIEWS ON NEWS Menu:
Archives
Conference
Forum (Messages)
MAIL (Electronic)
Poll
VIEWS ON NEWS>
Set Preferences
Who's Here
Workspace
Help (Hints)
Exit

Though we briefly discussed this area in the May 1988 Database DELPHI, just after this SIG was introduced, they've really polished it up. If you want to chat about current events or read through some cutting editorials. Views on News is the place to do it. Among the features they run is a column by Bob Fried called "Articles of Lasting Strangeness." This commentary on life always bring your emotions to the surface, generally resulting in a smile. Most people don't expect to get a chuckle out of a computer activity, but Fried usually breaks that misconception to pieces.
Free uploads
As we noted at the end of last month's column, DELPHI was in the process of reprogramming the database system to permit free uploading of files. If you have ever uploaded a file before, you know that DELPHI previously had you request free time from the SIG manager before uploading. In the meantime, both CompuServe and GEnie had adopted a policy of free uploads to make it easier on their users. Now DELPHI has followed suit, and the results are great.
Instead of uploading the file(s) to your workspace and then submitting it/them lo the database (as was the previous procedure), you can now type "SUB" at your workspace or any database section, then follow the various prompts to not only submit the file, but also the list of keywords, the description and download names. Some additional bonuses have been implemented such as batch uploads for file groups, and the ability to edit the contents until the submission is complete.
Perhaps the most attractive feature is that you can do your upload process in pieces, and the system will keep the entry "in holding" until you are ready to submit it for inclusion in the databases. If you have the files uploaded but aren't sure of what to put in the description, you can hold off on that part until you are ready (or vice versa).
When you type "SUB" you will be prompted as to whether you want to use the new method or the old method, the latter of which requires that you have the files already in place in your workspace. If you pick the new method, you'll see an indicator that your billing has been shut off while you go about your business.
As we've noted, the most popular feature of any SIG is the ability to download files. If you have any files that you've acquired or written that are in the public domain, please take the time to upload them to the ST SIG. Your fellow DELPHI users will be happier for it!
Well, I see that our time is up for this month. Next issue, we'll tell you how you can use DELPHI to make travel plans.
Till next month, C U online.