ST NEWS
FOR JULY 1989
Desktop Mixing
Steinberg/Jones, a company well known for their MIDI software, has just announced a new product that may be the next step into the future for the computer/music combination. MIMIX is a multichannel software-based mixing console that offers a screen display including 42 VCA levels, 34 VU meters and 180 various switches, all of which may be manipulated with the mouse.
Audio signals are displayed using a needle meter with an LED peak indicator or using a bar graph with a peak hold meter. Each channel on the mixer features a real-time VU meter; mute, solo and solo defeat switch; read/write update mode; VCA level; and a 24-character name.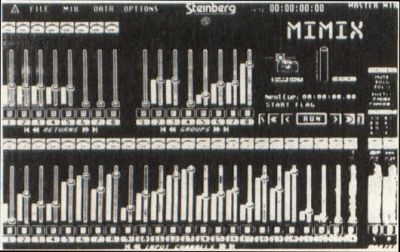 The hardware portion of the system is the MIMIX VCA Module, which is contained in a 19-inch rack-mountable unit and includes a real-time noise gate with ten programmable parameters. The MIMIX system can handle eight of the VCA Modules.
The MIMIX system contains too many features to list here; anyone interested should contact Steinberg/Jones. But you'd better look at the prices first: $5,995 for the 16-channel system and a whopping $19,995 for the full 64-channel system.
Steinberg/Jones
17700 Raymer Street, Suite 1002
Northridge, CA 91325
(818) 993-4091
CIRCLE #130 ON READER SERVICE CARD.