Music from MIDImouse
Under their Sonicflight label, MIDI-mouse Music has released two new patch editor/librarians, one for owners of the MT-32 synthesizer and one for owners of the D-50.
MT-32 Capture is a full GEM application that provides windows and icons for the display and control of the MIDI data being manipulated. As well as the usual editor/librarian features, MT-32 Capture provides a randomize feature that allows the generation of completely new sounds within user-definable parameters.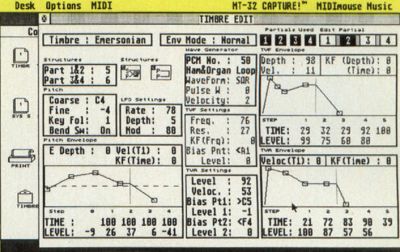 MT-32 CAPTURE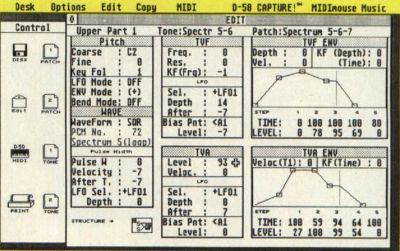 D-50 CAPTURE
Sound envelopes are displayed onscreen and may be edited from the keyboard or by using the mouse to "drag" the envelope to the required settings. Also included is complete printout capabilities and a D-50 to MT-32 conversion program. MT-32 Capture retails for $99.95
D-50 Capture is very similar to MT-32 Capture, giving owners of the D-50 synthesizer complete patch editing, programming and librarian functions. It also retails for $99.95.
MIDImouse Music
Box 877
Welches, OR 97067
(503) 622–4034
CIRCLE #134 ON READER SERVICE CARD.