MIDI Software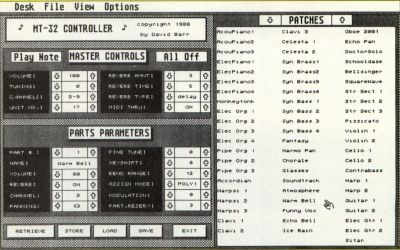 Owners of the Roland MT-32 synthesizer may be able to make use of PolySoft's newly released MT-32 Controller, a desk accessory that may be called up without exiting the currently running application. All the program's parameters, including MIDI channel, tuning, patch choice and panning, may be set using the mouse, and all patches and configurations may be saved to or loaded from disk.
The MT-32 Controller is available now and costs $49.95 plus $4.50 for postage and handling.
PolySoft
P. O. Box 69541
Portland, OR 97201
(503) 245-3152
CIRCLE #135 ON READER SERVICE CARD.