Two new programs from Artworx
Artworx, the software publisher best known for its infamous Strip Poker, has released two new games, one of which follows in Strip Poker's footsteps. Center-fold Squares is an adult game where you and your computer opponent (a centerfold girl) must battle for strategically placed squares, each of which cover a portion of the young lady's anatomy. The graphics were produced using digitization, along with some touch-up work by an artist. Centerfold Squares is priced at $29.95.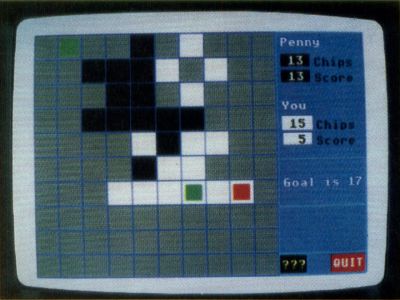 Also newly available from Artworx is a program that is somewhat more conventional, Daily Double Horse Racing. This racetrack simulation boasts complete racing forms that include histories of 180 horses and 12 jockeys, competing in almost 400 races. It's up to you to handicap the races using the information you've acquired on the horses, jockeys and track conditions. Full-featured betting is also included. Daily Double Racing lists for $29.95.
Artworx
1844 Penfield Road
Penfield, NY 14526
(716) 385-6120
CIRCLE #134 ON READER SERVICE CARD.