ST NEWS
The Naked Truth
Artworx Software has begun shipping Strip Poker II ($39.95 list). Almost five years ago, Atari 8-bit users first found themselves playing poker against a computer image that did more than say "Oh, no" when it lost a poker hand. The new ST version of Strip Poker contains two female opponents, complete with their own personalities to keep the game play as interesting as the graphics.
The digitized opponents are displayed using a process called "digitized plus," where the display graphics are first scanned from photographs, then touched-up by computer artists. The results are eye-catching.
Artworx Software
1844 Penfield Road
Penfield, NY 14526
(800) 828-6573.
CIRCLE #102 ON READER SERVICE CARD.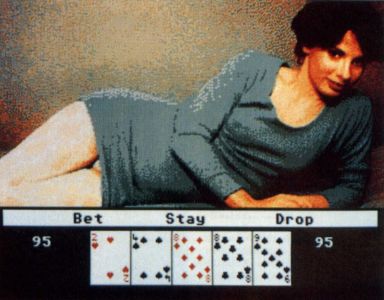 STRIP POKER II · FROM ARTWORX SOFTWARE