ROM GOES TO
SCES

By Peter Ellison

The 18th International Summer Consumer Electronic Show, which attracted a record-breaking 98,271 attendees, was held June 3-6 in Chicago and ROM was there to cover it. There was so much software to see from Atari and a lot of different third party software houses. Below is just a small look at what I saw. And to make it simple to read over, I'm going through the list of companies alphabetically.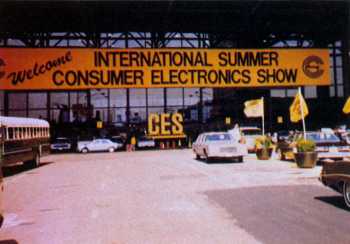 ACTIVISION, which was originally software for the VCS only, has in the past year made conversions for the ATARI computer. It has just released three new games for the ATARI. They were "H.E.R.O.", "Zone Ranger", and "Zenji". H.E.R.O. marks the debut of R. Hero, a gritty rescue expert called upon to save dozens of miners trapped deep inside a volcanic mountain. R. Hero, strapped inside a prop pack, must maneuver through a volcano, honeycombed with tunnels, in order to save dozens of trapped miners. Zone Ranger is a rebel Warrior commissioned by Earth in the year 2130 to enter an unexplored zone of the universe. It is known to be deadly; no ranger has ever returned from it alive. His goal: to survive. I found the graphics to be quite good and the play very unique. Zenji challenges the player to connect the glowing maze of elements (the Many) to a pulsating source (the One) while avoiding the constant threat of Flames of Desire and Illusions they emit.
ALPHACOM were demonstrating some very nice low-cost printers. Their printers will work with most popular personal computers as they make interface cables for each one. The Alphacom 81 (80 column thermal printer) retails for the low price of $169.96. The Atari interface cable is $44.95, which means you can have a printer and interface for a little more then the price of Atari's interface. This printer will also print all of Atari's control characters and dump graphic screens. They also have 20 and 40 column printers that are quiet and fast.
Now on to the booth that makes the best computer on the market, ATARI. Atari had many new games to demonstrate, including a new games system called the 7800. This all-new, state-of-the-art game console allows the best graphics seen on any videogame/home computer system on the market. It boasts 256 color shadings; finest resolution; more complex and sharply defined action on-screen; and over a 100 objects onscreen at one time. A custom 4K chip, which Atari has nicknamed `Maria` is at the heart of the system. Atari won't tell how they got so much in the one chip, but it seems to be the central force in the machine's capabilities. Next issue will feature a complete review of the system.
While there were games to play on the new 7800 scattered throughout Atari's gigantic booth, computer games were also featured. New games for the Atari included arcade classics like "Track & Field" (Konami), "Jr. Pacman" (Scrolling screen), "Crystal Castles", and "Donkey Kong Jr". These arcade games were so close to the arcade that I almost thought that I was in one with all of the games playing. Track & Field even comes with its own special controllers as in the arcade.
Two new games made by Lucas Films for Atari were "Ball Blazer" and "Rescue on Fractulas". Ball Blazer, a split scrolling screen, one or two player game, was quite an amazing work of graphics. The play is against the computer or head-to-head with a human opponent. The second, Rescue on Fractulas, is one in which you are a starship captain flying over the surface of Fractulas, in order to save crashed pilots on the surface below. You must maneuver your craft to land and pick up survivors without yourself dying. Quite a fantastic flight simulator in itself.
New games from Atari that were not from the arcade or Lucas Films were two called, "The Last Starfighter" and "The Final Legacy". Both of these games have excellent graphics and play, living up to Atari's tradition of great games. (Star Raiders) The Last Starfighter has the player flying over the surface of a scrolling planet outside the atmosphere, fighting different types of Alien spacecraft. The Final Legacy, my personal favorite, is called a sequel to the renowned game,"Star Raiders". The graphics are much better with three different combat screens which are: Air to Sea, Sea to Sea, and Sea to Land. This means that there is a large variety in game play. This game, I feel, will make as big an impact on the game market as did Star Raiders four years ago.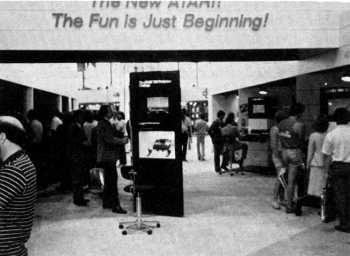 Inside Atari's booth were demonstrations of a piece of hardware that I was dying to try. This was the new "Atari Mindlink". The piece of equipment that was strapped to my head looked like something from out of the movie, "Brainstorm". The Mind Link which would check the tension level of my head was plugged into a special box and then from there into one of the Atari's joystick ports. Breakout was on the screen at the time. I was amazed when I was able to move the paddle back and forth just by the amount of tension I asserted. "Look Ma, No hands!" More points were racked up as I became more relaxed. The Mind Link will work with a lot of the older programs, but to use the Mind Link to its full potential, newer revised versions will soon be available. The Mind Link will retail for the low price of $80.
Synfile, Syncalc, and Syntrend, business programs developed by Synapse for Atari were displayed, showing the capabilities of the Atari with regard to business related functions. These three excellent programs will be reviewed in depth in the next issue of ROM, after we have conducted many hours of experimentation on them.
After seeing all that Atari had to offer at the fair this year, I knew Atari was on th comeback. In the next year I think you'll see Atari begin to get a larger portion of the home computer market. They have the best computer, all they need is the right promotion. Good Luck Atari in the coming year!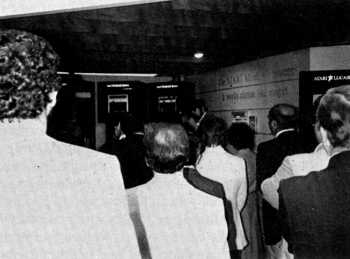 AVALON HILL, a company that was at one time only a boardgame company, released four new games for the Atari Computer. One was "Quest of the Space Beagle", a sequel to Jupiter Mission 1999. The next program, "Market Forces", is a fast moving and educational game that portrays what real-world economics is all about. In the third game, "Clear for Action", you command up to five cannon-laden sailing vessels and attempt to out-sail and out-gun another human opponent or computer. The last game, "Combat Chess", is a graphic strategy wargame with ten different map screens available. In this one or two player game, you attempt to out-maneuver and out-battle your opponent in classic wargame fashion.
BRODERBUND software who is famous for its original games of "Lode Runner" and "Chop Lifter", has done it again with the release of a sequel to Lode Runner, "Championship Lode Runner". This game will include 50 complex screens compared to the original of 150. After each level a different tune is played, giving the player the incentive to keep going. A player completing the 50th screen will have a special password displayed, and after Broderbund has verified that number, the Player's name will be published in major computing magazines.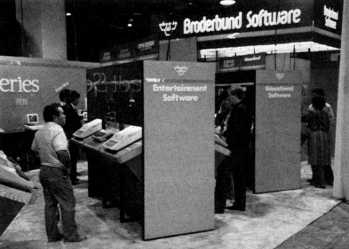 One game I found quite enjoyable to play at the fair was "Spelunker". It has a hi-resolution scrolling screen where players jump over bottomless holes, climb ladders, and swing from rope to rope in search of treasure. The graphics were good, playability fantastic and it took some great will power for me to pull myself away from the game. "Whistler's Brother", another arcade-style game, also with a scrolling screen and colorful graphics, was one with a little bit of a twist. Players have their hands full with two players to control: An absent minded archeologist, and his smarter brother (The Whistler Brothers). It becomes difficult because the absent minded brother begins to wander, making it quite a task to keep him from going astray.
The fourth new game from Broderbund is for those who enjoy playing the classic, Star Raiders. "Stealth" is a 3-D scrolling game that places the player in a realistic looking plane flying above a planet's surface. It is quite a task as you dodge firing bunkers, animated radar missiles, volcanoes, craters, and negative energy fields. You'll navigate over positive energy fields to power your craft and charge your weaponry during your epic flight toward Dark Tower.
CBS software has three new educational programs in the tradition of Sesame Street. They are "AstroGrover", "Big Bird's Funhouse", and "Letter-GoRound".
In the first game children help their Sesame Street pal Grover greet and count the friendly Zips from planet Zap by pressing one of the nine keys of the Easykey. Correct answers help Grover build a beautiful city or launch a zippy spaceship. Lively graphics and music hold attention while children work toward a goal of Grover performing his exciting dance. In Big Bird's Funhouse children invite their Sesame Street friends and make them hide from Big Bird. They practice concentration, memoriztion, and sequencingimportant pre-reading and pre-math concepts. In Letter-Go-Round a letter appears on the basket and as it spins, children must find the right letter to match or complete a word. When a match is made or a word is completed, Big Bird, Bert, and Cookie Monster will dance and cheer children on to the next round of play.
Two educational "Adventures in Science Series" are "T-rex" and "The Honey Factory". Each one of these games has the adventure game flavour with some educational values inside. The last program is called "Adventure Master", a 2-disk program which is a creative instrument that becomes an adventure game-maker when the user brings his/her imagination to it. It provides everything needed to design textadventure games. The user can create up to as many as 60 "rooms" within each adventure, describe places, plan events, create secret exits, name magic words, hide objects and create entire worlds to travel in. The program includes a built-in graphics system for illustrating the "rooms" in an adventure. The program comes with 3 professionally-authored adventures to play and learn from.
CODEWRITER corporation, formerly Dynatech Microsoftware has produced a whole line of utilities for writing programs. This is for those users who have little knowledge of programming. Whether you want a program to keep your files or one to play an adventure game, Codewriter, with a seperate module can do it for you. The different modules that are available or will be available in the near future are File Writer, Report Writer, Dialog, Adventure Writer, the ELF system, Action Writer, and Menu Writer. Action Writer, which won't be available until September, will allow a person to create arcade games with no programming experience. Once you create a program with the Codewriter, you can have it marketed and sold through Codewriter Corporation, giving you something to look forward to.
DATAMOST had quite an impressive booth with contests set up for those wanting to try out their arcade skills. They announced the release of four new games for the Atari plus the conversion of the famous Apple game, `Aztec'.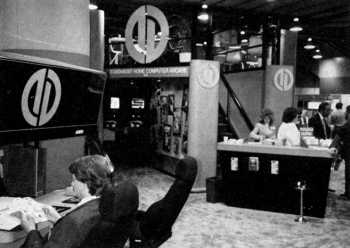 The first game, "Ankh", is an arcade action puzzle. The goal of Ankh is to guide your "other" through all 64 rooms of the Metareal World, solving many puzzles along the way. "Jet Boot Jack", the second game, is an arcade game in which you guide Jack through the Record Machine. With jets on his boots, Jack is able to fly over floors, ride elevators, collect musical notes, and avoid "sleepers". I thought the graphics and playability were good but the game difficult to play as 1 had a hard time staying alive. The third game, "Polar Pierre", also an "arcade-style" game is one in which two players can play simultaneously. The object is to guide Pierre and Jacques over a 100 screen obstacle course, racing against each other through ice and snow.
The last new game released from Datamost is one every chess player should have, "Mychess II". This chess simulation can be played in 2-D, 3-D, color or B&W. Mychess II includes; nine challenging levels from beginner to master, hints, instant reply, the rotation of the board, take back moves, the examination of an opponent's possible moves, save to disk, and print out games. You can either play the computer or another person.
DATASOFT, a major producer of third party software has released a number of programs for the Atari computer. Following its word processor, "Text Wizard", Datasoft has produced a new improved word processor called "Letter Wizard". Besides having the usual move, delete, insert, search, and replace functions, "Letter Wizard" includes a formatting feature and disk manager not available on its earlier version. The disk manager helps create an organized filing system, making it easy to rename, lock, unlock, and delete files on disk. Letter Wizard will also be able to save a lot more text.
Datasoft which has helped bring home the arcade with home versions of Zaxxon, Pooyan, and Moon Shuttle has done it again with two more arcade classics. They are "Lost Tomb" and "Juno First". Lost Tomb adventure lowers the player into the depths of an ancient Egyptian tomb infested with deadly creatures and mysterious mummies throughout its 91chamber maze. The latter, Juno First, places the player on board a spaceship to defend humankind and the Solar System from lethal alien enemies.
Two original computer games based on real life characters were "Bruce Lee" and "The Dallas Quest". In Bruce Lee you, as the player, must use your combative and strategic powers to penetrate each chamber within the menacing fortress of the Evil Wizard and capture a hidden treasure. The second game is based on the popular prime-time soap, Dallas. This game is an adventure game featuring hi-resolution graphic screens with some complicated puzzles to figure out.
DESIGNWARE, a leading publisher of educational software, has introduced some interesting software. The first, "States and Traits" is a game that teaches U.S. geography, history, and current facts on a colorful master map. In `traits' the player's challenge is to answer questions about a multitude of U.S. landmarks, historical facts and trivia. In `states' the player must move the labeled outline of a state with a joystick to the correct location on the map. This game will even help adults in their geographical skills. Two other programs to be released in August are "The Notable Phantom" and "The Grammar Examiner". The Notable Phantom is the first program in the `Music Teacher' series of musical educational games. Ghosts, Spiders, and a music loving phantom, create an entertaining, unpressured environment for learning the basics of piano-playing.
The Grammar Examiner is one in which kids can edit their way around a colorful gameboard in order to become an ACE reporter. The program includes 150 multiple choice questions and paragraphs, each with numerous grammatical mistakes to be edited. The player with the most money at the end of the game wins. The final program, "Mission: Algebra", due for release this fall, is a game in which kids rescue stranded sister ships in outer space by solving algebraic equations. This program, directed toward those between the ages of 13 to 18 has a random generator, creating thousands of problems which provide for endless practice in determining equations of lines, coordinating pairs on a graph and solving for `x' and `y' coordinate points.
ELECTRONIC ARTS, which brought us the award winning "M.U.L.E." and "Archon" have done it again with three new games. They are "Archon II", "Seven Cities of Gold" and "One on One". The first game, Archon II, is a sequel to Archon with better graphics and play. The second game, Seven Cities of Gold, is a graphic adventure game where you take on the role of Christopher Columbus exploring new lands. The last game, One on One, is a fast action basketball game with true to life animation.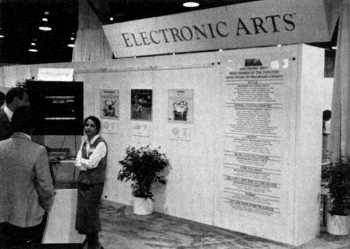 EPYX, which brought us the award winning adventure game, Temple of Apshai, has been growing bigger and bigger with its large variety of software. Epyx which has stayed mainly with games, has come out with some pretty exciting stuff for the new year. The first game, "Pitstop II" is one to follow the best seller "Pitstop". Instead of just having one player racing against computer controlled cars, players will be able to race head-to-head in this new split screen car race game.
The second game, "Summer Games", is one that offers the gamer life-like events from the Olympics, complete with real-life strategy elements. There are 8 official events in all, including gymnastics, skeet shooting, running, swimming, pole vaulting, and diving. There is an opening ceremony (torch lighting), an awards ceremony, and after each event players can choose to represent any one of 18 countries. The third game, "Breakdance", is one that is capitalizing on America's dance craze. "Breakdance" is three games in one, where, in the first game, the player must properly duplicate the moves of an opposing gang of breakdancers in order to pass through them. In the second game your breakdancer must duplicate the move of a computer controlled dancer and in the third you can enjoy free-style breakdancing in which the computer will record and play back your dance routine.
Another great game that Epyx has just released is "Moreta: Dragonlady of Pern" sequel to "Dragon Riders of Pern". These games are based on Anne McCaffrey's award winning science fiction novel of the same name. In "Moreta" the future of the faraway planet of Pern rests in your hands as you, assuming the role of Moreta, search for the secret remedy to a mysterious illness plaguing your people.
There are three new Computer Activity Toys, which according to Michael Katz, are "toys playable on a home computer". "The essence of the like is imaginative, creative non-structure play".
The first, "G.I.Joe", is a game which has plenty of real life combat action in this licensed version of Hasbro's popular male figure. The child selects the battlefield activity in which he wants to interact and then equips his G.I.Joe with the proper clothing, equipment, and transportation. All combat takes place against non-humanoid opponents. The second game, "BARBIE" (Mattel), is one that offers children the fun and challenge of dressing and redressing BARBIE, changing her hair style and color, altering her clothing and creating color-co-ordinated fashions.
In the final game, "HOT WHEELS" (Mattel), children experience the fun and excitement of constructing a Hot Wheels vehicle on the computer screen. Kids can then move their newly constructed car through various activities, including a Hot Wheels garage, city scene, and demolition derby. How come they didn't have these when I was a kid?
INFOCOM, the company who brought us great text adventure games like Zork I, II, and III has just released a new game called, "Sea Stalker". This is the first in a new series of software titles designed with the beginner in mind. With the disk you receive a submarine logbook, which serves as a users' manual, eight top secret infocards, Infocard decorder film, a nautical chart of Frobton Bay, and a special Discovery Squad sticker. On the disk you'll experience an adventure in the tradition of Jules Verne's 20,000 Leagues Under the Sea, but instead of just reading it this time, you will be the main character.
MINDSCAPE, a relatively new company has released five new educational games. They are "Tonk in the Land of Buddy-Bots", "Tink's Adventure", "Tinka's Mazes", "Tuk Goes To Town", and "Crossword Magic". Children can now learn to recognize shapes and patterns with "Tonk in the Land of Buddy-Bots". In the next game, "Tink's Adventure", the child must guide the computer character to find and win a treasure. In the third game, "Tinka's Mazes", the child learns how to learn counting and develop basic math concepts. "Tuk Goes to Town" is a game where children can develop pre-reading and reading skills. The final program, "Crossword Magic" is a piece of software that allows the user to create his own crossword puzzles. Unlike the firstcome, first-served puzzle in the newspaper, Crossword Magic can be used again and again by every member of the family.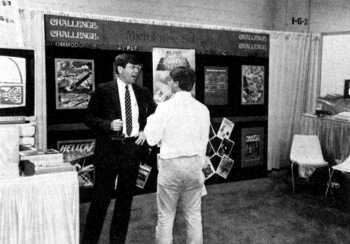 PERSONAL PERIPHERALS Inc has released an affordably priced graphic tablet called, "Super Sketch" with software cartridge. "Super Sketch" allows consumers to easily create exciting computer graphics in color. By simply moving the stylus control as you would a pencil, Super Sketch will reproduce the movement on the screen. The thing that makes Super Sketch so exciting is its under $50 price tag. Below are four pieces of software that can be used in conjunction with Super Sketch.
"Super Music Box" is a program that provides a simple approach to composing music and playing it back on the Atari. Neat features in this package include scrolling the screen measure by measure from left to right, and cutting and pasting measures to anywhere in the musical file. "Business Presentor" is one for creating quality business presentations. After completing attractive full color charts, graphs and other business related graphics, the user may store them on the screen in any predetermined order.
"Master Home Planner" is a software program for a new and easier method of quickly visualizing home planning concepts. Home and commercial design concepts can be designed, and interior design concepts can be explored. One interesting feature is Auto-Fill, textures-Brick; Wood Slats; Tiles. This can be a real help for the professional or amateur draftsman. The last Super Sketch enhancement is "Printer Utility", a program that allows a person to dump all of his or her created screens to a printer. This can be handy in a demonstration to a business client or friend.
SCREENPLAY which has brought us great graphic adventures like Dunzhin, and Kaiv have tried something new with a game called "Break Dancer". Watch the breakdancers as they twist, turn and spin to funky music. Besides having the game demonstrated at Screenplay's booth, they had a few live break dancers putting on quite a show. Another new innovative game that has just been released is "The Trivia Arcade". This game which includes five different categories: Sports, music, TV, science, and general, has the player race against the clock in order to choose his or her own favorite trivia subject. Once you have become an expert at this game, Screenplay has a module called, "The Trivia Arcade Question Pack I" which tests your skills on subjects ranging from history to comics.
A new game series that wasn't demonstrated but released was called, "Caesar's World"-Casino Software. The games that will be featured are: Black Jack, Roulette, Craps, Poker, Bacarat, and Slots.
SEGA who are famous for their arcade games and computer versions have three new ones to add to their list. They are "Up n' Down", "Tapper", and the newest "Spy Hunter". At the fair they had a demo of Spy Hunter which looked quite impressive and should be available some time in the fall.
SIERRA which was originally called Sierra On-line has a whole new line of Atari games. "B.C.'s Grog's Revenge" is the latest sequel to "B.C.'s Quest for Tires". Grog's Revenge follows Thor, once again on his trusty stone wheel, as he tries to climb a mountain and collect claims on his way. Fat Broad, Pterodactyls, and other fearsome creatures, as well as awesome terrain and obstacles block his path. Another new program is "Stunt Flyer", a flight simulator where you take charge of the open sky, fly upside down and do loop-de-loops in this barnstorming biplane. Other new programs include a line of "Wizard of ID" educational games with good graphics and gameplay. One that impressed me was "Wizard of ID's Wizmath" which makes addition through algebra more enjoyable. Also "Wiz Type" is quite a neat program for learning to type.
Strategic Simulations released two new role-playing games for the Atari. They were "Question" and "50 Mission Crush". The first game is a fantasy adventure game where the battle is between good and evil. Excellent Hi-Res color graphics add to the large disk based adventure game. The second game, which is reviewed in this issue, is one that puts you in the cockpit as pilot of the most glamorous bomber of World War II- the B-17 Flying Fortress. Since it is a role-playing game your characters can gain experience through each attack run. These two new games are a fine addition to SSI.
Although the fair was a big success for Atari supporting companies, I was disappointed in the fact that companies like Adventure International and Synapse, who were registered to have booths, didn't make an appearence.