NEW PRODUCTS

OPERATION
WHIRLWIND

This new war game puts you in World War II and it's up to you to muster up courage, polish your knowledge of military strategy, and move your battalion through a series of skirmishes and battle actions. Using your joystick through the many phases of computer battle action, including Command, Movement, Combat, Assault Order, and Assault. This game lasts from one to three hours with numerous cycles or skirmishes. Your victory can be designated in one of five different ways: Questionable, Marginal, Tactical, Strategic, and Breakthrough. Operation Whirlwind features Broderbund's excellent graphics and sound effects, and is ideal for both the novice and advance players and carries a suggested list price of $39.95.
Broderbund Software
17 Paul Drive
San Rafael,CA 94903

LODE RUNNER

This best seller for the Apple is now available for the ATARI computer. It features up to 150 original game screens, each requiring strategic problem solving and quick thinking in addition to lightning-fast reflexes. Another feature also attributing to its popularity is the feature that allows arcade game entusiasts to create an unlimited number of additional game screens. The suggested retail list price for disks is $34.95, and $39.95 for cartridges.
Broderbund Software
17 Paul Drive
San Rafael,CA 94903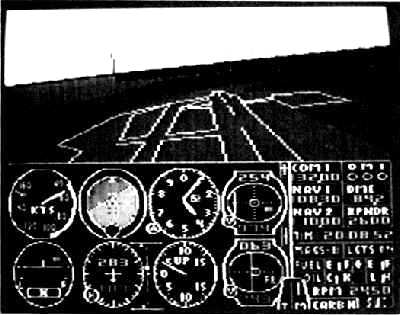 FLIGHT SIMULATOR

SubLOGIC's new 'Flight Simulator II lets you practice takeoffs, landings, even com;licted aerobatics. The program features over 80 airports in four scenery areas; NewYork, Chicago, Seattle, and Los Angeles. Complete navigation facilities are included. Flight Simulator II includes color-filled 3D graphics and weather conditions that are user-adjustable, from clear blue skies to grey cloudy conditions. The suggested retail price is $49.95 for a 48K disk.
subLOGIC Corporation
713 Edgebrook Drive
Champaign,IL 61820

NATO COMMANDER

This is a scrolling, Real-Time wargame that requires Joint Chief's-of Staff thinking and arcade speed decisions to stop the Soviet Bloc invasion of Europe.
This Real-Time simulation of events as they might take place in a European conflict, requires the NATO cornmader to analyze continuous radio, teletype and combat communication reports of battlefield conditions, and respond with his own strategy Air Power, Multiple Combat units including Armor, Mechanized Infantry and attack Helicopters. As a last resort, the Commander has at his diposal Tactical Nuclear Weapons. The simulation takes place in accelerated Real-Time, with numerous activities taking place simultaneously; including command entry, unit movement, combat, and battlefield updates.
This is now available on 48K disk or 40K cassette and has a suggested retail value of $34.95.
MicroProse Software
One Caribou Court
Parkton,MD 21120