The Raving Reviewer
by Tim Reekie
FLOYD OF The
JUNGLE
MicroProse Software
Parkton, Maryland 21120
$29.95Disk or Cassete; 32K
In the long list of Donkey-Kong like games, Atarians now have 'Floyd of the Jungle' by MicroProse Software. In this case however, Donkey Kong has been surpassed in at least two areas: 1-4 players can play simultaneously, and the background graphics are done exceptionally well,
As I mentioned, Floyd of the Jungle can be played by 1-4 players simultaneously, with each Floyd capable of having a handicap (1 or 2 sore legs) for advance players. There are three difficulty levels: Easy, Medium, and Tough, and a play to value, that is set by the players, which automatically defaults to 20.
The object of the game is to rescue the fair maiden(that sounds familiar), Janice from nothing and no one in particular. To do so, our hero must jump snakes, ride alligators, elephants, and other miscellaneous animals, while avoiding getting eaten and or trampled by them, On two of the five different screens there is also a torrential river with canoes floating by for Floyd to jump on to.
And then, of course, are the Pygmies shooting poisoned darts at poor old Floyd. This is where the game gets comical. Floyd avoids the darts by jumping over them (push button) and can pickup two points by punching the Pygmy. Floyd gets his sustenance by catching birds (1 point each). The first Floyd to rescue Janice collects 4 points with additional points being added for traversing the course in less than 60 seconds and/or with a handicap.
Scores are displayed after each screen is completed, along with a table declaring the breakdown of points (birds, pygmies, rescues), The first person to earn the number of points selected receives a nice surprise.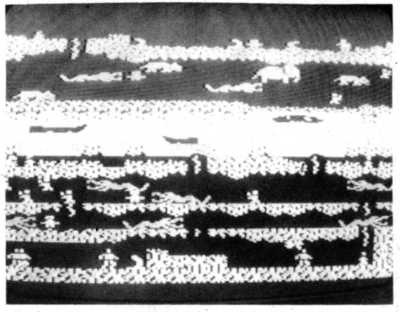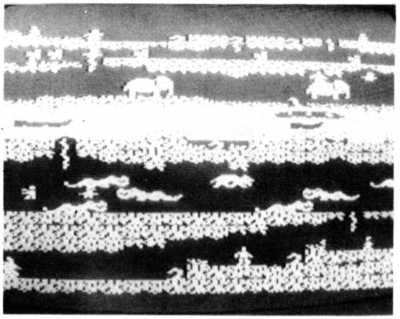 Until the game is mastered, it is very frustrating, as every death returns your F1oyd to the bottom of the screen. Even after the game is "mastered", the challenge is still very much present as you are now no longer racing against the clock or trying to better your high scores, but your are now racing against someone who also knows the ropes (or in this case, the vines). One little mistake and...
At first some parts of the screen may seem impossible to pass, but experimentation and imagination will overcome these problems.
The graphics are incredible. So much seems to be crowded into such a small space. All over the screen, there is something happening. Before and after the game, the music is a superb three-part harmony, but during the game the sound is restricted to darts flying and Floyds dying. Personally, I had to stop and listen to discover that this was the case.
The instructions, besides being humorous, are quite informative, although for a while I was trying to punch the monkeys as they look similar to the pygmies. Experience sorts out these mistakes. This game has that lasting quality about it, with many innovative and downright funny ideas added for good measure.
FLOYD OF THE JUNGLE
Playability:9
Challenge:8.5
Graphics:10
Sound :9
Documentation:8
Overall Rating:9
Soccer
Thorn EMI
1370 Avenue of the Americas
New York, New York. 10019
Hello soccer fans, and welcome to another fine night of soccer in Maple Ridge. We will be joining our on-the-spot reporter after these few words about the game.
SOCCER can be played from 1-4 players, two computer players, and every conceivable combination of these players including computer Vs. computer. The time limit can be set as 10, 45, or 90 minutes. The computer also has 1-4 skill levels which only the computer uses. And now to our on-the-spot reporter in Maple Ridge.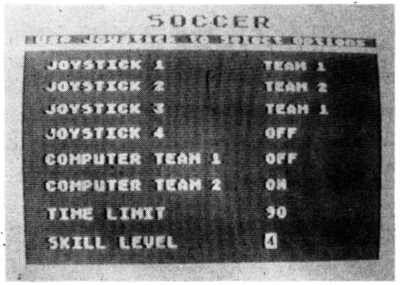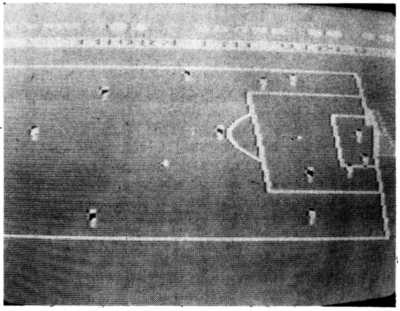 Good Evening, this is Coward Hosell, and welcome to my post game show.
Those two teams were really scrolling well out there today, although both seemed rather colorless. Those two players seemed to be all over the field (push button to become the nearest free player to ball). I came today expecting another of those unoriginal "sports" games, but instead found SOCCER to be a fast-paced challenging game. If you like Soccer, then you'll like SOCCER. From the turf at Thorn EMI stadium, this is Coward Hosell signing off.
Unfortunately, under this bed of roses, is the inevitable pile of manure lurking, Corner kicks and throw-ins almost invariably favor the defending team. The goalie is practically incapable of saving a shot from inside of the eighteen yard box and other (admittedly nit-picking) problems.
Fortunely these problems are shared by both teams, so they do not spoil the game.
SOCCER
Playability:8
Challenge:9
Graphics:9.5
Sound:6
Documentation:8
Overall Rating:8.5