ROM GOES TO THE W.C.E.S.

by Peter Ellison

The 1985 International Winter Consumer Electronic Show was held in Las Vegas from Saturday, January 5, through Tuesday, January 8, with a record breaking attendance of more than 101,000 trade visitors. This fair was the biggest ever to be held in Las Vegas. As in the Summer Fair in Chicago, many Atari software vendors had booths displaying their new products. In the following discussion I have listed the companies in alphabetical order.
ACTIVISION, which started out as a game system software company only, has diversified and is making software for most popular home computers. The first new game is "Ghostbusters: The Computer Game." Based on the movie, "Ghostbusters," this game combines many of the elements which made the movie so popular. The central role in the game is that of the owner of a Ghostbuster's franchise. He begins with a loan from the bank with which he can purchase a vehicle and various ghostbusting gear. The game, being quite enjoyable in itself, also has the popular theme song, "Ghostbusters," playing in the background.
The second program, "The Designer's Pencil," isn't a game but a fantastic graphic and sound editor. With a Pencil, the user selects from a menu of over 80 simple English "commands" and builds "programs" which create illustrations, colors, and sounds. The commands, designed by Garry Kitchen, reduce complex computer instructions to simple, straightforward statements. ("Circle" draws a circle, for example). All commands are available at the touch of a joystick or keyboard.
The last program that is available for the Atari is "Space Shuttle: A Journey Into Space." The program is a detailed simulation of a shuttle mission. This game challenges the user to develop the skills necessary to be a shuttle pilot.
ARTWORX, which is famous for the graphics in "Strip Poker," has released two new fast action games for the Atari Computer. They are "Ghost Chaser," and "Slap Shot Hockey."
"Ghost Chaser" is a an action oriented game with some interesting problem solving twists. Globbing the phantoms that materialize throughout old Fairport Manor with ectoplasm is only part of the game. Special keys, needed to open secret passageways and the ultimate ghost chamber, are hidden in the different rooms.
The second game, "Slap Shot Hockey," is a realistic sports simulation that brings you and an opponent right onto the ice. Besides being a true two player game, Slap Shot is one of the few games with digitized speech. Great play action and realistic maneuvering (even body checking) make Slap Shot a one of a kind sports simulation.
AVALON HILL, a company that was at one time only a boardgame company, released a new wargame for the Atari: "Gulf Strike." This examines almost every aspect of this complex region where the potential for superpower confrontation is eminent. This is a brigade-level simulation which pits Iran and the USA against Iraq and the USSR. It is complete with a finescrolling map and a unique way of handling unit's stacks.
BATTERIES INCLUDED, a relatively young Canadian software company, has introduced two new software packages for the Atari computer: they are "Homepack," and "PaperClip."
"Homepack" is actually three programs in one: "HomeTerm," "HomeFind," and "HomeText." "HomeTerm" is a comprehensive telecommunications program which turns your Atari into a `smart' terminal. Users can communicate with other computers, access public databanks, and participate in public Bulletin Board Systems. "HomeFind," a data manage program, features "Dynamic Space Allocation" which constantly moves and rewrites information to make room for storage space. Data search speed is enhanced by HomeFind's overlapping index system and flexible query format. Simplified output commands permit the fast and easy printing of files. "HomeText" incorporates advanced word-processing features such as full-screen editor, cut and paste, and graphic preview mode. "HomeText" also supports most major printer functions, including bold face, underlining, and extended character width.
The second program, "Paper Clip," is a best-selling word processor program translated for the Atari. Paper Clip allows the user to configure almost every program function to his or her personal needs from text editor to file handling, and to printer interface. Once set, a customized version of the program can be saved to any disk. Multiple versions can be saved for different applications.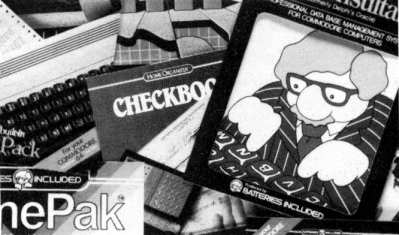 COVOX, INC. is a new company which has introduced "Voice Master," a revolutionary hardware and software system for the personal computer. "Voice Master" is actually three exciting products in one: "Speech Synthesizer," "Word Recognition," and "Voice Harp." Perhaps the most exciting of all is the "Voice Harp" application: Multi-part harmony with octave changes can result when the operator simply hums (or whistles) into the microphone. The resulting music score scrolls by on the video display, complete with note duration and pauses. In an editing mode the notes can be corrected or changed, with the final score then going to a printer. One need not know music in order to be able to compose and write; only the ability to hum or whistle is required. I did not believe something like this would be possible for such a low price. This could make a music composer out of anyone.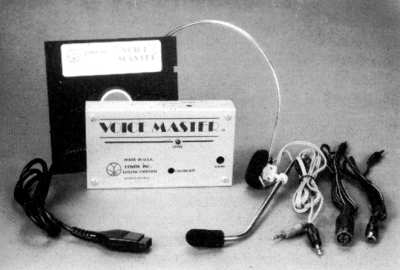 EPYX, a leader in producing high-quality entertainment software, has done it again with the release of nine new games for the Atari. Their booth was a little different from most because it had children from the ages of eight to fifteen demonstrating each game.
Two games that were demonstrated in Chicago at Atari's booth are now under Epyx's name. They are "Ballblazer" and "Rescue on Fractalus" from Lucasfilm Games. "Ballblazer" is a futuristic, twoplayer fantasy sport, played at very high speeds on a split screen showing both player's point-of-view. "Rescue on Fractalus!" is a space action-strategy game featuring realistic 3-D simulation.
In addition to Lucasfilm games, Epyx introduced four other Action-Strategy games. These are "Summer Games II ," "Two-on-Two Sports," "FBI," and "The Right Stuff."
Eight more ways for you to go for Olympic gold are provided by "Summer Games II." The new Epyx game builds on the excitement of its predecessor, Summer Games, which is still on the top 10 "hit lists" of most industry charts. The new events in Summer Games II are fencing, cycling, equestrian competition, and kayaking, as well as many others.
"Two-on-Two Sports" offers computer gaming enthusiasts a chance to play as a team against the computer in four of the most popular sports. These are volleyball, soccer, football, and baseball. Players can be on the same team against two computer controlled opponents; or the computer can supply a solo player with a teammate or with two computer controlled opponents; or two players can play against each other, each having a computer controlled teammate. Each game includes the key action segment from the particular sport involved.
"FBI" takes a fun approach to simulations by challenging the player to pass "The Bureau's" qualification tests. With realistic graphics and sound, you're able to test your skill on the combat pistol range, try your endurance on the rough obstacle course, challenge your memory by reconstructing "mug" shots, or put on your thinking cap and take a written examination that will test your general knowledge of criminology.
"The Right Stuff" puts you in the cockpit of a World War II Spitfire in the Battle of Britain. With joystick in hand, you take off and land, and intercept the enemy, thus engaging in thrilling aerial "dog fights." The extremely realistic graphics and action let you simulate air combat conditions over the channel in 1940.
New releases in the strategy game category are "Empire" and "Rogue."
In "Empire," your strategy to achieve global domination is the key element of this computer wargame. The computer is the tireless enemy which you try to outwit by building ships, planes, and armies. Each city conquered produces new forces for you to command. You must plan carefully because your opponent is also building an empire, and only one of you will survive.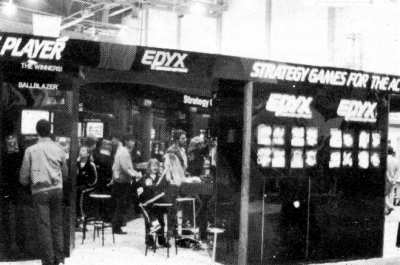 In "Rogue" your mission is to make your way through a maze of seemingly never-ending dungeons and to return with the "Amulet of Yendor." Beware! your path is strewn with trap doors, deadly darts, and menacing monsters. "Rogue" is one of the best known fantasy role playing games on mainframes. Now you can play it on your own home system.
EPSON AMERICA, INC, which is famous for its inexpensive dot matrix printers, has brought out a new printer called "HomeWriter 10." This new dot matrix printer offers easy plug-in compatibility with most popular home computers, including the Atari. The sleek new 80-column printer connects with them via Epson's new plug-in Printer Interface Cartridges (PICs). Each PIC is a combined ROM cartridge and cable that connects the printer to a specific computer. The PICs plug in as easily as does an electrical cord into an ordinary wall socket. A major benefit of HomeWriter 10 is that it operates in both draft and near letter quality modes and with Epson's exclusive SelecType feature, offers all the most popular typestyles. The printer operates at over 1000 words per minute (100 cps) in draft mode, and at over 160 words per minute (l6 cps) in near letter quality. With no special programming, SelecType enables printer users to choose combinations of print styles such as condensed, emphasized, doublestrike, or near letter quality, simply by pushing buttons on the printer's control panel.
KRAFT SYSTEMS, a new joystick company, has released a brand new joystick for the Atari. This black joystick is sleek, fast, and extremely accurate. It is guaranteed for over a million cycles, thus having a very long life.
HYBRID ARTS is developing MIDI hardware and software to meet the needs of the professional musician. This multitrack sequencer and keyboard extender works with the Atari computer and any MIDI equipped keyboard. This will cut the cost for many musicians who would like the power of a 16 track sequencer but can't afford the price.
MICROLAB, which is famous for its game software, like "Miner 2049," has just released three business related products for the Atari. The first, "Tax Manager," with its three part program that guides you step-by-step through your federal tax forms, allows you a quick and easy way to do this.
"Personal Banker" allows you to keep track of your own personal finances. With it, you will be able to know where your money is going, where it has gone, and where your tax deductions are.
The third program, "HomeWriter," is a word processing program that has an electronic card file and other features usually found on more expensive programs.
Two educational games have just been released with fun and education value combined.
The first, "Barnaby Builder," is an arcade-type game that develops planning skills, logic, hand-eye coordination, and shape perception. You select blocks of various shapes and sizes from five chutes, load them on a springboard in any of five positions, and flip them up. If you plan correctly, you'll build a balanced tower. If you stack them incorrectly, they'll come crashing down.
The second game, "Barnaby Math," is one that's designed to stimulate math, logic, planning, and perceptual skills. You construct a valid math statement that equals your "goal" number for each level. This game should keep both the young and old entertained and informed.
"Caribbean Quest" is a new realtime hi-res graphics adventure. It was written by the authors of the famous game, "Death in the Caribbean," so one might expect it to provide many hours of enjoyment.
MICROPROSE, a company which has supported the Atari computer from the very beginning with games like "Mig-Alley Ace," "F-15 Strike Eagle," "Solo Flight," and "Nato Commander," has released three new ones. The first, "Kennedy Approach," puts you in command of the air traffic system at some of the United States busiest airports. More than twenty different aircraft could be calling you at the same time. You will hear their radio calls and your broadcast messages in high quality speech right from your computer! Your job is to guide all the aircraft, from a DC-3 to the supersonic Concorde, to a safe landing.
"Crusade in Europe," the first in a series, simulates the American and British struggle against Nazi Germany from the D-Day invasion to the Battle of the Bulge. It includes three short battle scenarios that can be played in an hour, and two longer scenarios that take two to four hours.
"Decisions in the Desert," the second in the series, recreates the tense battle between Field Marshall Erwin Rommel's Afrika Korps and the British 8th Army for control of North Africa.
MINDSCAPE has released two new educational programs starring "Tonk" and "Tink," their favorite little characters used in all their children's educational programs.
"Castle Clobber" helps 4 to 8 year olds build logic, inference, critical thinking, concentration, memory, and visual discrimination skills while challenging children to help Tonk rescue all the toys in Tink!Tonk! land from the evil clutches of Gork.
"Subtraction Fair" invites children to a mythical, mathematical "fair" where there are colorful games, prizes, adventures, and arcades. Children can pilot Tink into five different game booths: Magic Show, Dunk Gork, Witches Brew, Bear Dare, and Ring the Bell, where there are subtraction "contests" to play.
In "Bank Street Music Writer," beginners, amateurs, and professionals can use simple word-processor style keystrokes to arrange and edit music in four voices. You can use different colored notes to track voices separately, and you can store up to 70 music staffs or 8000 notes. You can save compositions, and print "piano quality" copies.
"The Halley Project: A Mission in Our Solar System" is an actual realtime simulation in our solar system. Tests and obstacles in it help players master basic facts about the solar system including details on Halley's Comet and its orbit giving them an understanding of gravity, atmospheric conditions, orbital motion, relative size, position and orbits of planets and moons, location of constellations, and how eclipses work.
PEACHTREE SOFTWARE is producing educational software for people from the age of eight to adulthood in a market that still isn't saturated like that of the preschool age group. They have done it with programs like "compu-read." This program was designed to improve reading speed and recall. Four learning units provide reading practice in letters, words, synonyms and antonyms, and sentences. Compu-read presents a continuous challenge because the speed at which the lessons are presented automatically readjusts to a student's highest reading rate.
"PSAT and SAT Word Attack Skills" are tutorials which strengthen word comprehension and word analysis skills and familiarize college-bound high school students with testing formats. They focus on the antonyms portion of the Scholastic Aptitude Test, and choose the 400 vocabulary words contained in each system on the basis of their frequent appearance on recent examinations.
In "Rendezvous," you are the flight commander of an Enterprise-class space shuttle: your mission is to deliver life sustaining supplies to an orbit space station. In this true-to-life simulation of space navigation, you must guide your craft from lift-off to docking while battling the forces of gravity and thrust.
PARKER BROTHERS, who brought arcade games like "Starwars" and "Gyruss" to the home computer, have introduced a sequel to the classic arcade game, "Qbert." This is "Qbert's Qubes," which features Qbert, the snout-nosed arcade athlete who must, instead of just changing the qubes, make sure that each qube lines up in the correct sequence. If Qbert can rotate all the Qubes in one row to match the target qube, he completes the round.
PERSONAL PERIPHERALS, who introduced "Super Sketch" at the Summer Show in Chicago for $49.95, has dropped the price to $29.95 (Drawing software Included). This is one of the best deals that I've seen for a long time.
QUANTUM MICROSYSTEMS has introduced a modem specifically for the Atari called, "Q-Modem" that doesn't even need an interface or power adapter. Features include tone dialing, auto-answer, and autoexec for unattended use, three ways to transfer files, and a built-in Editor. It, being only 5x4x 1.5 inches in size, is very portable.
SUNCOM has just released "PQ-The Party Quiz Game. " What distinguishes it from other computer games is its hand-held Quick Response Controllers which free players from the keyboard. These controllers are connected to the computer with six-foot-long cables. The computer screen asks a question and provides, numerically, four multiple-choice answers. Players simply press the corresponding number on their controllers. The game comes with "General Edition I" software, which covers such categories as history , politics, entertainment, sports, and science. Additional software disks are available including "Education Edition I," "General Edition II," "General Edition III," "Entertainment Edition I," "Sport Edition I," and "Bible Edition 1."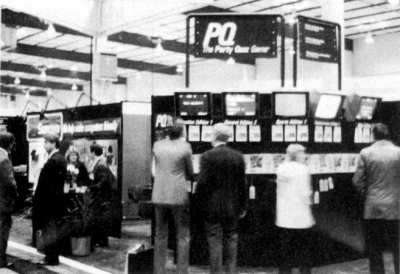 SSI released three new strategy games for the Atari.
"Imperium Galactum" allows you to design your own legion, or starships ranging from explorers to battleships that can ravage an entire planet. They are rated for different weapon systems, defense and evasive capabilities, armor, speed, and size. Your ships must be maintained lest they deteriorate. Each warship in your fleet can be individually monitored and repaired. Whereas Rome conquered a world, you can conquer a universe.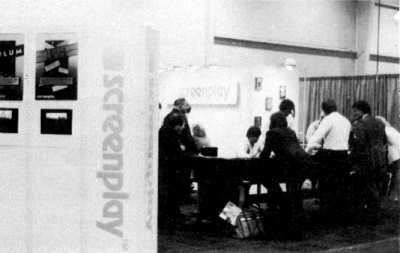 "Field of Fire" takes you from the sands of North Africa and the beaches of Normandy to the bridges of the Roer and to the forest of the Ardennes. It is there that you will lead Easy Company into the crucial battles of World War II.
"Kampfgruppe" is a tactical-level wargame of the 1941-46 eastern front. Opposing regiment-sized forces battle in historical or player created scenarios. Each unit represents a platoon of tanks, infantry, or guns, and the computer resolves combat down to the level of each tank, gun, and infantryman. Every weapon is historically rated for its combat effectiveness as well as for its time of service.
The talk at the fair was of Atari and, as you can see from the above article, there was a lot of software to go with its new computers.