Previews
Right Stuff with Solo Flight
Grab your helmet and flying gear, and get ready to show your "Right Stuff" with Solo Flight, an exciting and realistic three-dimensional flying simulation for the Commodore 64 and Atari computers from MicroProse software.
Solo Flight, a flight simulator for home computers, combines the excitement of flying by accurate simulation with the thrill of accomplishment in overcoming the dangers of rough terrain, bad weather, and mechanical and instrument failures. Suggested retail price is $34.95.
MicroProse Software, 10616 Beaver Dam Rd., Hunt Valley, MD 21030.

Silicon Warriors
3-D Action
Silicon Warrior is one of two new games for the Atari and Commodore 64 from EPYX. In this three-dimensional game, characters disappear and reappear, making this a very special action/strategy game.
In Pitstop, the player controls his racing car with steering and speed controls. In order to win the race, the player must decide if a pitstop is necessary and when to make it.
EPYX, Inc., 1043 Kiel Court, Sunnyvale, CA 94089.
1 + 1
Success with Math, from CBS Software, is a series of Math review programs designed to help the student learn and practice math skills at his own pace and allow him to choose the number and difficulty level of the problems he wishes to solve.
The classroom-tested programs take the student, step-by-step, through arithmetic and algebra concepts. They are encouraging, never judgmental, simple to use and require little or no use of printed material. Suggested retail prices are $24.95 for disk and $19.95 for cassette.
For more information contact Schwartz Public Relations Associates, Inc., 183 Madison Ave., New York, NY 10016.
Secret's Worth $10,000
Hop along with Pogo Joe as he bounces across fields of cylinders to escape his foes. Travel with Pogo to the 10th screen to find the secret word which could win you $10,000 in cash!
In Asylum you are confronted with wacky inmates and mysterious obstacles as you struggle to escape the grueling maze. Can you keep your sanity while seeking the answer hidden in the mirror of Asylum?
Pogo Joe is available in 48-64K on the Atari for $24.95 and Asylum in 48K for $29.95.
For more information contact ScreenPlay, P.O. Box 3558, Chapel Hill, N.C. 27514 or call 1-800-334-5470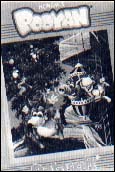 Pooyan
Pooyan Adapted for Commodore
Pooyan, the quick-reflex, fast-thinking action game where hungry wolves hunt defenseless piglets, has been adapted for the Commodore 64 home computer by Datasoft, Inc.
Featured with high-resolution color graphics and multiple screen scenarios, Pooyan can be played by one or two players. Available on disk and cassette for the Commodore and Atari, Pooyan's suggested retail price is $29.95.
Datasoft, Inc., 9421 Winnetka Ave., Chatsworth, CA 91311.
New Levels of Adventure in Vanguard
Attention space pilots: Looking for new frontiers of adventure? join the expedition through the tunnels of planet Aterria, find the fabulous city of Mystery and destroy the great Gond in Vanguard, the recently introduced video game from Atari.
Vanguard is available for the 2600 VCS console at a suggested retail price of $30.45 and for the 5200 Supersystem, $40.95.
For more information, contact Atari, Inc., 1265 Borregas Ave., P.O. Box 427, Sunnyvale, CA 94086.
Prophecy is with You
The Prophecy is on your side in Krull, recently introduced by Atari.
The land of Krull has been plunged into darkness by the Beast and his army of marauding Slayers. Hope lies in The Prophecy, which says Prince Colwyn shall rule the planet. But the marriage ceremony uniting Colwyn with Princess Lyssa is tragically interrupted by the Slayers and it is up to you to free Lyssa from the Black Forest.
Strength and courage are needed to succeed in this perilous journey, but remember: The Prophecy is on your side.
Atari, Inc., 1265 Borregas Ave., P.O. Box 427, Sunnyvale, CA 94086.
Journey into Space
Space Shuttle, designed by Steve Kitchen, transforms the Atari 2600 into an orbital voyager. From Florida liftoff to California touchdown, the player-pilot experiences firsthand an actual NASA Shuttle flight.
The mission is clear and vital. A satellite, 210 miles above Earth, is spinning out of orbit with intentionally programmed gyroscope problems. At the helm of Space Shuttle Discovery, the player must launch, rendezvous and dock with the errant satellite, then return safely to Earth. Suggested retail price is $34.95.
Activision, Inc., 2350 Bayshore Frontage Rd., Mountain View, CA 94043.
It's Magic
Sorcerer's Apprentice, recently introduced by Atari, captures the magic and fantasy of the Walt Disney movie, "Fantasia."
Featured with colorful graphics and music from the famed film, this skill and action video game finds Mickey Mouse up to his ears in magical mischief. Designed for players 5 years and older, Sorcerer's Apprentice retails for a suggested price of $30.95.
Atari Inc., 1265 Borregas Ave., P.O. Box 427, Sunnyvale, CA 94086.
Drol's Toll
Complete with sound effects and an original theme song, the players of Drol take on the task of pursuing a little girl and her brother who have wandered away from their mother.
If you're successful in reuniting the children with their mother, you will be rewarded with an endearing cartoon. Drol is available on disk for both Atari and Commodore 64. Both versions have a suggested list price of $34.95.
Broderbund Software, 17 Paul Dr., San Rafael, CA 94903.