by Linda K. Gilliam
The oft-heralded "computer revolution" has been on the near horizon for as long as most of us can remember. And many people believe that's exactly where it should stay -- far, far away so as not to threaten everyday existence and job performance.
Decades of science fiction literature and movies have touted computers as mysterious, powerful machines that only the truly gifted can understand and successfully operate.
In the past few years, as the computer has evolved into the desk-top wonder, many people are panicking. This scary unknown is suddenly a part of their lives. They fear the computer will vividly underscore undesired shortcomings. What if they can't perform on the computer in an age when most occupations are at least indirectly linked to some form of computerization? This fear strikes people where it hurts worst -- it's a perceived threat to job security.
Club Mediterranee, the world's largest vacation village organization that has sold package vacations to its members to escape the stresses of civilization for more than 30 years, has identified the computer phobia many people have developed. Club Med reasoned many people could overcome their fears and relax with computers if instruction and practice opportunities were offered in a non-threatening environment without the intrusion of everyday urban life.
In 1983, Club Med and Atari Inc. together introduced a pilot computer program at Club Med-Punta Cana in the Dominican Republic. Atari supplied a number of its home computers, in addition to customized software and trained instructors to ease vacationers into their first computer experience.
True to the Club Med philosophy, however, the computer opportunities are just that -- opportunities. Instructions are included in the all-in-one vacation package price. Club Med vacationers can experiment with the computer or not. There is no pressure to perform, just the opportunity to relax and learn something new.
"Many people are afraid of computers and are afraid of change," said Gerard Barouh, chef de village at Punta Cana. "Our goal is to ease people into learning about computers. We realize it is very difficult to learn something new after working all day long, especially when you have to sacrifice family and leisure time. But on vacation, you have the time. You're relaxed and no one is judging you. It's easier to learn and become enthused about what you have learned when you're relaxed."
Club Med, the first resort organization to offer a sports school, is also a pioneer in providing computer instruction to its members.
Linda Gordon, Atari's vice president of special projects sees the Club Med computer experience as a milestone in human relations for both companies. "Atari and Club Med are both interested in people and the future. This was a real opportunity to marry both of these common interests. We have learned that in places where people need computers the least are probably the best places for them to discover the technology."
It is the enhanced communications aspect which sold Barouh, a native Parisian, on the project. "If people don't learn about computers today, it may be impossible for them to speak to their children tomorrow. We don't want to see these big ruptures in society. If I have a large computer screen on stage and sing a song in French, our American vacationers can follow the words in English," Barouh said.
That's communication. I wouldn't do it all the time because it's friendlier to speak my bad English. With our tennis or sailing computer games, which operate in French, Spanish and English, people of different nationalities can speak and play together. It makes it more interesting."
Club Med-Punta Cana, with its full slate of water sports like swimming, windsurfing, sailing, snorkeling and water skiing, offers an equal number of computer attractions to tempt vacationers. In addition to computer mainstays like BASIC language programming, accounting, word processing and games, Atari has provided customized painting, music, astronomy, astrology and weaving software. As Atari became more attuned with Club Med philosophy, it also developed a tennis tournament organizer, which operates in English, Spanish and French, and a computerized video dictionary to help divers identify the marine life they observe.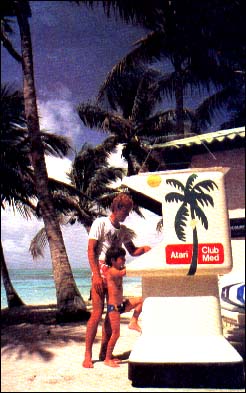 In order to get vacationers chummy with computers, Club Med also has relaxed standard classroom barriers. Specially designed computer kiosks are stationed around the village (including the beach) for immediate access to activity information. And if that isn't laid back enough, computer instructions are available on a beachside deck. A total of 83 computers are in use throughout the village.
"The computer program here is only a very important part of our total program," said Barouh. "We want people to realize everything is possible at Club Med. If they want to learn to sail, they can learn to sail. If they want to sleep, they can sleep. Everything is possible. It's like a buffet. You choose what you want. Knowing you can do what you want is very important for a healthy state of mind. The opportunity to choose is Club Med. The computer can help us do all this and enhance communication."
Club Mediterranee, since its inception in 1950 as a sports association in France, has taken the best elements of the traditional European vacation and added a few distinctive touches of its own to build a vacation empire known worldwide.
Today, the company operates 92 villages in 26 countries, 13 of which are located in the Western Hemisphere.
Club Med has designed its vacations to preclude the constant dole of money (no tipping), fancy wardrobes (club attire is a swimsuit and a pareo, a Tahitian sarong), and television, telephones, radio and newspapers. Club Med also features a one-price package for room, board, sports activities and entertainment, an international clientele and a very relaxed atmosphere.
In addition, Club Med takes a special interest in children and is one of the few resorts which actually encourages couples to include children in vacation plans. At five Western Hemisphere clubs, including Punta Cana, Club Med has established Mini-Clubs, for children four to seven, and Kid's Clubs, for the eight to 12 age group. Children participating in either basically get the same vacation experiences as their parents, under careful supervision, while parents are free to indulge their own pursuits.
At Punta Cana, computer instructors are assigned to the Mini-Club and Kid's Club so children get the same computer introduction opportunities. Children aged four to seven stay free with their parents (they only pay air fare), while those eight to 12 are half-price vacationers.
"Club Med has great traditions and a beautiful history," said Barouh. "Atari was able to adapt computer software to Club Med philosophy and flexibility. Technology without philosophy is not enough. But now we offer both. We are ready for tomorrow."
Club Med members can visit Punta Cana via a non-stop charter flight from Houston to Santo Domingo, Dominican Republic. Total package cost, including airfare, is under $800 per person, per week.
Linda Gilliam is a freelance writer living in Austin, TX.