Previews
Perspective Maze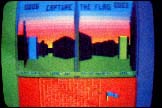 Capture the Flag from Sirius
Complete with music and color graphics, Sirius has released Capture the Flag, a two-player maze and chase game for the Atari computers.
Each player occupies a different section of the play field and has his own 3D view of the maze. You must find the exit and avoid capture by your opponent. Suggested retail price is $39.95.
Sirius Software, Inc., 10364 Rockingham Dr., Sacramento, CA 95827.
Update your SAM and Other Goodies from Don't Ask
Don't Ask Software has added two sound controls called KNOBS to their Software Automatic Mouth (SAM). KNOBS sound like a variety of different people, a small child to an extraterrestrial. If you already own SAM, you're entitled to the update for a small fee.
Chatterbee is a talking game that teaches spelling to school age children. A built in version of SAM pronounces spelling words and uses them in spoken sentences. Suggested retail price is $49.95.
pm Animator is a graphic utility that allows programmers to create smooth high-quality player missile graphics from basic. With the Animator's editor, you can draw or edit pictures using a joystick or the keyboard. The pm Animator comes with all machine language subroutines necessary for incorporating the pictures into a Basic program. Demonstration programs and documentation are included in the $44.95 price.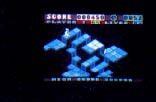 Flip and Flop by First Star Software,
Inc.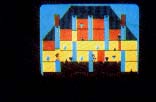 Bristles from First Star Software, Inc.
Don't Ask Software, 2265 Westwood Blvd., Suite B-150, Los Angeles, CA 90064.
Three new games From First Star
Flip and Flop is one of three new games for the Atari from First Star Software. In this three-dimensional game, developed by James Nangano, you put your reflexes to the test.
In Bristles, by Fernando Herrera, you are commissioned to paint eight different dwellings while avoiding the Smart Bucket, Dumb Buckets and Flying Half-Pints.
Complete with six musical themes, a self-playing mode and a game logo, Boing! is available only on cartridge.
For further information contact First Star Software, Inc., 22 East 41st St., New York, N.Y. 100 17.
Avalon Hill Creates Video Game Division
Avalon Hill's new video game division released its first three titles for the 2600.
London Blitz is a real-time, eye-hand, coordination game that has you run around the streets of London locating UXBs (unexploded bombs). Death Trap, a "zap-em" strategy game, and Wall Ball, a 3D racquetball game with nine levels of difficulty.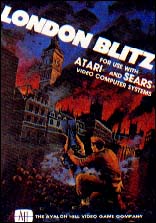 London Blitz by Avalon Hill
For more information contact The Avalon Hill Video Game Co., 4517 Hartford Rd., Baltimore, MD 21214.
Educational Software From Krell
Connections is one of four educational products from Krell that offers children of all ages entertainment and intellectual challenge. Included in the program is a set of data bases dealing with geography, chemistry, mammals, mathematics, tools, and everyday objects. The program retails for $99.95.
Other entries from Krell include Plato's Cave (49.95), Alexander the Great (39.95), and Galactic Magician (34.95).
Krell Software Corp., 1320 Stony Brook Rd., Stony Brook, New York, NY 11790.
The Inexpensive Spreadsheet
Home-Calc turns your Atari home computer into a business calculator. The inexpensive spreadsheet program can handle "what if?, how much?, and bottom line" calculations.
Home Calc works on the new XL series computers and the Atari 400/ 800. Available on cassette (16k) or disk (24k), Home-Calc costs $29.95 and $39.95 respectively.
Sim Computer Products, Inc., 1100 E. Hector St., Whitemarsh, PA 19428.
More Help from Percom
The Percom "Doubler" requires no special tools to install and doubles the storage capacity of the AT88 from Atari. The retail price is $169.95.
Percom also released its new family of double-density disk drives containing a parallel printer port. With these drives, you can attach a parallel printer to your Atari while by-passing the 850 Interface Module. The AT88-S1-PD is a single drive that retails for $529. The AT88-S2-PD is a double-drive that retails for $829.
Percom Data, 11220 Pagemill Rd., Dallas, TX 75243.
Three releases from Thorn EMI
Orc Attack is one of three new games for the Atari from EMI. The 400/800 cartridge pits the Orc warriors armed with crossbows against your castle.
In Computer War, a player finds himself faced with saving the world from a nuclear holocaust. It's up to you to crack the code and destroy the advancing missiles before they destroy your world.
River Rescue, previously released for the VIC 20, is now available for the Atari 400/800.
For further information contact Thorn EMI Home Video, 110 East 59th St., New York, NY 10022.
Two VCS Games from CBS
Blueprint from CBS puts your memory to the test finding parts of a contraption that will halt the villainous, Ollie Ogre, in his tracks. Solar Fox invites you to navigate your way past the ruthless sentinels to gather the coveted solar cells and replenish the earth's energy.
Both are licensed from Bally Midway. CBS Software, 1 Fawcett Place, Greenwich, CT 06836.
Quest for Tires from Sierra On-Line.
B.C. and the Wizard Of Id Come to Atari
Sierra On-line has brought several pre-historic characters into the 21st century.
Based on B.C. and the Wizard of ID comic strips, Quest for Tires stars Thor who zips through the world of "B.C." on his pre-historic unicycle. Wiztype, the first program in the new line of educational software is a typing tutorial. Wizworld challenges your knowledge of geography. Wizlab offers you a chance to become an amateur scientist, performing chemical experiments and observing the results. Wizspell measures your spelling ability as you twist your way through a maze.
Other entries are Wizmath, Bung juggler and Dot-To-Dot Zot.
For further information contact Sierra On-Line, Inc., Sierra On-Line Building, Coarsegold, CA 93614.
Broderbund Rolls out Operation Whirlwind
War is hell, especially with your joystick as you struggle through the trenches of Broderbund's new World War II game.
Operation Whirlwind involves you in numerous skirmishes with the enemy testing your strategic ability. Suggested retail price is $39.95.
Broderbund Software, 1938 Fourth St., San Rafael, CA 94901.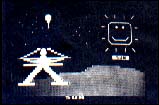 Teddy's Magic Balloon from PDI
Children's Stories from PDI
Teddy's Magic Balloon and Robin's Halloween, are two new interactive word skill games from PDI. They're directed at children five through eight and both combine a computer program with voice narration. The disk version of each requires a program recorder.
Picture Blocks, for children between the ages of four through ten, requires no reading skills and the program helps young children recognize shapes. It retails for $24.95.
PDI is located at 95 East Putnam Ave., Greenwich, CT 06830.
Three VCS Games from Activision
Activision continues to crank out 2600 video games. Decathlon by David Crane opens with a torch bearing athlete trotting into a hushed stadium as the Olympic theme plays. Score 1,000 or more points on any event and you're rewarded with a trumpet fanfare.
Plaque Attack by Steve Cartwright is a self-defense course for the junk food junkie in the audience. Using the joystick to control a tube of toothpaste, you must squirt away at waves of junk food and between meal treats.
Robot Tank, designed by Al Miller, is a tactical battle against squadrons of cybernated attack tanks.
Contact Activision, Inc., 2350 Bayshore Frontage Rd., Mountain View, CA 94043.