Previews
---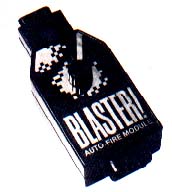 The Blaster from Questar
Auto Fire Attachment
The Blaster is a plug-in, adjustable speed auto fire device for the Atari VCS, 400 and 800. The Blaster attaches between the game console and the joystick and turns your joystick into a rapid-fire automatic weapon with a single press on the trigger. You can adjust the speed from 20 shots per second down to a single blast. The price is $12.95.
Questar Controls, Inc., 670 NW Pennsylvania Ave., Chehalis, WA 98532.
Telesys Adds Home Computer Software
VCS manufacturer, Telesys Co., will release its popular video game cartridges Fast Food, Cosmic Creeps and Demolition Herby for the Atari 400/800/1200.
The company didn't submit a price, but their latest VCS releases for the 2600, Star Gunner and Ram It retail for $31.95.
Telesys Co., 43334 Bryant St., Fremont, CA 94539.
New Software and Books from Reston
Reston introduced two new books and four programs at last March's West Coast Computer Faire. Genesis II by Dale Peterson combines technical information about computers and the computer's interaction with the "artistic mind of man." The book includes an eight-page full color section depicting some of the more famous computer generated art on display in museums and galleries.
The author, Peterson holds a doctorate in literature from Stanford.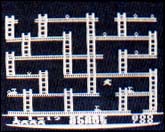 Jupiter Jumpman is new from Epyx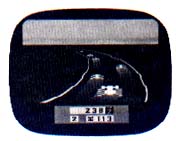 New Enduro roadrace from Activision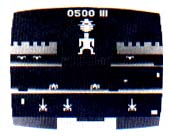 Frankenstein's Monster from Data Age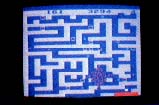 Diggerbonk from APX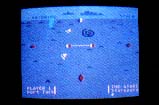 Microsailing from APX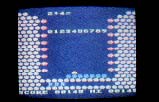 Escape to Equatus from APX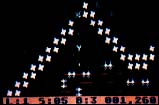 Survivor by Synapse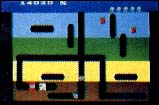 Space Knights, written by Hi-Res columnist, David Heller, combines a science fiction novel with nine game programs based on the book's scenarios.
Reston also introduced Triple Brain Trust, Wordworx, Moviemaker and Time Tunnels.
Build Your Alphabet Skills
PDI combined three new games for Atari owners with 16K cassette systems or 24K disk systems. Alphabet Arcade, a series of learning games written by Jenny Tessar and John Bayes, retails for $18.95 on cassette and $23.95 on disk.
PDI, 95 East Putnam, Greenwich, CT 06830.
Infiltrate Jupiter
Complete with music and color graphics, Jupiter Jumpman must scale ladders, girders and swing from ropes to infiltrate Jupiter's headquarters. Jumpman faces the bullets of enemy Alienators, robots, dragons, birdmen and flying saucers. With five difficulty options, Jumpman requires 32K of memory and costs $39.95.
Epyx/Automated Simulations, 1043 Kiel Court, Sunnyvale, CA 94086.
2600 Auto Race
Enduro, one of Actvision's newest cartridges for the 2600, is a road race game. Enduro tests your skills against other cars as they increase their speed and as the roadway congestion increases. Enduro sells for $31.95.
Activision, Inc. 2350 Bayshore Frontage Road, Mountain View, CA 94043.
Frankenstein Fans Take Note
Data Age, Inc. has released this graphic version of the nineteenth century classic Frankenstein. The beepers from Data Age have thrown tarantulas, poisonous spiders, vampire bats and acid pools in the way of this much-maligned hero. The price is $31.95.
Data Age, Inc. 62 S. San Tomas Aquinas Rd., Campbell, CA 95008.
Five New Programs from APX
The Atari Program Exchange introduced six new programs in May. Charles Balthaser developed Typit, a new word processor. Glenn Faden's Microsailing is a nautical game for two players that offers four courses of varying difficulties.
Steve Robinson has written Diggerbonk, a game that seems designed to mitigate your aggressions. Using a joystick, you are invited to take a swing at anything in your path as you travel through a scrolling screen maze.
Escape to Equatus is an educational problem solver for children that tutors them in addition, subtraction, division and multiplication.
Math Mission by Dave Kosmal lets a youngster explore new planets while answering math problems about his or her fuel supply, etc.
APX 155 Moffett Park Dr., B-1, Sunnyvale, CA 94086.
Synapse Has the First Multi-user
Declaring it the first multi-user arcade space adventure, Survivor was created by Synapse for up to four players.
The multi-user game will sell for $34.95 and is one of 32 products scheduled this year from Synapse.
Synapse Software, 5221 Central Avenue, Richmond, CA 94804.
Marauder Now Available on the Atari
Sierra On-Line's Marauder is now available on the Atari. The two-part space game pits you against the defensive weapons of a distant planet. When you have broken through those defenses, you must land safely and destroy the planet's power source.
Available on disk for $34.95 from Sierra On-Line, Coarsegold, CA 93614.
Atari, Inc Readies Dig Dug
For the 400/800/1200 market, Atari is ready to ship its Dig Dug program. Hi-Res was offered a preview slide of the screen.