Atari
Personal Computer
Games
By John J. Anderson,
David Small and
Eric F. Wolcott
Preppie
Already a minor classic, Preppie is along the theme of Frogger but with a beautiful difference. Now the intrepid adventurer is no longer an amphibian but a prepster, right down to the tiny alligator on his polo shirt. In this game, though, the alligator gets a shot at revenge.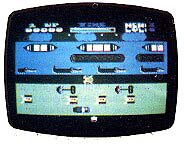 Preppie.
Your job is to recover wayward golf balls that have been hit into the rough. And when I say rough, I mean really rough: you must avoid speeding golf carts, bulldozers, lawn mowers, and gigantic frogs (the irony of it all), in your quest. You must also leap canoes, logs, and alligators in order to negotiate the water hazard.
Although the concept underlying the game is far from original, the implementation is gorgeous. Author Russ Wetmore has created a colorful, fast-moving display, and added to it a musical soundtrack which takes full advantage of the capabilities of the Atari. Not one but three separate tunes will have you singing along in short order, even as you march inexorably toward doom. The pace starts out rather leisurely, but doesn't stay that way for long. Don't even graze an ankle--you'll end up flat as a pancake underneath an adversary.
Completion of a screen results in a more difficult screen, which must be negotiated at a faster pace. A clock at the top of the screen ticks off the precious seconds. Unless you retrieve all the balls on a screen before the clock winds down, you will automatically lose a life.
Preppie, is addictive, humorous, and maddening an unbeatable arcade combination.--JJA
Missile Command
This a popular arcade game in which an evil foreign power launches a missile attack against the area you defend. You command anti-ballistic missiles, which you shoot to intercept the incoming missiles, satellites, planes and smart bombs.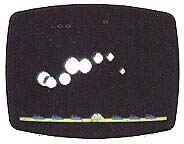 Missile Command.
In the arcade version, a "trackball" is used to move the cursor for aiming. It allows very high speed movement, and very sensitive positioning. (For example, hitting a "smart missile" exactly on its position is required to destroy it; otherwise the missile dodges). Since Atari has not yet released its trackball, a joystick is used.
Sound effects include an "air raid siren, " various explosions, and so forth. They are quite familiar to anyone who has played the arcade game, and make good use of the Atari's capabilities.
Visual effects are also rather well done. There are no longer three missile bases controlled by three buttons, as there are in the arcade version. Instead, there is one, with "underground reloading" which enables it to be destroyed, yet pop up with new missiles a bit later. There are three missile bases in one, all controlled by the joystick button.
Threshold
Threshold is in the venerable tradition of laser-fire space wars, (kill, kill, kill!) and it is superb. The alien waves in this game are ever-changing and wonderfully despicable. Your ships are armed with lasers and hyperwarp drivers that can temporarily slow down time, giving you a better chance to target the enemy. Your arsenal has limitations, however. The lasers can overheat and will shut themselves down until sufficiently cooled. You may invoke hyperwarp only once per ship, and each ship has a limited fuel supply. As for maneuverability, have you ever had the misfortune to be driving a power-steered vehicle that stalls while you're driving? That's the way the stick feels in Threshold.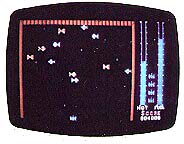 Threshold.
The line between utter frustration and total addiction is a thin one, and this game rides it well. The game is hard to play but you can improve a little with every game. Aliens swoop down at your ship from the top of the screen, and each wave has its own character, its own "look." Some fly in jittery formation, others billow like a flag in the breeze. Your natural inclination to gape at them will prove fatal unless curbed. Discipline is called for in order to concentrate not on their grotesque beauty, but rather on their ability to destroy.
If you manage to survive a number of successive waves, you dock with the mother ship, which is rendered with the humor of a Saul Steinberg cartoon. Here you are refueled while a new set of nefarious alien waves are read from the disk. I have managed to live through two sets so far, and have yet to reach "the last wave."
You can choose to play with or without a moving star background (which makes it much harder to see enemy fire). You can also choose a horrific advanced level.
Threshold will obsess you for some time. Because the aliens change throughout the game, you're primed to withstand at least "one more wave this time. " Though my wife abhors "shoot-em-ups," even she spent a while with this one. After quite some time, I still have no reservations about Threshold.--JJA
Caverns of Mars
The Caverns of Mars arrived recently. I had heard rumors about this new Atari game, so I immediately sat down to play it and see what all the fuss was about.
Four minutes later, I was hooked.
Four hours later, my wife dragged me away.
The plot is as follows (some of it is somewhat clichˇ, as it follows the lead of many, many other games.): First, there's the Sole Defender syndrome common to many games, where you alone are responsible for saving the Moon Base (Invaders) or six cities (Missile Command) or eighteen little people (Defender) or whatever. In this case, you are responsible for destroying a Martian base. In order to do so, you must penetrate a series of caverns to the lowest level, where an explodable device sits; arm it and start the countdown (by touching it); then escape before it goes off.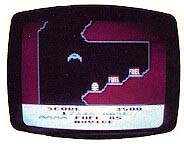 Caverns of Mars.
The game starts with you at the top of the cavern. It begins slowly scrolling up, so you move downward. By moving the joystick right-left you can maneuver from side to side (from a central position), and by moving it back and forth, you can increase or decrease your rate of descent.
While you are descending through scenic Mars, you must destroy various installations. By pressing the joystick button, you launch two missiles downward from each side of your ship. If you hit a fuel canister (imaginatively labelled "FUEL") your fuel supply increases by 5 (of 100). If you hit other installations, you just plain destroy them. The idea is to wreak as much havoc as possible on the way down.
You can see only a limited section of the caverns. So you never know what's going to come next. You maneuver through a passageway twisting back and forth, and suddenly the screen is filled with Martian ships you must avoid, and try to blow up. But you must not collide with the ships or the wall.
If your first descent is successful you begin again. This time there are floating space mines, and force doors that open and close, and things begin to shoot back at you. Completely horizontal passages appear, requiring you to be ready for them and use nearly the full vertical screen's worth of maneuvering to get through. It gets harder and harder until you are destroyed, or somehow succeed in navigating all five caverns.
The Caverns of Mars has that indefinable "something" that makes it arcade-quality. Here's my best definition: When you lose in an arcade-quality game, you know why, and know how you could have done better, if you were just a little faster or if you hadn't made that one mistake. Instead of the machine causing your destruction, it's your mistake that causes it. So, of course, you want to go back and try it again, and again, and get it right, until your fingers get cramps from holding the joystick, or until you're totally frustrated.--DS
Deluxe Invaders
Your story may well be the same. Space invaders, the first "cult" arcade game, hooked you--you, who vehemently swore your quarters would never be in short supply. It was the drum beat that did it: the quickening pulse that glazed over your arms as you furiously raced to kill the last row of flapping insects.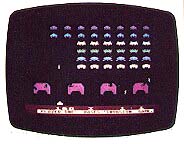 Deluxe Invaders.
Well it's been a while in coming quite a while, actually--but the real thing is finally here. The nostalgia warms my heart. Deluxe Invaders faithfully captures the look, spirit, and play of arcade Space Invaders. And it doesn't stop there.
Deluxe Invaders retains the color, sound, and polish of the earlier Atari computer game, while remaining true to many of the features of the deluxe arcade game version. The barriers are back, as are the spinning "worm rays." Back also is the hypertensive pacing, and if you were into the game "back when," this game will go "click" when you start with it. Set aside some time.
There are nine levels of difficulty, including some where hitting an insect results merely in its splitting into two baby insects. Other levels include mother ships that deposit new aliens on the board in play. Even the alien shapes are truer to the original game, as is the difficulty.
The difficulty levels are not too well documented, and only experimentation will flesh them out completely. The program does allow for a two player game along the same lines as the coin-op.
"What," you say? "Another Invaders game?" You're tired of Invaders games? I said the same thing when I first saw this package. I was wrong.
Rocklan has some exciting plans for the Atari computer, including Gorf and Wizard of Wor. They are also planning a track-ball peripheral. If these products are up to the standard of Deluxe Invaders, we're in for a real treat.--JJA
K-razy Shootout
Among a bevy of "laser motif" games for many systems, K-razy Shootout brings nearly all the excitement of the arcade game Berzerk to the Atari computer. The only element that's missing is the speech. This is not to say that the Atari couldn,'t do it; it's simply not implemented here.
K-razy Shootout also bears the distinction of being the first ROM cartridge-based game from a third-party source. This necessarily adds to the cost of the package; but if you saw, enjoyed, and fondly recall the Star Wars, you won't want to do without this program for long.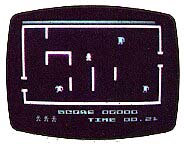 K-razy Shootout.
Your character runs through maze-like chambers, as "droids" close in from all directions. Using the joystick, you aim your laser, drawing a bead on them before they do the same to you. If you manage to clear a sector, you advance to the next. The action becomes increasingly furious, and you soon find yourself shooting from the hip, moving from sheer instinct, and totally addicted.
Scoring is dependent on several factors, including time, ammunition used, and droids' manner of demise: through hostile fire, collision, or shooting each other. In addition, you collect an extra player for every 10,000 points.
The only way you'll see sector four or beyond is through strategy. You'll discover that it's possible to get droids to collide or shoot each other--finding good cover is also imperative. Don't collide with a wall, though. That's as fatal as being hit by enemy fire.
K-razy Shootout is lots of fun, and has a great deal of staying power. If only it could talk.--JJA
Protector
Protector is one of the most polished efforts I have seen from a third party source. It is exceptionally dramatic in its graphics and sound effects, and the animation is mirror smooth.
A great deal goes on in Protector, and mastery of the game requires a substantial amount of time. The game is roughly modeled after the arcade game Defender. As the pilot of your rocket fighter, you encounter pulse-trackers, meteroids, laser traps, a volcano, an evil alien ship, and 18 people in desperate need of your help. You must maneuver your ship so as to airlift these people from their beleaguered city to the City of New Hope, and from there to safety in an underground fortress.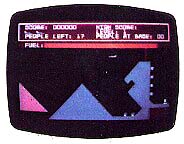 Protector.
You must act before they are heartlessly dropped into the volcano by the tractor beam of the alien ship, and before the volcano erupts and destroys the City of New Hope. You must also watch the fuel tank--and sometimes face the decision to refuel or to save some lives at the cost of your own. You cannot always do both.
By far the best thing about the game is the horizontally scrolling terrain graphics. The overall goal is to create a "microworld"--a fantasyland one screen high by four or five screens long. Fine scrolling and player/missile techniques are employed to a very pleasing effect. For demonstration purposes alone, this program is worthwhile. Sound effects add much to the illusion, and the title music is quite good.
The feeling of flight is accentuated as you dive to the rescue. Time ticks off as the indestructible alien saucer beams the victims up. Pulse trackers nudge dangerously close. Careful when you return fire: their favorite trick is to get you to hit innocent bystanders.
If you get all the remaining people to the City of New Hope, you can then move them through the laser field toward your goal. You must then watch for laser bases and meteroids. When fuel runs low, you must return to base to refuel. Docking can be a tricky and sometimes fatal task.
The game is paced into six levels of difficulty, graduated to present more aggressive aliens and more complex architecture through which to navigate. The merest graze of scenery, pulse-tracker, meteoroid, laser fire, or tractor beam, and you go down in a dizzying spin. An ambulance shoots out immediately to drag you away--what's left of you, that is. Better luck with your next ship.
I have very few reservations concerning Protector. As soon as a level loses its challenge, you may advance to the challenge of a new level. The highest level is very tough indeed. You may get a little tired of hitting things after a while, but after all, that's your own fault,- right? Next time, be more careful. --MP
Shamus
Shamus, also from Synapse Software, takes another stride in the development of the arcade adventure. Make sure you have no pressing appointments before becoming involved in a round of Shamus. Once you get going, you won't want to stop for a while.
The humorous feeling surrounding the game provides much of its appeal. Author William Mataga first sets the mood, with a grand rendition of the theme from the old Alfred Hitchcock show. The player is then thrust into a complex maze of 32 rooms, containing some very diabolical nemeses. As Shamus, the player must penetrate four levels of 32 rooms each, to finally destroy the Shadow in the heart of his lair.
Don't hold your breath waiting for the completion of this goal. It is bound to take you at least a month. You see, populating each room are the Shadow's henchmen: Whirling Drones, RoboDroids, and Snap Jumpers. The sole pleasure in their lives is to keep you from getting near their leader. And they do a job of it. You are armed with Ion Shivs, and as your opponents are always prepared to fight to the death, the action is necessarily violent.
Once in a while during your search you will encounter a pulsating question mark, the function of which is similar to "Chance" in Monopoly. By touching the punctuation mark you invite extra points and extra lives or ill fortune. I have found it hard to resist them.
To advance to a higher level, you must obtain the correct keys and unlock the correct portals. This calls not only for keen aim of your weapon, but knowledge of the labyrinthian layout of each maze. Secret passages abound, and it is quite easy to get lost. The bottom of the screen reads out a corresponding number for each room, and this is the only hint you get. I always seem to disorient myself right after unlocking a portal.
Your natural tendency is to shower attackers with ion fire. After a few games, however, you discover that fewer but better aimed shots will nearly always be a superior strategy. Keep cool, and if you find any bubbling flasks lying around, drain them: they will give you new life.
Shamus is a very addictive detective game. It will remain in the front of your game software collection for some time, I guarantee it. Arcade adventuring is an emergent and promising gaming category, and this program underscores that fact.--JJA
Game
Memory
Price
Manufacturer
Bandits*
Caverns of Mars
Choplifter*
Deluxe Invaders
Jaw Breaker
K-Razy Shootout
Missile Command
Preppie
Protector
Rear Guard*
Ricochet
Shamus
Threshold

16K
24K
48K
16K
16K
8K
16K
16K
32K
16K
32K
16K
40K

$34.95
24.95
34.95
34.95
34.95
49.95
39.95
29.95
29.95
19.95
19.95
29.95
39.95

Sirius Software
Atari
Broderbund
Roklan
Sierra On-Line
CBS Software
Atari
Adventure International
Synapse
Adventure International
Automated Simulations
Synapse
Sierra On-Line

*See game review in Apple Computer section
Manufacturers
Adventure International
P.O. Box 3435
Longwood, FL 32750

Atari, Inc.
1265 Borregas Ave.,
Sunnyvale, CA 94086

Automated Simulations
P.O. Box-4247
Mountain View, CA 94040

CBS Software
Columbia Group, CBS Inc.
Hagerstown, MD 21740

Roklan Corporation
10600 Higgins Rd.
Rosemont, IL 60018

Sierra On-Line Systems
36575 Mudge Ranch Road
Coarsegold, CA 93614

Synapse Software
820 Coventry Rd.
Kensington, CA 94707