Centerstage: AMIGA!
The World Of Commodore Show
Neil Randall
Every December since 1983, Commodore Canada has sponsored the World of Commodore show at the International Centre in Toronto. The show spotlights Commodore computers and their wealth of third-party products. This year the show-case was seen by over 40,000 attendees. More than 85 exhibitors displayed their wares, with Commodore itself taking up the largest area.
Over the past five years, the Commodore 64 has been the World of Commodore's dominating star. In the recent 1987 show, however, the Amiga took center stage.
Amiga was everywhere, with its graphics dancing on monitors and its music booming from speakers. To find new products for the 64/128, one had to stop and search. Almost buried was the PC 10-III, Commodore's newest entry in its line of PC-compatibles. For the first time, the company heard complaints about the lack of new products for the 64/128, and for the first time, nobody speculated on the imminent demise of the Amiga.
The New Machine
Aside from its overt support for the Amiga, Commodore's biggest news was the brand new PC 10-III. An XT compatible, the PC 10-III is designed for those who want a PC compatible that anticipates the options they may later require. The MS-DOS world boasts (and in many ways, quite rightly) of its machines' expandability; but expandability, for many, is intimidating. String some wires together and you can operate a 64 or an Amiga, but PC compatibles and clones often need further purchases before they can be considered fully loaded.
The PC 10-III includes only three expansion slots, but the machine's design implies that three is plenty. The package includes 640K RAM, monochrome and color graphics capability (for both RGB and composite monitors), Hercules and Plantronics video interfaces, a built-in clock/calendar with battery backup, a floppy drive controller, and a hard disk interface. Several of these features have to be added separately to many compatibles. Other features include a socket for an 8087 math coprocessor, software-controllable speeds of 4.77, 7.16, and 9.54 MHz, two built-in 360K floppy drives, and room for an internal half-height hard drive. The 10-III should carry a retail price under $1,200.
The Old Machines
In this case, "the old machines" include the Commodore 64 and Commodore 128. To many, these computers have always been inextricably linked, and most software is marketed as 64/128 compatible. They are treated, for the most part, as one.
Most of the 64/128 products on display at the show took the form of productivity and applications software. Berkeley Softworks displayed their newest GEOS products, GeoFiler 128, GeoPublish 64, and GeoProgrammer 64 (128 versions of the latter two products should be available soon). GeoPublish is an extremely friendly desktop publishing package aimed for home and educational use, while GeoProgrammer combines an assembler, a linker, and a debugger for work in assembly language.
Supporting GEOS were Abacus' BeckerBASIC, for BASIC programming within the GEOS environment, and CDA's NeoFont, which gives all .4*> GEOS packages 23 new fonts in four different sizes. CDA also showed the Graphics Transformer. This package allows you to transfer pictures from one paint program to another. It supports most existing 64/128 paint programs.
Many attendees were impressed by Multi-Link, a 64/128 networking system designed for classroom use. The package links up to 48 Commodore 64s or 128s via linking hardware and an included 20-megabyte hard drive. Each computer station can interact directly with the control station (operated by the teacher), or they can operate individually as stand-alone 64s and 128s. A 10-station system, including the hard drive and the linking hardware, will cost about $3,000.
Productivity packages from Electronic Arts included Paperclip III, Outrageous Pages, and Mavis Beacon Teaches Typing. Paperclip III is the latest version of the popular word processor from EA's "Batteries Included" line, while Outrageous Pages is desktop publishing software with strong graphics tools and the ability to snake text around graphics on the page. Mavis Beacon Teaches Typing is a typing tutor whose difference is its creation of customized lessons for each user. With a highly favorable review in The New York Times, the package seems on its way to a strong future.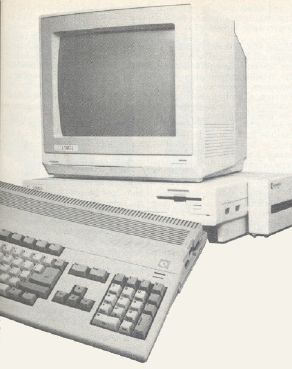 Games for the 64/128 line came almost exclusively from Electronic Arts. Halls of Montezuma is the latest module in SSG's Battle-front series, and the delayed Great Battles of the American Civil War is promised soon. Bard's Tale III has several new features, including an automatic mapping system. Skyfox II, Strike Fleet, and Skate or Die round out the new selections.
The Machine That Stole The Show
What the World of Commodore showed most clearly was that the Amiga has come of age. Since its introduction, the Amiga has been the victim of Commodore's procrastination, and this, in turn, hampered its support by software developers. To judge from the dazzling new products both announced and displayed at this year's show, the Amiga is beginning to fulfill its promise of product availability.
Also evident was the growing split in the focus of Amiga software. The Amiga may have been intended as a home computer, but much of the software is squarely aimed at the professional user. Music professionals, graphics professionals, publishing professionals, and even airline professionals were well-targeted by this year's new products. Many of these products, in fact, lie well beyond the budget of the home user. But the nonprofessional had much to choose from as well, with word processors, paint programs, music programs, and games on display practically everywhere.
Amiga Hardware
Toronto-based Comspec demonstrated its new hard drive and its soon-to-be-released tape back-up system. Actually, the hard drive consists of two parts: the SCSI Host Adaptor and the Hard Drive Chassis. The software allows drive sizes ranging from 10-300 megabytes to be connected to the Adaptor, and the hard drive system allows you to boot the Amiga in eight seconds without using the Kickstart and Workbench disks. The tape backup on display backed up 120 megabytes worth of data.
Two companies showed new RAM expansion devices. Inboard, from Spirit Technology of Salt Lake City, gives the 1000 or the 500 an extra megabyte of RAM, and the board is installed internally. Like most expansion boards now, Inboard is autoconfigurable. Byte by Byte announced the Byte Box, which gives the 500 up to two megabytes of external expansion. It, too, autoconfigures, and it has its own power supply.
A British Columbia company, Hypertek/Silicon Springs, was on hand with three products. The Amiga Light Pen is designed to work with any Amiga program. Its two buttons take the place of the two mouse buttons, and it allows single-pixel drawing precision. The Deluxe Midi Interface allows a serial pass-through, and includes MIDI In, MIDI Out, and switchable Thru/Out.
Finally, the TTL High Resolution Monitor is a device that plugs into the RBG port and offers relatively flicker-free high-resolution monochrome output.
NewTek, makers of the popular Digi-View system, announced the Video Toaster, which at almost $800 offers realtime color digitizing, video effects, and broadcast-quality genlock. This full-featured professional digitizer/genlock system should provide many users with the high-quality video tools they've been waiting for.
Amiga Software
Electronic Arts displayed Ferrari Formula One, a new racing game in its Sports Legends series. Announced for the Amiga were Bard's Tale II, Reach For The Stars (third edition), Sierra On-Line's Thexder (an arcade game from Japan), Space Quest II, and Police Quest, the latter two from the popular King's Quest system. Also announced was The Hunt For Red October, a submarine action/strategy game from Micro-Prose based on the Tom Clancy book of the same name.
EA also had two announcements for its Deluxe series. Deluxe Productions is a hi-res graphics animation program designed for business and professional use. Deluxe Write is a graphics word processor that allows the importing of color graphics from programs such as Deluxe Paint II and Deluxe Print II.
Three other new word processors let users combine text and graphics. TextPro, from Abacus, includes a snapshot program that saves IFF graphics from programs that do not offer this option. Becker-Text (also from Abacus) takes TextPro a few steps further with up to five math columns per page and printing in up to five columns. Both programs feature a C-Source mode for help in formatting the source-code around C's necessary braces.
A third word processor, Kind-Words, from The Disc Company, looks very much like TextCraft, as it should have been. It merges color IFF graphics within the text, contains its own fonts, and contains a host of very friendly features. The program's appearance is very close to TextCraft's, but it has dispensed with the annoyances of the Amiga's first word processor.
Of course, WordPerfect has taken Amiga word processing by storm, and WordPerfect Corporation was on hand to display and support its product. WordPerfect for the Amiga set the company's all-time first-month sales record, and users of this full-featured product have no trouble figuring out why. The company also announced WordPerfect 5.0 for MS-DOS owners, which integrates text and graphics and introduces several other features. Certainly 5.0 will be available for Amiga soon.
The Other Guys, from Logan Utah, demonstrated Promise, a 90,000-word spelling checker, Reason—a professional text and style analyzer for writers—and Synthia, a program for creating digital IFF instruments for use with music programs. An impressive synthesizer program, Synthia includes such features as the simulation of plucked strings, drum-kit creation, an IFF music player for users with limited RAM, and a means of simulating the natural imperfections found in real instruments.
For musicians, Sound Quest had its Editor/Librarian for Roland, Yamaha, and Casio CZ synthesizers. Sound Quest's stage demonstration showed the ease with which the program lets you perform multitrack recording using a synthesizer, and the ease with which you can change instrument sounds as you play. Music professionals have been enchanted by Sound Quest since its origins as Texture (from the now-defunct Cherry Lane Technologies).
More For The Amiga
There was more, much more. Taurus Software showed its full-color 2D X-CAD Designer while Haitex Resources announced Acquisition Pioneer, a scaling-down of its Acquisition relational database for less demanding users. Gold Disk showed ComicSetter, a comic-book creation package to be released shortly. Syndesis offered Interchange, a program for sharing objects between Byte By Byte's Sculpt 3D and Aegis Development's Video-Scape 3D.
Software Visions demonstrated Microfiche Filer, a unique (and extremely easy to use) database system, while another easy solution came from Oxxi, with its Nimbus small-business accounting package. Meridian Software had Zing Spell, a 95,000-word realtime spelling checker; and Zing Keys, a macro and hot key program; and the company announced a significant update to Zing, its multifeatured Amiga utility. Finally, RGB Video Creations was on hand with Deluxe Help for Deluxe Paint, a well-designed tutorial for those intimidated by Deluxe Paint's multitude of features.
Of all the products on display, though, three merit special mention. From Gold Disk comes Professional Page, the first Amiga desktop publishing program designed specifically for professional use. A fully featured word processor and document-creation program, Professional Page supports output to any PostScript laser printer or typesetting machine. Its features are far too numerous to describe, but the program is fully supported by the Toronto-area Vellum Print and Graphic Services, who produced the fine-looking Professional Page manual using that program exclusively. In January, Vellum will begin offering training courses on the use of Professional Page and other print-oriented Amiga hardware and software.
Unquestionably, the most unusual product of the show was Very Vivid's Mandala. Described as an interactive realtime video development system, Mandala joins with realtime video digitizers to let you physically interact with the Amiga's monitor. By simply standing in front of the monitor and waving your arms around, you can create some extremely interesting graphics and sound effects. The potential use of Mandala is only within the realm of speculation, but working it into video presentations and interactive games seem two of the most obvious uses.
Airware Solutions of Laval, Quebec was on hand with its AWS-1000 Pairing Generator System. Designed with extensive research into airline systems, the AWS-1000 is the first pairing generator available to airlines. Basically, what a pairing system does is make sure that pilots and flight attendants all end up in the right places. Until now, airlines figured out the pairings in various ways, then ran them through a pairing optimizer to see if they were valid. The AWS-1000 does all that work for the airline. Future AWS modules will include a Flight Crew Blocking System, and Aircraft Fleet Management System, a Flight Crew Scheduling System, and a Pilot Cost Evaluation Analysis. Though aimed obviously at a niche market, this software is highly impressive.
The View From Commodore
According to Stan Pagonis, Director of Marketing Operations for Commodore Canada, the emphasis on the Amiga was entirely appropriate. Although he quickly pointed out that the seminars and stage shows demonstrated the 64/128 and the PC line as well, he suggested that "because we believe the Amiga is our future, we're going to concentrate on it." For the first time, he said, "we were finally able to tell the people that the Amiga was a professional machine." For the first time, too, "we put the software question to rest."
But he insisted that the 64/128 was not about to die. The ready base of available programs attracts many new computer owners, he suggests, and that is why sales of the 64/128 remain very strong. Commodore will continue to support it and they'll continue to expand their line of PC-compatibles. Yet, to judge from the World of Commodore show, the Amiga is becoming a dominant machine.