Reviews
ProWrite For The Amiga
Ervin Bobo
Requirements: Amiga with 512K minimum of memory (1 megabyte recommended) and Kickstart 1.2.
At first glance, ProWrite appeared to be a fancy word processor, but it soon proved to be more than that. It is a kind of bridge between word processing and desktop publishing, and because of this we thought it best to look at the separate parts and then see how they add up.
As a word processor, ProWrite gives you many useful features, including a working mode of Insert, which we've always found preferable to Strikeover. The default font is 12-point diamond, which gives you a large and readable screen display as well as a clear hardcopy. Left and right margins are set by moving arrows on the ruler at the top of the page, and paragraph indention can be automatic. Headers and footers are supported, and these can either be displayed as you work or be hidden until the document becomes hardcopy.
The "clipboard" buffer makes cutting and moving of text easy, and since ProWrite is multitasking—giving you the ability to work on several documents simultaneously—this moving and pasting may take place between documents as well as within a single document.
Since ProWrite is a WYSIWYG (What You See Is What You Get) word processor, there is never any doubt about how your document will look as hardcopy: It will look as it does on the screen display, down to and including the colors. The program supports a variety of color printers.
Other features include Find and Change—which most of us know as Search and Replace—as well as the ability to emphasize words or phrases by means of underlining, boldface, italics, or using all three in combination.
Combining Text And Graphics
As a publishing program, ProWrite is effective and imaginative because of its ability to combine text with graphics, to mix as many as ten fonts in a variety of sizes, to show and print your text in a rainbow of colors, and to place text so that it will wrap around a graphic.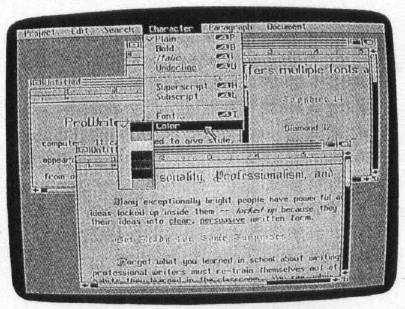 ProWrite offers a unique combination of word processing and graphics.
In using graphics, ProWrite supports IFF (Interchange File Format), which has become a standard. Because of this, you can incorporate into your document pictures made with such programs as Deluxe Paint, Aegis Images, Draw Plus, and more. Creating your own pictures with such programs and then using them with text will personalize your memos and manifestos in a way that no word processor could.
Because it treats text and graphics as equals, no arcane moves are necessary to add a picture to your document. Select the desired image from a pop-up directory and select the amount of shading you wish ProWrite to give it, and the graphic appears on your screen where it can be dragged into the appropriate place among your words. You'll also find it convenient that pictures can be moved between documents just as easily as you'd move text.
(A special note: The original release of ProWrite worked only in hi-res mode. Because of the screen flicker inherent with hi res, the upgrade version now offers a medium-res flicker-free mode. Drawings loaded into a medium-res document will be compressed horizontally but will print with correct proportions. The upgrade version is free to all registered owners of ProWrite.)
Where words are concerned, ProWrite gives you the standard Amiga fonts as well as an additional three. The largest size offered is 20 points, precluding you from making large headlines, but you still should be able to grab attention. If the size of the type won't do it, try coloring. Highlight an area as small as one letter or as large as an entire page, then go to the pulldown menu and select another color. Or gain emphasis by mixing fonts. As with every operation in ProWrite, these are quick and simple.
Desktop Publishing?
In referring to ProWrite as a desktop publishing program, we are using one of the broader definitions of a term that will surely be bandied about and misused for years to come. Since ProWrite does not contain routines for creating graphics (such as drawing lines or boxes), since it does not support fonts larger than 20 points, and since it will not format text into newspaperlike columns, it will not fit the narrower definitions.
Yet while you can't publish a newspaper, you could use it to combine text and illustrations into a children's book, a company report or memo, or a uniquely personal note.
As with any graphics-oriented program, memory is at a premium when using ProWrite. Expansion memory will help, but the Amiga can address only 512K of graphics memory, and it is possible to use up the graphics memory and crash while still having free expansion memory. Fortunately, a touch of the Help key will invoke a pop-up window to inform you of memory usage. We'd suggest you refer to this before bringing in a new graphic or opening a new document.
Because all final drafts of a document are printed as graphics (even if your work contains only text), expect to spend some time waiting for hardcopy to emerge from your printer. If nothing emerges, check the settings in Preferences—ProWrite may be the first software you've seen to have serial printing set as a default. This is because the default printer is the Apple Imagewriter II. After changing to parallel output, we found that the Okimate 20 color printer works quite well.
Documentation is good, without being overlong or overbearing. Because it incorporates so many of the Amiga protocols, we think you'll find the use of ProWrite almost instinctive, and that you'll use the documentation simply as a reference tool for some of the finer points of usage and creation.
Although ProWrite is neither an excellent word processor nor a fullfledged publishing program, it fills a gap between the two, and it is for those who occasionally wish to create a document that grabs attention quickly. It is a program you'll use when words alone can't express what you must say. And, because a picture is worth a thousand words, ProWrite can turn what might have been a long document into a page of text with a picture.
Prowrite
New Horizons Software
P.O. Box 43167
Austin, TX 78745
$124.95