Reviews
PHM Pegasus
James V. Trunzo
Requirements: Apple II series and Commodore 64 computers.
Recent releases like Skyfox and Arcticfox have placed gamers in the pilot seats of futuristic supercraft—vehicles complete with incredible weapons, defenses, and surveillance equipment. Electronic Arts' newest arcade/simulation is based in present-day reality; yet once you've experienced the immense firepower and maneuverability of this latest toy, you'll swear you've gone "back to the future."
PHM Pegasus installs you at the helm of one of three different NATO hydrofoils, equipped with the most advanced instrumentation and weapons systems currently available. These hydrofoils, authentic to the last detail thanks to technical consulting done by Boeing Marine systems, are the jets of sea surface, combining mindboggling speed with devastating firepower.
Once you take command of a (P)atrol (H)ydrofoil (M)isslecraft, your training commences with "simple" seek-and-destroy missions. These introductory scenarios allow you to familiarize yourself with the controls of the craft in which you are in charge.
A large-scale view of the theater of operations permits you to set an autocourse for your target area (and in more advanced scenarios, you control search helicopters and convoy ships). Once there, the bridge view allows you to engage and control the functions available on the control panel in front of you, while scanning the enemy-crowded seascape.
Excellent 3-D Graphics
Graphics in PHM Pegasus are up to Electronic Arts' usual standards, and unlike many arcade/war simulations currently on the market (including Skyfox and Arcticfox), the simulated 3-D graphics are solid-fill, not outlines. This feature is not only helpful but also essential when it comes to identifying vessel type. Such identification takes practice, and the enclosed cardboard spotter cards are a must, especially in advanced scenarios when many of the ships encountered are not enemy vessels—and you don't want to destroy those unless you want to be demoted to deck-mopper status.
When combat does occur, your arsenal consists of a 76mm water-cooled naval gun—a short-ranged rapid fire cannon which is great against enemy patrol boats; Harpoon-, Exorcet-, or Gabriel-guided missiles—whose 90 percent accuracy comes in handy against such heavyweight antagonists as the 900-ton Nanuchuka II Missile Corvettes and ASSAD missile boats (the latter capable of attacking from 80 miles away—your effective firing range is half of that); and Chaff Rockets—exploding rockets that disperse aluminum foil in the air, attracting and deflecting enemy missiles away from your hydrofoil.
Game play is fast and furious. Strategy is important, especially in escort or scouting missions when observation or escape is more important than destruction of enemy craft. Ship repairs are not possible during a scenario, so damage is a factor which must be monitored carefully. Loss of speed, for example, can be as harmful as loss of firepower. As long as the hydrofoil is skimming the water, it can't sink, even with hull damage; however, as soon as the foil slows down, it settles into the water and the hull fills.
Contemporary Scenarios
Eight scenarios are available for play, their objectives ranging from escorting ships out of the Persian Gulf to photographic surveillance of ships smuggling military equipment to Nicaragua. You might be ordered to destroy terrorist ships off the coast of Sicily or to navigate the Yucatan Straits between Mexico and Cuba on your way to South America. Part of the enjoyment of PHM Pegasus lies in the fact that your missions take place in today's hot spots like the Gulf of Sidra and the Eastern Mediterranean. You can almost feel the tension as you spot Soviet-built ships heading towards you across the "Line of Death."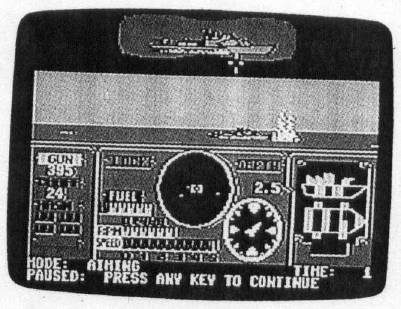 PHM Pegasus is an authentic simulation that places you at the helm of one of three NATO hydrofoils.
PHM Pegasus is a well-balanced blend of complexity and playability. It isn't an overly difficult game to play, yet it is a very challenging game to master. Sound effects synchronize perfectly with the splash of missed shots or the explosion of ships hit by your guided missles; full-screen graphics clearly depict the action in both the strategic and tactical modes; and a thoroughly documented manual gets you into the action quickly. What more could you ask for from a game of this type?
PHM Pegasus is a worthy addition to even the casual game player's collection. It's a must if you are an action fanatic looking for a new challenge.
PHM Pegasus
Electronic Arts
1820 Gateway Dr.
San Mateo, CA 94404
$29.95 Commodore 64 version
$39.95 Apple II-series version