A Great Year For Games
Selby Bateman, Features Editor
A gaggle of new games is on the way to your computer as software manufacturers gear up to take advantage of the new Atari ST, Amiga, and Macintosh machines. At the same time, gamemakers are creating some of the most advanced entertainment software yet assigned for the Commodore 64, Apple II, IBM, and eight-bit Atari computers. The combination is making 1986 great year for games.
"I don't think designers have worked very hard to push the Commodore 64 to its limits. It still hasn't been tapped to its fullest potential," says Alan Miller, a computer industry veteran and cofounder of Accolade, a computer game company.
Miller's comments reflect his view of the computer game market today, and they're being echoed by almost all of the leading developers of computer entertainment software. Comments from company presidents and product managers at the Summer Consumer Electronics Show and in conversations since then reveal a consistent pattern: They believe there is a strong future for both traditional eight-bit and new 68000-based computers.
Game companies have moved quickly to take advantage of the powerful graphics-and-sound capabilities found on the new 68000-generation computers—Amiga, Atari ST, and Macintosh. A variety of new games and conversions of popular eight-bit programs are being released this year and next. And that includes conversions of many popular eight-bit games. Although it's impossible to list all the conversions here, chances are that just about any successful eight-bit computer game is headed for Atari ST, Macintosh, and/or Amiga versions late this year or early next.
Many of the companies are hoping to take advantage of the huge called base by announcing new entertainment products that push the Commodore 64, Apple II-series, and eight-bit Atari machines beyond what has previously appeared. And game companies that previously had little reason to have IBM PC versions of their products are now targeting. IBM and IBM-compatible markets to take advantage of lower-priced MS-DOS computers—Tandy 1000, Leading Edge, and others—that are selling into the home market.
Here are just a few of the highlights of what's currently available and what will be out by the end of the year.
Games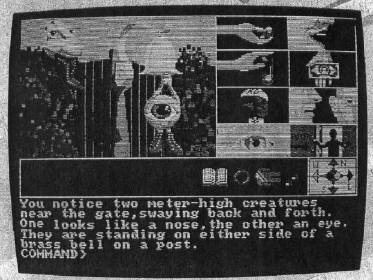 Tass Times in Tonetown
Superb color graphics in the Amiga version of Activision's unusual Tass Times in Tonetown help make this a fascinating new game.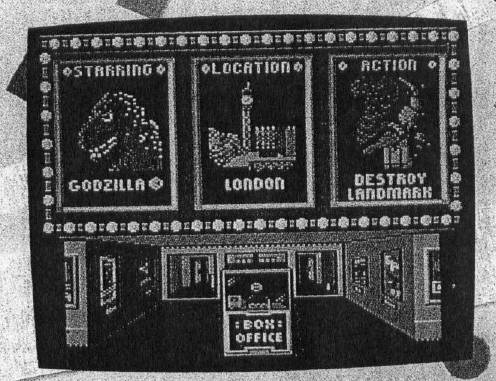 The Movie Monster Game As Godzilla, you're ready to tear up London town in Epyx' The Movie Monster Game for Apple, Commodore, and IBM computers.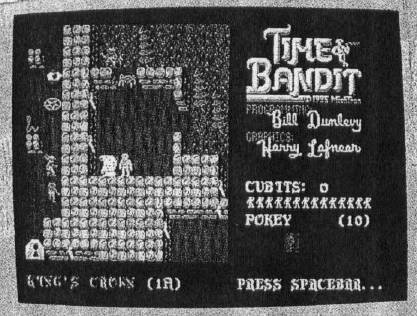 Time Bandit Michtron's Time Bandit for the Atari ST provides level upon level of fast-action game play and detailed color graphics.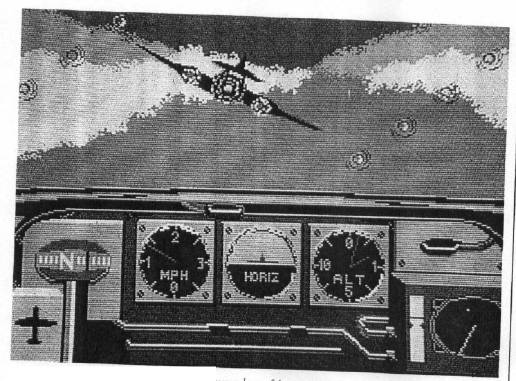 Accolade's Ace of Aces for the Commodore 64 puts you in the pilot's seat over wartorn World War II Europe.
Ace Of Aces
Accolade
This World War II aerial-warfare game for the Commodore 64 features excellent color graphics and sound effects. You're in the pilot's seat, flying an RAF Mosquito over Europe in one of four different air battles. Each of the battles requires special weapons, battle, and navigation skills. To become an ace of aces, you have to successfully complete all four missions. There are five views from the cockpit, and you use them all to battle enemy fighters and bombers, V-1 rockets, German U-boats, and enemy supply trains.
Acro-Jet
MicroProse
This is an advanced flight simulator that takes up where the popular Solo Flight flight simulator stopped. It's a realistic simulation that's also fun to play. Up to four players can compete in ten acrobatic jet maneuvers, including precision rolls, loops, ribbon cuts, and other trick moves. As with other simulations from MicroProse, great emphasis is placed on attention to detail and realistic controls. Acro-Jet is currently available in a Commodore 64 format.
Arch-Mage's Tale (Bard's Tale II)
Electronic Arts
Following on the heels of the very successful fantasy role-playing game, The Bard's Tale, Electronic Arts is releasing a sequel in Commodore 64 format that's even bigger. The new storyline includes seven different cities—rather than one as in Bard's Tale I—and there are a host of new magic spells, bad guys, and a new character class.
Battlefront
Strategic Studies Group/Electronic Arts
This entry is from the same development group that produced Reach for the Stars, Europe Ablaze, and other popular strategy games. Battlefront is a recreation of land battles from World War II, and includes four separate scenarios and a design kit. You take the role of a corps commander, issuing orders to divisional and regimental headquarters in the battles of Crete, Stalingrad, Saipan, and Bastogne. The game will be available for the Commodore 64 and Apple II-series computers.
Breakers
Brøderbund
A new science fiction text adventure, Breakers contains a 1500-word vocabulary that lets you communicate with the program in natural sentences. The adventure is set in a realtime environment; that is, time passes in the game even when you're idle. Characters move about, actions occur, and you've got to keep going just to keep from falling behind.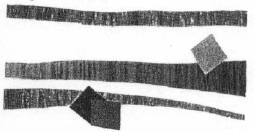 Chessmaster 2000
Software Country/Electronic Arts
This is a very powerful chess competition program with both two-dimensional and three-dimensional playing boards and a very large library of opening moves. There are 12 different skill levels, plus a mode for learning how to play and a mode for replaying classic games from the past. This program will be available for all major personal computer systems.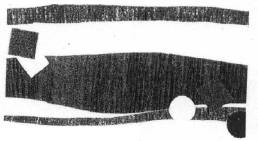 Cinemaware
Cinemaware/Mindscape
This new series of interactive graphic adventures for the Atari ST, Amiga, and Macintosh includes many of the conventions of motion pictures—pans, tilts, closeups, reverse angles, and 3-D turns. It's intended as a new concept of computer software that combines constant action with the latest in personal computer graphics. An elaborate debut is planned for the fall. Initial titles in the series are Defender of the Crown, The King of Chicago, Sinbad and the Throne of the Falcon, and S.D.I., ranging from the days of chivalry to the Strategic Defense Initiative.
Conflict In Vietnam
MicroProse
The crucial battles of the Vietnam War are yours to study and replay in this strategy game. From the siege at Dien Bien Phu to the South Vietnamese defeat at Quang Tri, the battles pit North Vietnamese and Viet Cong guerilla tactics against French and, later, American conventional forces using advanced weaponry. There are five different scenarios in the program. Versions are available for Commodore 64, Apple II, IBM, and eight-bit Atari computers.

The Coveted Mirror
Polarware/Penguin
You are the main character in this graphics-and-text adventure, searching the kingdom of Starbury for the four missing shards of the magical Coveted Mirror that will free the land from the evil rule of King Voar. The game has a working vocabulary of more than a thousand words, and includes over 100 color-graphics screens. The parser, the part of the game that interprets your commands, lets you use full- and multiple-sentence instructions. Versions are available for all major computer systems.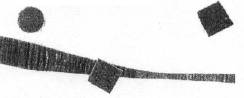 Deceptor
Accolade
You're in charge of a robotic vehicle that can change from a ground-based rover to an airborne ship and eventually to a human shape. You'll need the changes to maneuver through six levels of mazes. Deceptor, for the Commodore 64, is a fast-action game that can be customized to your own level of responses. You can also practice different levels independently in order to help you reach the final confrontation.
Destroyer Escort
MicroProse
This new simulation for the Commodore 64, Apple II, and IBM computers is a historically accurate recreation of convoy escort duties in the North Atlantic during World War II. You're in command of either a fast, heavily armed destroyer or a more lightly equipped corvette vessel as you protect a convoy against German submarines and surface vessels. Accurate details for ship speeds, weapons, damage assessments, and tactics contribute to the game's realism.
Diablo
Classic Image
Diablo is an Atari ST game consisting of tracks, panels, and a ball in a maze. The program is an interesting combination of strategy and action, and is difficult to compare to other games. The sound and color graphics are excellent, and game play requires quick thinking, some dexterity, and planning.
Electric Dreams Series
Activision
This is a brand new series of computer games, all of which have been top sellers in Great Britain. The first three programs in this series will be available for the Commodore 64 and Apple II-series:
The Rocky Horror Picture Show—The popular cult-classic movie has spawned a computer game, complete with the same characters from the movie. You play Brad or Janet, trying to unfreeze your partner by finding parts of a Medusa machine hidden somewhere by Dr. Franknfurter. You run into the same crew of zany characters from the movie as you go about your task.
Spindizzy—An action arcade-style game, Spindizzy is set on a distant planet. Your objective is to map out an unknown world, which you do by successfully navigating 386 different screens. The program features a special 3-D look and feel. You build your map with each completed screen.
Zoids—This is a takeoff of the popular Tomy characters you may have seen in toy stores and on television. On the planet Zoids, you control a blue zoidzilla. But, your zoidzilla has been taken apart and scattered around the planet. Now, you need to piece together your zoid to battle the ultimate zoid while fighting against a variety of lesser zoids. This, too, is an action adventure game.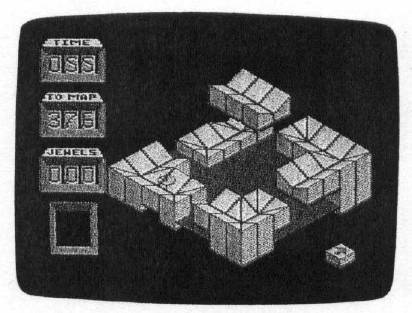 With each screen you conquer, you're mapping an unknown world in the 3D science-fiction arcade game, Spindizzy, from Activision for Commodore and Apple computers.

Fairlight
Mindscape
This 3-D graphics adventure game for the Commodore 64 takes place in the mythical land of Fairlight. Once beautiful and radiant, the land is now blighted. And it's up to you to restore the magic.
Gettysburg: The Turning Point
Strategic Simulations Inc.
SSI's Civil War strategy game, Battle of Antietam, was an immediate success earlier this year. Gettysburg: The Turning Point, from the same development group, promises to have even more depth of play. As with Antietam, the new game has three levels—Basic, Intermediate, and Advanced—and includes such factors as geography, war munitions, morale of the soldiers, and other realistic factors. Battle settings and maps are also historically accurate. The game is available for the Apple II-series, Commodore 64, eight-bit Atari, and IBM PC computers.
Gunship
MicroProse
This long-awaited helicopter simulation was delayed last year in order to make it as accurate and realistic as possible. Available first for the Commodore 64, an Apple version will be released late this fall, with IBM, Atari ST, and Amiga versions in early 1987. You're in command of an AH-64A Apache, the U.S. Army's most advanced attack helicopter. Advanced weaponry includes laser missiles, automatic cannon, rocket pods, zoom television gunsights, laser rangefinders, plus defensive detectors, jammers, and decoys. This promises to be one of the most rigorously detailed simulations yet from MicroProse.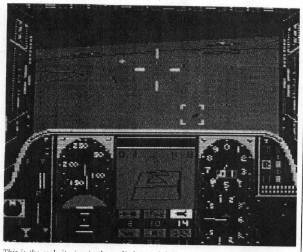 This is the cockpit view in the realistic attack-helicopter simulation, Gunship, from MicroProse, for the Commodore 64. Other versions will follow.

Hacker II: The Doomsday Papers
Activision
The popularity of the original Hacker computer game from Activision made the idea of a sequel too good to pass up. This new game is more complex and challenging than the first, but the emphasis is still on having fun as you try to break the security of a major computer system and then save the U.S. from destruction. You get a few more preliminary instructions than with the original, and more depth of play as well. Versions are available for all major personal computers.
Leader Board
Access
This is a realistic golf simulation game for the Atari ST that features multiple 18-hole golf courses, 3-D animation, trees, sandtraps, and three levels of play. There's also computerized scoring and handicapping. The player makes decisions concerning club selection, distance, and other variables.
Marauder, Street Surfer, and S.W.A.T.
Mastertronic
These three games are the latest in a list of well over a dozen fastaction, budget entertainment programs from Mastertronic for the Commodore 64 and Atari eight-bit computers. Most all of these game programs are approximately $10. Atari ST and IBM versions of many of the titles are also planned this fall.
Marble Madness
Electronic Arts
This is a captivating Amiga program that takes full advantage of the machine's graphics and sound. The screen images are arcade-quality, and include excellent 3-D graphics. Game play is identical to the arcade version of this popular game as well. One player can race his marble through the mazes, or two players can compete head-to-head. There are six different playfield raceways. There's even a stereo music soundtrack.
Moonmist
Infocom/Activision
This is an introductory-level all-text adventure that puts you, an amateur sleuth, in the gothic Tresyllian Castle located in Cornwall, England. Is there really a ghost that walks the castle? And what is the treasure that all of the eccentric inhabitants of the castle seem to be searching for? Moonmist has four different variations, all on the same disk. Each variation has its own puzzles, treasures, hiding places, and solution to the mystery. There are versions for all major personal computer systems.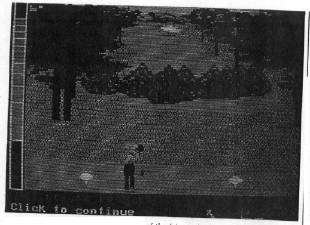 Your tee-shot is headed down the middle of the fairway in the Atari ST version of Accolade's Mean 18 golf game.
Mean 18
Accolade
Mean 18 is a one-to-four-player golf simulation game for the Atari ST and IBM PC computers, complete with sand traps, water hazards, trees, and a total of 72 different holes. Full-color scrolling graphics make the game visually engaging as you play on one of three famous courses. There's also a Course Architect that lets you build or modify your own golf courses.
The Movie Monster Game
Epyx
Become Godzilla or one of your favorite movie monsters and lay waste to a city, defeating the army, navy, and air force at the same time. As you tromp around various urban landscapes, you have all of the typical monster attributes—toxic breath, loud screams, and, of course, big feet. The Movie Monster Game features colorful graphics and plenty of action. The game will be available first in Commodore 64, Apple II, and IBM computer versions.
Murder Party
Electronic Arts
This game lets you host your own murder parties, with up to seven people. The computer generates all the materials you need, such as invitations, roleplaying instructions, and clues. The culprits and the clues are variable from game to game. There will be Commodore 64 and Apple II versions of the game this fall.
Ogre
Origin Systems/Electronic Arts
Origin Systems has introduced an Apple II version of the popular strategy board game, Ogre. As in the original, a solo-fighting Cybertank battles a conventional force of infantry, armored units, and command posts. One player can take either side against the computer, or two players can challenge each other. There are ten different playing fields to choose from, and the game features full-color graphics on the Apple II.
Pure-Stat Baseball
subLogic
This baseball simulation contains extensive statistical features, and should appeal to baseball fans who like their simulations as realistic as possible. One or two players can take part, managing any team from the 1985 pro season and eight classic teams from the past. Included is a feature that lets you create your own players or draft them. Three stadiums are included on the disk, and there's an optional stadium disk that contains all the major league stadiums in the U.S. You have control over just about every variable, and the program maintains a complete statistical record of every team and every player. These stats can be printed out as well as viewed onscreen. Available first for the Commodore 64; other versions will follow.

Scavenger Hunt
Electronic Arts
Ozark Softscape, the developers who created the successful games of MULE, Seven Cities of Gold, and Heart of Africa, are now offering a program that's half computer game and half board game. Scavenger Hunt is for up to four players, who use animated robots to seek out bizarre items in the quest to win. Commodore 64 and Apple II versions are available.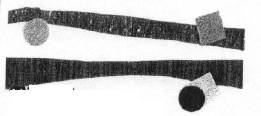 The Scoop
Telarium/Spinnaker
Spinnaker has expanded its Telarium line of graphics-and-text adventures with The Scoop, based on an Agatha Christie story. In this new software adaptation, you take the role of a London reporter trying to solve a mysterious series of murders for his paper, The Daily Courier. You must find clues, talk to witnesses, eavesdrop on other people's conversations, and get the scoop on the murders. The Scoop is available for Apple II-series (128K) and Commodore 128 computers.
Shanghai
Activision
This is a new computer puzzle game based on the ancient oriental game of Mah-jongg. The initially released version is for the Macintosh, with MS-DOS and Apple II versions planned for release by the time you read this. There are 144 tiles in the game, consisting of seven visually different suits stacked in a five-level dragon-shaped pyramid. You must remove them in pairs, and each game is different. This is a classic game of strategy, memory, and luck. There are solitaire, multi-layer tournament, and head-to-head clock matches contained in the program.
Spitfire 40
Avalon Hill
This entertainment package is both a flight simulator and a World War II airwar combat program, planned initially for the Commodore 64. Other versions are to follow. You're at the controls of the Mark I Supermarine Spitfire, watching the dials, gauges, and compass, and trying to keep the fuel pump operating as you go into a dive. You can save your flight log to disk, recording kills and missions flown. Versions are available for Commodore 64, Apple II, Atari, and IBM computers.
Spy Vs. Spy III: Arctic Antics
First Star
The two previous adventures in this series, Spy Vs. Spy and Spy Vs. Spy II: The Island Caper, brought players a successful combination of excellent color graphics and ingenious game play. The nonstop battle between MAD Magazine's ingenious spies continues with this sequel set in the frozen northland. Versions are available for the Commodore 64, Apple II-series, and Atari eight-bit computers.
Starglider
Firebird
This Atari ST space-combat action game promises to take full advantage of the ST's speed and color graphics. Using animated 3-D vector graphics, you have a first-person perspective while piloting your attack vehicle against an alien armada. The game features air-to-air and air-to-ground combat simulations. Starglider also uses digitized sound and requires you to develop your piloting skills to succeed. Commodore 64 and Apple II versions will soon be available as well.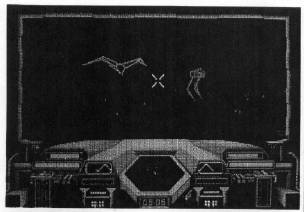 Colorful 3D vector graphics are a part of Firebird's new Starglider space action game for the Atari ST.
subLogic Scenery Disks
subLogic
Two new flight simulator scenery disks, for use with Microsoft Flight Simulator, Flight Simulator II, and Jet, have been added to the list by subLogic. These new programs include a San Francisco/Bay Area route that offers views of prominent buildings on Fisherman's Wharf, Alcatraz Island, and the Golden Gate Bridge, among other sights; and a Japan route that details the area from Tokyo to Osaka, with a rendition of downtown Tokyo, Mt. Fuji, and many other sights. The disks are available in Commodore 64, Atari eight-bit, and IBM PC formats.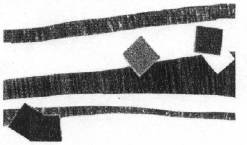 Tass Times In Tonetown
Activision
This illustrated text adventure is a bizarre trip through an alternate reality. You can't get into Tone-town unless you're tass (an up-to-the-minute variation of cool). You're in search of Gramps, and you end up in a dream world aided by a dog reporter, and...need we say more? This promises to be one of the more offbeat entries from a company that has produced a variety of other innovative programs, such as the very popular Little Computer People. Tass Times In Tonetown will be available for all major personal computer systems.
10th Frame
Access
This is a Commodore 64 bowling simulation game from the same company that developed the popular Leader Board golf simulation for the Commodore. As in Leader Board, 10th Frame features fullcolor graphics and attention to the details of game play.
Thomas M. Disch's Amnesia
Electronic Arts
This is the first all-text adventure game from Electronic Arts, and they've used the expertise of award-winning science fiction author Thomas M. Disch to make it a good one. The plot reads like your worst nightmare: A strange woman wants to marry you, someone wants to kill you, the state of Texas wants you for murder, and you don't know who you are. The game covers more than 4000 locations in Manhattan, including the entire subway system. The game is available in Commodore 64, Apple II, and IBM versions.
Time Bandit
Michtron
This is one of several new Atari ST entertainment programs from Michtron, and it's an excellent action game with great depth of play. There are 16 different arcade levels within 16 lands you'll explore—more than 3,000 screens in all. Three adventure games are a part of the arcade levels, also. The detailed color graphics smoothly scroll in all directions, and a special two-player twin-screen mode gives Time Bandit even more playability.
The Toy Shop
Brøderbund
Build your own mechanical toys, customizing them in a variety of different ways, with this innovative new package from Broderbund. There are 20 different toys that you put together. They're fully operational, and all of the material you need to build them comes with the kit. The Toy Shop is available for the Commodore 64 and Apple II computers.
Trinity
Infocom/Activision
Magic and hard science coexist in the alternate universe of Trinity. The game plunges you into the middle of an exploration across time and space as you try to reshape history. The climax of the game, if you make it that far, occurs at the dawn of the atomic age just as the first atomic blast is to occur in the New Mexico desert—project Trinity. This is a new all-text adventure from the highly respected Infocom group, and is aimed at a standard level of play. Versions are available for all major personal computer systems.
Uninvited
Mindscape
In the midst of a gothic mansion, with demons and gremlins stalking your every move, you try to overcome the black magic that has overtaken the place in this graphics-and-text adventure for the Macintosh. The game features sophisticated animation and digitized sound, as well as a complex plot.
World Games
Epyx
The popularity of Epyx's Summer Games, Summer Games II, and Winter Games, has led to the release of World Games, which features eight new athletic events set in different countries around the world. As with the earlier games in this series, the color graphics are excellent and the game play is varied and action-oriented. This will be available for all major personal computer systems.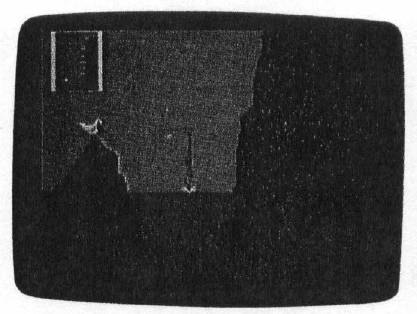 Cliff-diving is one of eight athletic contests in Epyx' new World Games, available for most personal computers.
Access Software
2561 S. 1560 W.
Woods Cross, UT 84087
Accolade
20833 Stevens Creek Blvd.
Cupertino, CA 95014
Activision
2350 Bayshore Frontage Rd.
Mountain View, CA 94043
Avalon Hill Game Company
Microcomputer Games Division
4517 Harford Rd.
Baltimore, MD 21214
Brøderbund Software
17 Paul Dr.
San Rafael, CA 94903
Classic Image
510 Rhode Island Ave.
Cherry Hill, NJ 08002
Electronic Arts
1820 Gateway Dr.
San Mateo, CA 94404
Epyx
1043 Kiel Ct.
Sunnyvale, CA 94089
Firebird Licensees
P.O. Box 49
Ramsey, NJ 07446
First Star Software
18 East 41st St.
New York, NY 10017
Infocom
125 CambridgePark Dr.
Cambridge, MA 02140
Mastertronic International
7311B Grove Rd.
Frederick, MD 21701
Michtron
576 South Telegraph
Pontiac, MI 48053
MicroProse Software
120 Lakefront Dr.
Hunt Valley, MD 21030
Mindscape
3444 Dundee Rd.
NOrthbrook, IL 60062
Polarware/Penguin Software
2600 Keslinger Rd.
P.O. Box 311
Geneva, IL 60134
Strategic Simulations (SSI)
1046 N. Rengstorff Ave.
Mountain View, CA 94043
SubLogic
713 Edgebrook Dr.
Champaign, IL 61820
Telarium
Spinnaker Software
One Kendall Square
Cambridge, MA 02139