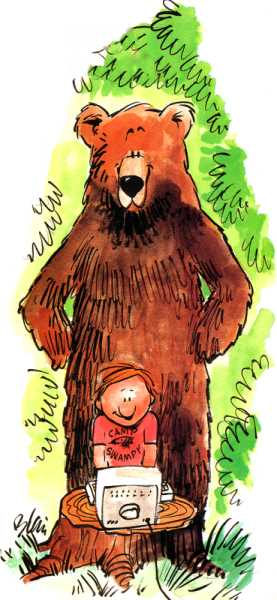 COMPUTE!'s Guide
To Computer Camps
Sharon Darling, Research Assistant
With the snows of winter a memory and warm weather approaching, it's time for computing families to start considering which, if any, computer camps they want to attend this summer. We've compiled a list of camps nationwide which offer a variety of activities for computing enthusiasts of all ages. While it is by no means an exhaustive list of all the computer camps available, it is a representative sampling which should get you started on the right track.
In the accompanying chart, you'll find information to help you decide which kind of camp is right for you: location, basic curriculum, prices, time spent on computers daily, what types of computers are available, sex and age-range of campers, noncomputing activities available, registration deadlines, staff-to-camper and computer-to-camper ratios, and names and addresses for more information, In the sessions/prices column, we've also indicated whether the camp is a day or residential camp.
While the majority of camps are for children and teenagers, there are others which families can attend together. There are also camps for adults only. Keep in mind other considerations when deciding which camp is best for you: qualifications of the instructors, curriculum structure, and groupings of campers by computing experience and ability. Most camps include all necessary equipment (hardware and software) in the cost, but some ask that campers supply their own computers.
Computer camps not listed here may wish to notify COMPUTE! of their programs for possible use in a future issue.


Camp Name/Address



Camp location



Sessions/prices



Curriculum


Computers
available


Staff/
camper
ratio

Com-
puter/
camper
ratio


Time spent daily
on computers


Sex, age range of
campers; # camp-
ers per session



Noncomputer activities


Registration
deadline























UAB Microcomputer Camp, Ray Hol-
land, 917 11th St. S., Birmingham,
AL 35294; (205) 934-3870

University of Alabama
in Birmingham

3 weeks/$275;
day

Programming; class and
lab sessions

Apple II+

1:5

1:1

5 firs. class time; 2
hrs. free time

Coed; 13-16; 40
per session

None

June 10

Arizona Computer Camp, Dr. Henry
Dahlberg, 2946 Darca Dr., Prescott,
AZ 86301; (602) 445-3778

Prescott, AZ


1 week or 2
weeks; $285 per
week; res.

Logo, BASIC, applications
software, graphics

Apple IIe

1:3

1:1

3 hrs. class daily;
2 hrs. per week
free time

Coed camp; ages
8-15; 60 per ses-
sion

Include sports, fishing,
camp-outs, astronomy

June 15

Genesis Computer Camp, Dr. James
Holliday, Box 3143, John Brown Uni-
versity, Siloam Springs, AR 72761;
(501) 524-3131

JBU, Siloam Springs,
AR

1 week/$125;
day

BASIC, Pascal; individual
hands-on instruction

IBM PC, Ap-
ple II+, IIe,
Com. 64

1:5

1:1

6-8 hrs. class; 2
hrs. free time

Coed camp; ages
10-17; 25 per ses-
sion

None

Beginning of
session (June
17 or June
24)

Pegasus '85, Anne Nicksic, Universi-
ty Extension, University of California,
Davis, CA 95616; (916) 752-6401

University of California,
Davis campus

1 week, 9
a.m.-12
noon/$150; 9
a.m.-3 p.m./
$250; day & res.

Problem solving/ pro-
gramming in BASIC,
Logo, Pascal

UNIX, Apple
IIe

Maximum
1:8;
usually 1:5

1:1

3-5 hrs. class
time, depending
on camp length;
1-3 hrs. free time

Coed; jr. and sr
high school; 25-40
per session.


Swimming, recreational
area

One month
before date
of first camp
meeting

United States International University
Computer Camp, Maggie Kositany,
10455 Pomerado Rd., San Diego, CA
92131; (619) 271-8582

San Diego, CA

2 weeks/$850;
res.

BASIC, Pascal, assembly;
seminars in graphics, mu-
sic, robotics, artificial in-
telligence

Apple IIe

1:5 staff;
1:8 in-
structors

1:1

4 hrs. instruction;
6 hrs. free time

Coed; 7-17; maxi-
mum 40 per ses-
sion

Include sports, arts and
crafts, hiking, jet skiing

Applications
accepted
April 2 until
full

The Original Computer Camp, Inc.,
Mark J. Zacovic, 559 San Ysidro Rd.,
Dept. CM, Santa Barbara, CA 93108;
(805) 969-7871

Sequoia Lake, CA, Sier-
ra Nevada Mountains,
Cate School

12 days/$895 +
$50 canteen fee;
res.

BASIC, Logo, Pascal, Ro-
botics, 6502 assembly lan-
guage, Forth, graphics, ar-
cade game writing

Apple II+,
Com. 64

1:4

1:1

Minimum 3 hrs.,
maximum 5-6
hrs.; 1½ hrs. free
time

Coed; 7-15;
80-100 maximum
per session

Include team sports,
swimming, arts and crafts,
movies

Early spring

Cali-Camp Computer Camp, Cali-
Camp Summer Camps, Pam Hawley,
1717 Old Topanga Canyon Rd.,
Topanga CA 90290 (213) 455-1305

Malibu Mountains, CA

10 days/$405
regular; $386 dis-
count

Computer lab; topics in-
clude theory, keyboard in-
struction, programming,
graphics

Apple IIe

2:16

1:2

2½ hours class; 45
min. free time

Coed; 7-14; 32
per session

Wide variety of activities
and field trips


None

University of Colorado Computer
Camp, Suzanne Kincaid, c/o Aca-
demic Computing Services, Campus
Box 455, U. of Colorado, Boulder,
CO 80309

University of Colorado,
Boulder

6 days/$425 resi-
dents; $225 com-
muters; day &
res.

Programming, applica-
lions, communications,
electronic mail

IBM PC, Ap-
ple, Zenith,
VAX

1:10

1:1

Approx. 6 hrs.
class time; 2-3
hrs. free time

Coed; 14-19; 32
maximum

Include water sports, ice
skating, team sports, hik-
ing

June 1

Hemlocks, Carl Larson, Hemlocks
Outdoor Education Center, P.O. Box
198, Hebron, CT 06248 Note: Camp
serves physically disabled children
exclusively.

Hebron, CT

12 days; 6-day
option/$300 per
week, ability-to-
pay for CT resi-
dents; res.

BASIC, computer literacy,
word processing, use of
adaptive equipment

IBM PC, Ap-
ples

3:10

1:2

4-6 hrs. class
time; 1 hr. free
time

Coed; 10-17; 65
pr session

Include adaptive sports
and games, water sports,hiking, ropes course

August 1

New England Computer Camp, Clark
Adams, Banner Lodge, Moodus, CT
06469; (203) 873-1421

Banner Lodge, Moodus,
CT

2 weeks/$945;
res.

BASIC, assembly, C, LISP,
Logo, Pascal; applications;
electronics; utilities;
peripherals; hardware

Apple IIe &
IIc, Macin-
tosh, IBM
PC & PCjr

1:4

1:1

5-8 firs. class
time; 1-3 hrs. free
time

Coed; 8-17; 125
per session

Include professionally
taught circus program;
field sports, tennis, news-
paper, swimming, tennis

May 15

National Computer Camps, Michael
Zabinski, Box 585, Orange, CT
06477; (203) 795-9667

Simsbury, CT; Atlanta,
GA; Cleveland, OH;
Portland, OR; St. Louis,
MO; Washington, DC

1 week ses-
sions/$380 per
week; res.

BASIC, Pascal, machine
language; artificial intelli-
gence, robotics; computer
literacy

Apple, TRS-
80, IBM

1:6

1:2

5 hrs. instruction,
5 hrs. free time

Coed; 9-18; 100
per session

Include swimming, tennis,
field sports, indoor sports,
Dungeons & Dragons

Applications
accepted un-
til camp is
full

Sun Valley Computer Camp, Brad
Thode, P.O. Box 1450, Hailey, ID
83333; (208) 788-2164 or 788-4958

Camp Sawtooth, Boul-
der Mountains in cen-
tral Idaho

1 week/$350;
res.

BASIC, Pascal, Logo;
spreadsheets, databases,
word processing

Apple, Com.
64

1:5

1:2

6 firs. class; l½
hrs. free time


Coed; 8-16; 50
per session

Include environmental,
volleyball, swimming

June 30

Computer Day Camps, Kitty
Pfutzenreuter, Education Dept., Mu-
seum of Science & Industry, 57th &
Lake Shore Dr., Chicago, IL 60637
(312) 684-1414, ext. 422

Museum of Science &
Industry

5 days/$230 for
members; $245
nonmembers; 2
days/$110 mem-
bers; $125 non-
members; day

Programming; opportunity
to program doll house and
army tank

TRS-80, Ap-
ple IIe &
II+, IBM
PC, Com.
64, PET, TI

1:10

1:1

3 hrs. exclusive
use

Coed; 10-15; 40
per session


3 hrs. science activities
daily

Registration
opened Jan.
1; applica-
tions accept-
ed until full

IER Computer Camps, Sandra Cun-
ningham, 793 N. Main St., Glen El-
lyn, IL 60137

Chicago suburbs -
north, west, and south

11 day sessions/
$225 (9 am.-3
p.m.) Logo ses-
sions (9 am.-
noon, $125); day

Individual instruction in
BASIC, Logo, Pascal, ro-
botics, graphics, music,
depending on campers'
skills

Apple IIe

1:10

1:1.5

6 hrs. instruction;
30 min. free time

Coed; 6-17,
40-120 per ses-
sion

None

2 weeks
before start
of session

Lincoln College 1985 Commodore
Computer Camp, Rob Widmer, 300
Keokuk St., Lincoln, IL 62656; (217)
732-3155 Note: Campers asked to
furnish equipment; some rentals
available.

Lincoln College

5.5 days/$280 +
housing, meals,
and equipment
rental

Various levels BASIC &
ML programming; disk
operations, COMAL,
sound and graphics, hard-
ware

Com. 64,
PET, Super
PET, CBM,
Plus/4

1:7

1:1

5 class hrs.; 8-10
hrs. free time

Coed; primarily
adults but no age
cutoff; 75 maxi-
mum per session


Swimming, tennis

May 1



Camp Name/Address




Camp location



Sessions/price



Curriculum


Computers
available


Staff/
camper
ratio

Com-
puter/
camper
ratio

Time spent daily
on computers


Sex, age range of
campers; # camp-
ers per session



Noncomputer activities


Registration
deadline






















Science/Computer Camp, Kitty
Pfutzenreuter, Education Dept., Mu-
seum of Science & Industry, 57th &
Lake Shore Dr., Chicago, IL 60637;
(312) 684-1414, ext. 422

Pilgrim Park Camp,
Princeton, IL

2 weeks/$640
members; $660
nonmembers; 6
night option/
$335 members;
$350 nonmem-
bers; res.

Programming using com-
puters in connection with
science problem solving

Apple IIe,
Com. 64,
IBM PC,
TRS-80

1:5

1:1

2 hrs. class time;
optional evening
lab

Coed; 10-15; 90
per session

Include science activities,
swimming, team sports,
stress/challenge course

Registration
opened Jan.
1; applica-
tions accept-
ed until full

Goshen College Computer Seminar,
Doug Caskey, 1700 S. Main St., Go-
shen, IN 46526; 800-348-7422; IN
residents call (219) 533-3161

Goshen College

1 week/$140 +
$20 for text-
books; res.

Programming, computer
literacy, graphics, Pascal,
BASIC, robotics

VAX 11/750,
Apple IIe,
IBM PC

1:6

1:1

6 hrs. class; 4 hrs.
free time available

Coed; grades
10-12; 25-30 per
session

Include volleyball,
videogames, movies


June 14

Midwest Computer Camp Inc., Liz
Moore, 9392 Lafayette Rd., Indianap-
olis, IN 46278; (317) 297-2700

Indianapolis, IN

1 week/$400; 2
weeks/$750; res.

Includes BASIC, Logo, PI-
LOT, assembly, robotics,
graphics, music, speech

IBM, Apple,
Atari, Com-
modore, TI-
99, Radio
Shack

1:3

1:1

Minimum 6 hrs.
class time; up to 2
hrs. free time

Coed; 7-18; 60
per session

Include swimming, astron-
omy, wildlife, team sports,
camp crafts

Discounts
prior to
March 1,
1985

YMCA Camp Crosley, Terry Jones,
500 S. Mulberry, Muncie, IN 47305

Tippecanoe Lake, North
Webster, IN

1 week/$200;
res.

Programming, computer
literacy

TRS-80,
Model III

1:5

1:1

3 hrs. class time; 1
hr. free time

Coed; 8-15 (adult
weekends also
available); 10 per
session

Include water skiing, sail-
ing, crafts, sports, fishing


2 weeks prior
to session
attending

The New RETUPMOC, Dr. Cary
Laxer, Rose-Hulman Institute of
Technology, 5500 Wabash Ave.,
Terre Haute, IN 47803; (812) 877-
1511

Rose-Hulman Institute
of Technology


1 week (BASIC &
8088 assem-
bly)/$275; 2
weeks (FOR-
TRAN & Pas-
cal)/$550; res.

Alternating lectures & lab
time; BASIC, FORTRAN,
Pascal, 8088 assembly


VAX 11/750,
PDP 11/70,
IBM PC

1:9

1:1

4-6 hrs. class
time; 2-3 hrs. free
time

Males who have
completed soph.
yr. of hs; 35 per
session

Full range of athletic facil-
ities & off-campus events

June 1

Summer Computer Institute, Galanter
Computer School, Inc., 460 Riverside
Dr., NY, NY 10027; (212) 222-3344

Amherst College, Am-
herst, MA

1 week/$1,295;
res.

Programming and applica-
lions

IBM, Kaypro

5:1

2:1

13 hrs. class time;
free time as de-
sired

Coed; 17-88; less
than 20 per ses-
sion

Include swimming, tennis,
museums

June 1

Computer-Ed Camps, Computer-Ed,
Inc., Dr. Robert Linstone, 99 School
St., Weston, MA 02193; (617) 647-
0054

Residential camps: Bab-
son College, Wellesley,
MA, and LaSalle Acade-
my, Long Island, NY; 1
week session for gifted
and talented

2 weeks/$895; 1
week for g&t stu-
dents/$550

Includes Logo, BASIC,
Pascal, C, assembly lan-
guage, CP/M, graphics,
game programming, ro-
botics, LISP, artificial in-
telligence

Include Ap-
ple, IBM,
Commodore,
Acorn

1:4

Varies, de-
pending on
course of
instruction

Campers spend
approx. 65% of
time in computer-
related activities

Coed; 8-17; # per
session depends
on camp site

Wide range of activities

As soon as
possible

Computer Ed Day Camps, address
and phone same as above

Wellesley, Cambridge,
Concord, & Plymouth,
MA; Long Island, NY;
Providence & Bristol, RI

2 weeks/$425

Same as above

Same as
above

Same as
above

Same as
above


Approx. 50% of
time spent in
computer-related
activities

Same as above


Same as above

As soon as
possible
Compu-Tar, Jim Tartaglia, 72 Cam-
bridge St., Worcester, MA 01603;
(617) 757-6619

Throughout the north-
east

1-2 weeks; cost
depends on.
camp; res.

BASIC, Logo, computer
literacy & software opera-
lion; graphics oriented

Apple IIe

Maximum
1:8

1:2

1-2 hrs. class
time; up to 2 hrs.
free time

Coed; 9-14; varies
by camp

Full range of camp activi-
ties

Depends on
camp

University Computer Camp, Susan
Carlson, 2480 Crooks Rd., Troy, MI
48084

Pero Lake Lapeer, MI

2 weeks/$795;
res.

Includes programming,
graphic design, robotics,
word processing

Apple IIe,
Macintosh

1:3

1:1

4 hrs. class; 2 hrs.
free time

Coed; 8-18;
100-120 per ses-
sion

Include swimming, canoe-
ing, crafts, hiking

May 1

Camp Lincoln/Camp Lake Hubert,
Sam Cote, 3940 W. 49 1/2 St., Min-
neapolis, MN 55424; (612) 922-2545


Northern Minnesota

5 days/$90 +
tuition for regular
camp program;
res.

BASIC, Logo, Pascal, key-
boarding, graphics, music

Apple IIe

1:8 begin-
ning; 1:5
advanced

1:2 begin-
ning; 1:1
advanced

3 hrs. class time;
30 min.-1 hr. free
time

Coed; 8-17; 10-15
per session

Include sailing, riding,
riflery

Summer

Bronx YMCA Day Camp, #2 Castle
Hill Ave., Bronx, NY 10473, (212)
931-2500

Bronx, NY

2 weeks/$20 +
tuition for regular
day camp

Introduction to BASIC,
Logo, and computer litera-
cy

Com. 64

1:5

1:2

1 hr./day, 3
days/week class
time

Coed; 5-14;
approx. 250 per
session

Include swimming, field
trips, sports

None

YMCA-YWCA Camping Services of
Greater New York, Kent W. Samp-
son, Big Pond Rd., Huguenot, NY
12746; (212) 564-1300, ext. 312, 313,
or (914) 856-4382

Huguenot, NY

2 weeks/$420 +
$135 for com-
puter instruction;
res.

BASIC, graphics, speech

Apple IIe

1:8

1:4

2 hrs. class time;
up to 2 hrs. free
time

Coed; 8-15; 48 in
computer program

Include athletic and wa-
terfront programs, crafts,
dance, drama

June 30

Premier Computer Camp, John
Vitelli, Goshen St., Jewett, NY 12444

Jewett, NY

1 week/$425; 2
weeks/$795; 4
wks/$1,550; 6
wks/$2,265; 8
wks/$2,940; res.

Beginning through ad-
vanced

Apple, IBM,
Commodore

1:4

1:1

4 hrs. class & lab
time; free time as
desired

Coed; 7-17; 50

Numerous

June 15

Marist College Computer Camp, Dr.
Lawrence W. Menapace, Marist Col-
lege, Poughkeepsie, NY 12601

Marist College

2 weeks/$875;
res.

Programming; 50-50 lec-
ture and hands-on labora-
tory

IBM PC, Ap-
ple, IBM
4341

1:5

1:1

3 hrs. class; 4 hrs.
free time

Coed; 9-17; 60

Recreational, social, cul-
tural program

Registration
accepted un-
til full



Camp Name/Address




Camp location



Sessions/price



Curriculum


Computers
available


Staff/
camper
ratio

Com-
puter/
camper
ratio

Time spent daily
on computers


Sex, age range of
campers; # camp-
ers per session



Noncomputer activities


Registration
deadline






















Family Computer Camp, Estella Bray,
Conference & Information Center,
Clarkson University, Potsdam, NY
13676

Clarkson University

1 week/$225
each for first 2 in
family; $175 each
thereafter; hous-
ing extra

Children: programming;
adults, programming or
applications

Z-100, Apple
II, Atari,
VIC-20

Varies1
with age
group;
from1:3 to
1:10

1:1

5 hrs. class; 5 hrs.
free time

Coed; 5-adult
(children must be
accompanied by
adult)

Athletic facilities avail-
able, evening programs

When capaci-
ty reached

Camp Rockmont for Boys, Lake Eden
Rd., Black Mountain, NC 28711;
(704) 686-3885; contact David Bruce

Near Asheville, NC


2-4 weeks/
$1,150 for 4 wks;
res.

Includes beginning & ad-
vanced programming,
game design

Apple IIe,
II+

1:3

1:2

2 hrs. class; 1 hr.
free time

Boys; 8-16; 400

Myriad

Early enroll-
ment
encouraged

Tar Heel Computer Careers Camps,
Donald G. McLeod, P.O. Box 2328,
Chapel Hill, NC 27514

Chapel Hill, NC

1 week/$350;
res.

Computer literacy &
BASIC; Pascal; emphasis
on careers

Apple IIe

1:5

1:2

3.5 hrs. for 3 days,
5.5 hrs. for 2 days
class time

Coed; rising hs jrs.
and srs. and
spring graduates

Numerous

Until class of
25 filled

Western Carolina University Com-
puter Camp, Linda Patton, c/o Divi-
sion of Continuing Education, WCU,
Cullowhee, NC 28723

WCU campus

1 week/$295 res-
ident camper;
$195 day camper

Programming, use of
printer, graphics

Apple

1:6 in-
struction &
lab; 1:10
dormitory

1:2

3 hrs. class time;
up to 3 hrs. free
time

Coed; 10-13; 30

Indoor and outdoor recre-
ational activities

June 30

Duke University Computer Kamp
(DUCK), Pete Boyd/Shirley Greene,
DUCK/Computer Science Dept.,
Duke University, Durham, NC
27706; (919) 684-5645

Duke University

1 week/$500 res-
ident; $400 day
camp; 2 wks/
$800 resident;
$600 day camp; 3
wks/$1,100 resi-
dent; $900 day
camp

Class & lab combination;
programming, field trips,
guest speakers

IBM PC

1:5 lab;
1:15 resi-
dential life

1:1

3-4 hrs. class
time; 6-7 hrs. free
time

Coed; 8-17 and
adult; 160

Include movies, team
sports, skating, swimming

None, but
discounts for
early
registration

Delphian School Summer Computer
Camp, Mark Siegel, Rte. 2, Box 195,
Sheridan, OR 97378; (503) 843-3521

Sheridan, OR

4 weeks to 11
weeks; cost from
$1,295 to $1,495,
depending on
age, + fees for
13 & under; res.

Introductory & advanced
programming, applications

Epson QX10,
Molecular,
TRS, Com-
modore, TI

Varies

1:1

Up to 7 hrs. class
time; varies; labs
open 24 hrs. a day

Coed; 10-adult; #
per session varies

Include horseback riding,
bowling, sports


None

Brigham Young University Computer
Camp, Ivan Crespo, 297 CONF,
BYU, Provo, UT 84602; (801) 378-
6757

Brigham Young Univer-
sity

2 weeks/$595; 1
week/$395; res.

Beginning through ad-
vanced programming in
BASIC, Pascal, machine
language

Apple, IBM
PC

1:5

1:1

Up to 7 hrs. class
time; up to 3 hrs.
free time

Coed; 10 and up;
40-50

Includes sports, hiking,
making video movies

One week
before camp
starts

Champlain College Computer Camp,
Maureen L. Genzlinger, P.O. Box
670, Suite 50, 163 S. Willard St., Bur-
lington, VT 05402; (802) 658-0800

Champlain College,
Burlington, VT

2 wks/$885; 4
wks/$1,725; res.

BASIC, Pascal, assembly,
and productivity software;
individual and group in-
struction

Commodore,
IBM

1:5

1:1

4 hrs. class; 1.5
hrs. free time

Coed; 10-16; 120

Sports, arts and crafts,
dance, photography

Applications
accepted un-
til camp is
full

Legacy International Youth Program,
Legacy, Deborah Friedman, 1141 N.
Glebe Rd., Arlington, VA 22201;
(703) 522-1407

Bedford, VA


3 weeks/$875; 6
weeks/$1,650;
res.

Includes Logo, music, ani-
mation, telecommunica-
tions, word processing

Com. 64,
Franklin Ace
1000

1:4 in
class; 1:3
overall

1:1

1.5-2 hrs. per day


Coed; 9-18; 115

Include arts, communica-
tion, swimming, hiking,
adventure

April 15

Virginia Tech Computer Camp, Nor-
man R. Dodl, Room 400 Gym, Vir-
ginia Tech, Blacksburg, VA 24061;
(703) 961-4850

Blacksburg, VA

2 weeks/$675;
res.

Programming, literacy, ar-
chitecture, robotics

Apple, IBM

1:3

1:1

4+ hrs. class time;
3+ hrs. free time

Coed; 10-17;
70-80

Full indoor and outdoor
recreation program

June 15

COMPUTER FUNdamentals Camp at
Hollins, Nancy R. Healy, P.O. Box
9715, Hollins College, VA

Hollins College

2 weeks/$200;day

Includes literacy, compe-
tency, Logo, BASIC, ro-
botics, graphics, music,
databases

VAX 11/780,
IBM PC, Ap-
ple, Radio
Shack, VIC-
20, Atari,
Sinclair

1:12

1:2

3.5-5.5 hrs. class
time; 1 hr, free
time

Coed; 8-18;
75-100

None

None given

Camp Edwards, Merrill Oleson, P.O.
Box 16, East Troy, WI 53120

Lake Beulah, WI

6-12 days;
$180-$273; res.

Literacy, beginning-
advanced programming

Apple IIe

1:10

1:2

4 hrs. class time;
1-2 hrs. free time

Coed; 9-16; 140
(20 in computers)

Include sailing, skiing,
riflery, crafts

Until filled

Mt. Rainer Computer Camp for
adults and families, Dr. Susan A.
Whitt, 9061 NE 34th, Bellevue, WA
98004-1234; (206) 453-8790

Mt. Rainier, Port
Townsend, Seattle, and
Gold Bar, WA

Weekends/$250;
res.

Includes Logo, BASIC, lit-
eracy, word processing,
spreadsheets, databases;
individual projects

Apple IIe,
IIc, Commo-
dore, IBM
compatibles

1:5 class;
1:8 overall

1:1 class;
1:2 overall

8 hrs, per week-
end class time;
3-4 hrs. free time
per weekend

Coed; 6-adult; 20
maximum

Vary, but include sleigh
rides, skiing, fishing

2 weeks prior
to camp
selected

Mt. Rainer Computer Camp for chil-
dren, address and phone same as
above

Buck Creek Lodge,
Greenwater, WA

6 days/$350; res.

Beginning-advanced
BASIC and Logo; creative
writing/word processing;
build-a-computer; robotics

Apple IIe,
IIc, Com. 64,
Heathkit

1:5

1:1 in
class; 1:2
overall

3 hrs, class time;
3-6 hrs. free time

Coed; 7-16; 60

Include horseback riding,
swimming, soccer, art

July 1

Jackson Hole Personal Computer Re-
sort, Patrick Going, Star Route, Box
362A, Jackson, WY 83001; 1-800-
443-8616

Jackson Hole, WY

4 days/$295; res.

Introductory course with
emphasis on business ap-
plications; seminars

IBM PC

1:10

1:2

5 hrs. class time;
as much free time
as desired

Coed; adults only;
10-12

Include white water raft-
ing, snow and cross-coun-
try skiing

No official
deadline