Software Power!
The Summer Consumer Electronics Show
Selby Bateman, Features Editor
Some hardware manufacturers have bailed out, but software is soaring. The introduction of several new personal computers at the Summer Consumer Electronics Show, held in Chicago in June, was not the only story, just as important was the overwhelming amount of new software in almost every conceivable field of interest.
The gold-rush giddiness that brought 17 new computers to last year's Chicago's CES extravaganza is gone. This was the year of software. It's become a potential boom market in the highly competitive personal computer field.
Remember these names? Atari 1400 XL, Mattel Aquarius and Aquarius II, Spectravideo SV-318 and SV-328, Texas Instruments TI-99/4A, Timex/Sinclair 1000. Several of these companies have backed away from manufacturing personal computers over the past year. Some have withdrawn announced machines. It makes a long and revealing list.
Nonetheless, CES did show that there's plenty of life, and more than enough interest, in the growth potential of the personal computer field.
Miles Of Aisles
More than 90,000 exhibitors, journalists, dealers, and celebrities strolled along the miles of exhibits at CES—the world's biggest trade show—looking at virtually every kind of consumer electronic product in the world. And a good percentage of those attending spent much of their time just trying to get around in one building, McCormick West—three warehouse floors full of nothing but computer hardware and software.
More than 170,000 square feet of space was allotted in McCormick West at this year's show, a 25 percent jump over last year's floor area. And the sheer quantity of new software being introduced was enough to make even the most dedicated computerphile's eyes glaze over.
The good news is obvious: more software for virtually every home computer, especially Commodore, Atari, Apple, and IBM. And the bad news is equally plain: How can you learn about it all, let alone pick out the quality products?
Where Were IBM And Apple?
The software boom doesn't mean that computer hardware was unimportant at CES. The home computer market continues to evolve, and in some quite interesting ways.
For example, IBM and Apple, two of the biggest contenders in the personal computer field, didn't attend CES. Their dealer networks and their market strategies are not based around this trade show, as are some others.
Commodore, Coleco, and Atari, three other major contenders, did attend, however. And what they introduced, announced, or revealed says a lot about where home computers are heading this year. (See "Atari's CES Line-Up" in this issue.)
Possibly The Most Advanced Personal Computer Ever
Some of the most fascinating computers at this CES were under wraps, available for inspection only to a privileged few. For example, the new high-end Atari computer was shown only to software developers, and most of the Japanese MSX-standard home computers due in the U.S. next year were seen only at a private party thrown by Microsoft. Likewise, what might be the most advanced personal computer ever designed was shown behind closed doors inside the Amiga exhibit.
The computer is code-named the Amiga Lorraine, and right now it exists only in prototype form. But if it ever reaches production, and at a price even close to what is promised, it could signal the beginning of a completely new generation of personal computers.
The Lorraine's graphics are a whole step ahead of any personal computer now on the market. This computer is potentially powerful enough to make an IBM-PC look like a four-function calculator. Judge for yourself. Standard features include:
A Motorola 68000 microprocessor chip for the central processing unit. This is the same 16/32-bit chip found in the Apple Macintosh.
128K of RAM, expandable to 512K internally and several megabytes (1000K) externally. 64K of ROM, with built-in BASIC and speech software, including a text-to-speech program. We heard the Lorraine talk in its male and female voices, and both were quite understandable. The BASIC language is said to be very fast and compatible with Applesoft, though with extra commands for graphics and other capabilities.
Built-in 320K double-sided disk drive, IBM compatible. A second external drive can be powered by the internal power supply.
Built-in 300-bps (bits per second) modem, replaceable with a 1200-bps modem.
Parallel and serial interface ports; a top "chimney port" for individually powered expansion modules, including more RAM and a hard disk drive; and a front cartridge slot for ROM software or coprocessors, such as an 8088 module for IBM/MS-DOS compatibility.
Four sound channels, with music capabilities comparable to the Commodore 64's SID chip. We heard this demonstrated with a plug-in organ keyboard; the sound was very impressive. (One sound channel is used by the speech software.)
Medium-resolution graphics of 320 X 200 pixels (screen dots), and hi-res graphics of 640 X 200 pixels, with a total of 4096 colors. (That's not a typo. We saw a dramatic rainbow demo which supposedly displayed all 4096 colors on the screen simultaneously, though we didn't have time to count them.)
Eight sprites (up to 16 colors each) with collision detection and display priorities. Plus another feature called "frame-buffer animation," which lets you pick up any piece of the screen and move it anywhere else. Plus built-in commands for line-drawing, fills, and both horizontal and vertical fine scrolling. Plus split-screen graphics, with each screen "window" capable of displaying different graphics modes while operating independently, even with fine scrolling.
Outputs for TV, composite video, and two types of RGB (red-green-blue) direct-drive monitors. The TV output shown to us was so pure that 80-column text (also standard) was almost readable from across the room.
On top of all this, Amiga claims the Lorraine will come bundled with software, including a disk operating system, word processor, and spreadsheet.
So how much will this wonderbox cost? According to Amiga, only $1500. Amiga also claims the Lorraine will be ready for shipment by Christmas.
However, there's a big difference between design engineering and production engineering. The Lorraine at the June CES was such a rough prototype that it was operated from a remote terminal. To gear up for production in less than six months will take a herculean effort, and lots of capital.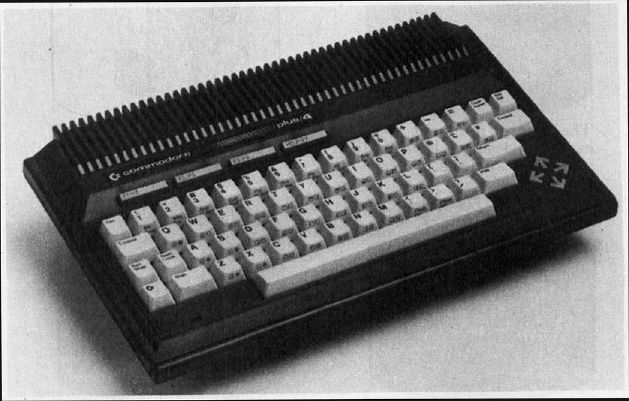 Commodore's new Plus/4 computer—a revised version of the 264 shown by Commodore last January—has four programmable function keys and four separate cursor keys.
Commodore's Plus/4 And 16
Commodore showcased two new computers. The Plus/4, which Commodore calls its "productivity machine," is based on the technology introduced (but never released) with the Commodore 264 at January's CES in Las Vegas. The Plus/4 comes with four built-in integrated programs: a word processor, data base, spreadsheet, and graphics.
The 64K RAM (random access memory) computer allots a full 60K for BASIC programming, and features an enhanced BASIC with over 75 commands, including 11 for graphics. The machine also has eight reprogrammable function keys, four separate cursor keys, 128 colors (16 primary colors and 8 luminance levels), a 320 X 200 pixel screen resolution, and a 12-command, built-in machine language monitor.
Commodore believes the Plus/4 offers a productivity-oriented alternative to the popular Commodore 64, which continues to sell very well. The Plus 4 does not have such attractive Commodore 64 features as the versatile SID (Sound Interface Device) chip, with its three independent voices, or the eight programmable, independently movable sprites.
Since the Plus/4 is significantly different internally from the 64, the two are largely incompatible when it comes to software. Commodore emphasizes that sales of the 64 continue to be excellent, and that the company's support of the machine will remain strong.
The Plus/4 will reportedly sell for about $299, and is expected to be on store shelves by this fall.
"The Learning Machine"
The Plus/4's younger brother is the new Commodore 16, which the company calls "The Learning Machine." This 16K machine is aimed at the first-time computer user, and will take the place of the still popular 4K VIC-20.
Commodore officials indicated at CES that while the company plans to continue software support for the VIC, production has stopped on the machine. The new Commodore 16 will reportedly retail for about $100, and is clearly aimed at the same market as the VIC.
The Commodore 16 will use a Commodore Datassette recorder as the primary storage device, and can handle cartridge or cassette-based software. However, the 16 does have a disk drive port for those who wish to use it. Special features include a built-in machine language monitor, graphics and sound commands, BASIC 3.5, and screen window capability.
Commodore Peripherals
Commodore also introduced the following peripherals at CES, all of which are scheduled for fall release (prices have not been announced as of this writing):
Commodore DPS 1101 Daisywheel Printer—A business-oriented letter-quality printer which features a bidirectional, logic-seeking print mechanism that prints at 18 characters per second (cps). It is compatible with the new Plus/4 computer.
Commodore MPS 802 Dot Matrix Printer—A bi­directional impact dot matrix printer with a speed of 60 cps for correspondence-quality print. It is compatible with all Commodore computers and prints numerics, symbols, and all PET graphics.
Commodore MCS 801 Color Dot Matrix Printer—A unidirectional color impact dot matrix printer for users of the Commodore 64. It prints at 30 cps, with eight vertical dots and 640 columns, and produces color graphics.
Commodore MPS 803 Dot Matrix Printer—The introductory dot matrix printer is for the Commodore 16 computer, and prints alphanumeric and graphic characters with a variety of styles and capabilities.
Commodore 1531 Cassette—This cassette drive is aimed at users of the new Commodore 16 computer. It uses standard audio cassette tapes; digital tapes are not necessary.
Commodore CM 141 Color Monitor—Designed to coordinate cosmetically with the Plus/4 computer, the CM 141 is also compatible with all of Commodore's computer equipment.
More Software For The 64
Commodore also had several new software announcements. Working with Marvel Comics and Adventure International, Commodore will release a series of six adventure games, called Questprobe, which will feature superheroes from Marvel Comics. The first game will be The Hulk, which will be available in August for both the Commodore 64 and the Plus/4 computers.
Videotex 64 is a new software package from Commodore for the 64, which will allow you to create business graphics or other pictures in high-resolution color and combine them with text for transmitting over regular telephone lines (using a VICMODEM) to other Videotex 64 users. The package should be available by the time you read this (price to be announced).
Commodore also introduced a new educational software program, Just Imagine, for the Commodore 64. The package is designed to help children combine visual and verbal skills to create an animated story on the computer. Just Imagine is aimed at children from 4 to 14 years of age, and has increasing levels of complexity.
Finally, Commodore also introduced B/Graph, a charting and statistical analysis program for the Commodore 64, which is designed to analyze and convert any raw data into a graphic representation.
"The New Adam"
Coleco Industries, Inc., which a year ago made the biggest news at CES with its bundled Adam computer system, came to this year's show with the slogan, "The 1984 ADAM Is Ready."
The company says that any reliability problems that the Adam may have had have now been corrected, and a new six-month warranty program has been instituted to demonstrate Coleco's confidence in its machine.
Coleco announced the June shipment of a variety of new software programs for the Adam, including SmartLogo, a programming language; Smart-Letters & Forms, a correspondence program; SmartFiler and Recipe Filer, which organize home data; and SimpleCalc, a spreadsheet. Educational and entertainment titles were also announced, including Electronic Flashcard Maker, Brain Strainers, ExpeType, Zaxxon, Dukes of Hazard, and others.
Among its hardware peripherals for the Adam, Coleco showed an additional digital data drive, which can store up to 512K of information on two data packs; a 5¼-inch disk drive; the AdamLink Direct Connect Modem, a 300-baud full-duplex modem with AdamLink telecommunications software; a 64K Memory Expander, which increases the memory capacity of the system from 80K to 144K RAM; the Adam Universal Interface, which has an RS-232 connector and a Centronics parallel connector which allows a user to connect peripherals and accessories from other manufacturers; and an accessory kit which includes replacement daisywheels, cartridge ribbons, tape head cleaner, and a blank digital data pack.
Sinclair's QL Computer
Sinclair Research Ltd. also showed a new computer at CES, the Sinclair QL, which was introduced in London in January and is scheduled for introduction in the U.S. this fall at a price of $499.
The QL has 128K of RAM and is based on the Motorola 68000 microprocessor, the same microprocessor family used with the Lorraine and the Macintosh. There are two built-in 100K microdrives for mass storage, a 65-key keyboard, and the entire unit weighs just three pounds.
The QL will come with a built-in BASIC as well as four applications software programs: Quill, a word processor; Abacus, a spreadsheet; Archive, a data base; and Easel, a graphics package.
Sinclair will sell the QL by mail order in the U.S., and hopes to be receiving orders in time for the Christmas buying rush.
The Software Boom Is On
While computer hardware innovations continue to move the microcomputer world along at a dizzying pace compared to most industries, it is software growth that is sparking some of the greatest interest among consumers and computer industry entrepreneurs.
While innovations in personal computer software may not be as plentiful as some critics would like, there is no question that the caliber of current software is far ahead of the programs produced even a year ago.
Here are some of the more impressive programs introduced at CES:
Muppet Learning Keys (Koala Technologies)—A computer peripheral for the Apple IIe, IIc, and the Commodore 64, Muppet Learning Keys is a computer keyboard which simulates the familiar contents of a child's school desk to help youngsters learn basic skills.
Aimed at preschoolers, the package is a three-pound keyboard which parents can help their children use to learn the alphabet, numbers, colors, and shapes. The keyboard has equivalents to such school-desk standards as a ruler, water-color set, penmanship slate, compass, eraser, and arithmetic exercise book.
Developed in association with Henson Associates, Inc. (creators of the Muppets), and Sunburst Communications, Koala's Muppet Learning Keys incorporates Kermit the Frog, Miss Piggy, Gonzo, and other Muppets to provide friendly instructions. The package will sell for $79.95.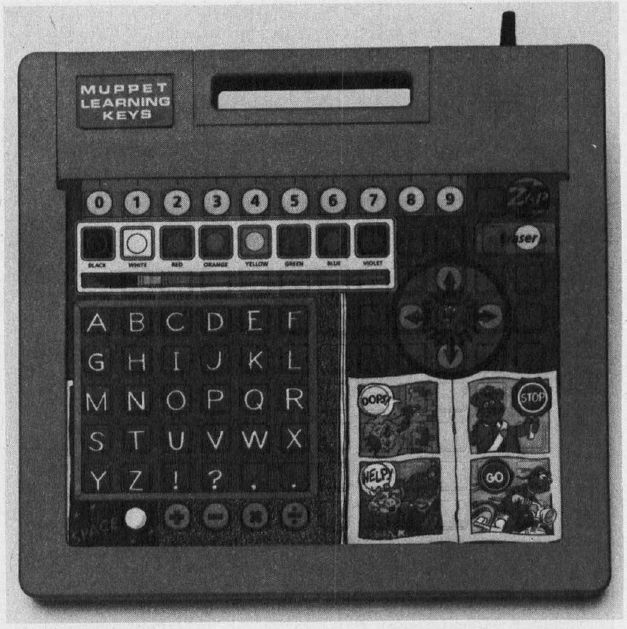 Koala Technologies announced the Muppet Learning Keys, a child's computer keyboard which uses the popu­lar Henson Muppets to help preschoolers learn about the alphabet, numbers, colors, and shapes.
Commodore, Apple Science Fiction-Based Software
Trillium Science Fiction Series (Spinnaker Software)—Trillium, a new division of Spinnaker, is producing a series of interactive computer adventure games inspired by the novels of a number of best-selling science fiction authors.
The first six titles, all of which will be available in August or early fall on disk for the Commodore 64 ($39.95 each) and the Apple II family ($44.95), are: Rendezvous With Rama by Arthur C. Clarke, Amazon by Michael Crichton, Dragon-world by Byron Preiss and Michael Reaves, Starman Jones by Robert Heinlein, Fahrenheit 451 by Ray Bradbury, and Shadowkeep, from which a book has been adapted by Alan Dean Foster.
In these adventure games, the player assumes the identity of the characters. The scripts are professionally written—often with the direct collaboration of the original author—and the games feature high-resolution color graphics. Graphic clues are used, hints are available to reduce frustration, and some contain arcade-style games within the adventure games.
Michael Crichton, for example, wrote the en­tire script for Amazon and worked with the game designers. Arthur C. Clarke worked out an ending to Rendezvous With Rama for the game.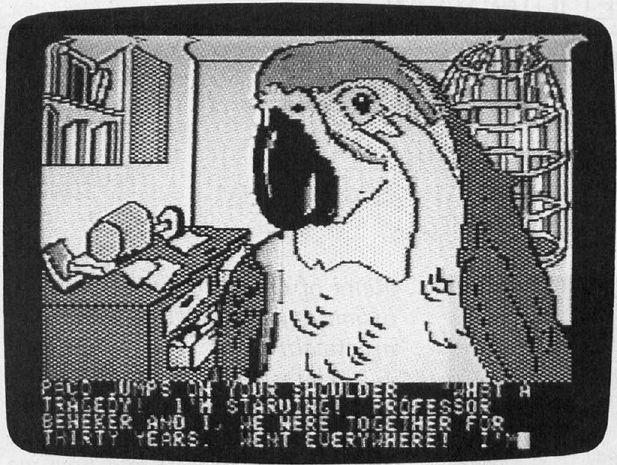 A screen from Amazon by Michael Crichton, one of Spinnaker's new Trillium interactive adventure games based on popular science fiction novels.
Trillium plans other games based on science fiction novels by Phillip Jose Farmer, Roger Zelazny, Alfred Bester, and Harry Harrison.
An Apple Adventure
Robot Odyssey I (The Learning Company)—Following on the heels of its very popular educational package, Rocky's Boots, The Learning Company is introducing an educational adventure program, Robot Odyssey I, designed for teenagers and young adults.
Trapped in an underground world populated by robots, you can only escape by constructing your own robots. The program provides a game format while at the same time teaching the player how to design integrated electronic circuitry, the fundamentals of building robots, and the basics of Boolean logic. There are an Innovation Lab and helpful tutorials which offer step-by-step instruction for players.
Robot Odyssey I is the first program in The Learning Company's new DigiWorld Series, software that combines the interest in adventure gaming with the learning environment of a computer construction kit. The new program will be available for the Apple II family of computers at $49.95.
Magic Spells And Monsters For Commodore, Atari
Archon II: Adept and Skyfox (Electronic Arts)—One of the most popular of Electronic Arts' titles has been the original Archon, a chess-like strategy game that also includes videogame action. Free Fall Associates, the designers who created the game, have expanded on that theme for this sequel, Adept.
Magic reigns in this game, with players conjuring spells, summoning monsters, and winning playing squares through individual combat. The new game gives players an expanded arena in which to fight, with more options and an altered game landscape. For a suggested retail price of $40, Archon II: Adept is available for Atari computers (with 48K) and for the Commodore 64.
Apple IIc Graphic Punch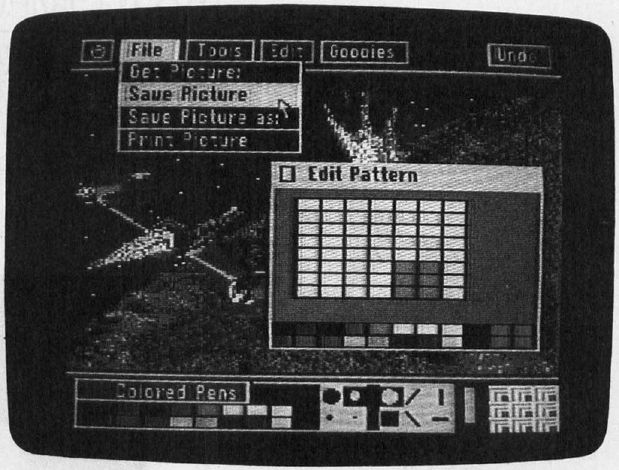 Brøgderbund's Dazzle Draw makes use of the graphics power of the Apple IIc.
Dazzle Draw (Broderbund)—A complete illustration package created especially for the Apple IIc's double high-resolution capabilities and 128K of memory. The software is icon-based, much like the Macintosh. One unique tool in the package is the ability to draw with pen strokes of various shapes and sizes in 16 colors. Dazzle Draw can also be used with a 128K Apple lie with an 80column card, a Revision B board, and one disk drive. Suggested price is $49.95.
Activision's Commodore 64 Programs
Zenji and Toy Bizarre (Activision)—These two new games are among a dozen titles that Activision is releasing for the Commodore 64 computer. Zenji is an intriguing strategy and puzzle game with a distinctly Eastern flavor. The player must connect a glowing maze of elements (the Many) to a pulsating source (the One) to create a single unified green image, or "Zenji." The play is rapid and demanding.
Toy Bizarre lets you control a character named Merton, who awakens in a toy factory which has gone berserk, as gangs of tyrannical toys attempt to take over the shop at midnight.
Atari's CES Line-Up
Despite continued belt-tightening, layoffs, and other reorganizational measures, Atari, Inc., arrived at the Summer Consumer Electronics Show. with an extensive array of software and a promise to deliver a high-end personal computer before the end of the year.
Banners on the press conference room walls and T-shirts handed out by Atari employees at the Summer Consumer Electronics Show (CES) in Chicago all said the same thing: "June 3, 1984—The Day The Future Began."
Atari chose that date (the first day of CES) as the kickoff for its new line of products. And if the company is to have a prosperous future—if it is to have any future at all—Atari officials know that the reaction to its CES lineup of software and hardware must be very good indeed.
Under President James Morgan's direction, Atari has been going through a top-to-bottom shuffle of people, products, and planning. After staggering financial losses during 1983 and smaller losses in early 1984, Morgan has cut hundreds of employees, closed some research and development facilities, and prepared the remaining Atari employees to be part of a wholly different sort of company— smaller, more focused on selected products, and, perhaps above all, a credible producer of what Morgan terms "interactive electronics."
To give meaning to those efforts. Atari's CES line-up was the strongest presentation of new products in quite a while from the Sunnyvale, California, company.
A New High-End Computer
First, Atari revealed that it will introduce a new high-end computer, reportedly for under $1000, in time for the Christmas buying season. The computer will be an extension of the XL line, very similar to the long-awaited 1450XLD. That computer was shown at two consecutive CES's, but is not going to be released.
No name has yet been given to the new machine (as of this writing). But Atari says that the computer will have 64K of RAM (random access memory) and a built-in, double-sided, dual-density disk drive that stores 352K of RAM (about 250 typewritten pages of information). The disk drive is said to work five times faster than current Atari models.
A data base, called Atari Grapevine, will be built into the new machine, as will an autoanswer and autodial 300-baud modem. The computer will also have an enhanced speech synthesis chip which will be capable of reading back words and phrases typed on the keyboard. Atari's new machine will be fully compatible with all Atari XL peripherals and software programs, say company officials.
Expansion System And Add-On Computer
Atari also reportedly plans to offer an expansion system for the new computer. The system will allow the computer to be expanded to 12.8K and to have some compatibility (about 70–80 percent) with other operating systems, such as CP/M (Control Program for Micro­computers), a popular business-oriented operating system, and MS-DOS (Microsoft Disk Operating System), on which IBM's PC is based. No price has been announced yet, but the expansion system should be introduced before the end of the year.
Although Atari did not officially exhibit the new machine at CES, company officials did conduct closed-door showings for third-party software designers to encourage development of a substantial software base as soon as possible.
Atari will also offer a new introductory computer which will be an add-on to the company's high-end 7800 ProSystem game console, announced in late May. The 7800 Computer Keyboard operates with 4K of RAM, expandable to 20K.
A line of selected computer software, including word processing, creative learning, and personal development programs, will be available for the new introductory computer. And the Computer Keyboard will be compatible with almost all of the Atari computer peripherals. The add-on computer should be available before the end of 1984, priced at under $100.
Atari unveiled several programs in a line of introductory computer software to be used with the 7800 ProSystem Computer Keyboard: Atari Terminal, a telecommunications cartridge; AtariLab, a science learning series; Typing Tutor, a tutorial typing game; The Word Processor; and BASIC.
The MindLink System
One of the most innovative products revealed by Atari at CES was its new MindLink System headband, which uses slight electrical impulses from muscles in the forehead to direct the action on your computer screen
Mindlink, which will be available for Atari's 2600 Video Computer System (VCS) and new 7800 ProSystem game machines this fall and for the XL computers, in early 1985, will sell for a suggested retail price of $79 Included will be the headband, two infrared sensors, and a software package.
Atari plans three software packages for the unit initially—an adventure game, a new version of the popular Breakout videogame, and a relaxation, biofeedback program.
The headband is surprisingly sensitive. And despite the initial skepticism of some members of the trade press, the MindLink System proved easy to use (without having to wriggle your forehead, ears, or eyebrows to trigger it) There are also obvious long-range possibilities with this kind of technology for the physically handicapped who are not able to use conventional keyboards, joysticks, and other input devices.
Early Learning Software
Atari has teamed with child psychologist Dr. Lee Salk to develop early learning game software for toddlers (one to three years old) to use with the help of their parents The first package, Peek-A-Boo, has eight levels of play and is supposed to help even very young children learn about cause and effect, spatial relationships colors, shapes, and letters and numbers.
The new videogame cartridges developed by Dr. Salk and Atari will use the previously developed Atari Kids Controller, especially designed for small hands Peek-A-Boo will be available on the Atari 2600 VCS and the 7800 ProSystem for a suggested retail price of $30, but will not be available for Atari computers.
Futuremakers Series For Older Children
Two computer software tours of space, This Is Ground Control and Through the Starbridge, were introduced as the first products in Atari's new Futuremakers series.
Featuring 3-D animated graphics of planetary approaches and fly-bys, the programs are aimed at users ten years of age and older
The Futuremakers series should be available on disk for Atari computers about the time you read this, for a suggested price of $39.95 each.
An Abundance Of Software
Atari's CES announcements also included the following products:
• Milestone Series: The Atari Learning Systems group has put together what it considers the best in home computer educational packages not only from Atari, but within the entire industry. Milestone Series software will be not only for Atari computer, but for other systems like Commodore, IBM, and Apple as well. Suggested retail price for most of the packages is $34 95, except where noted differently.
AtariLab Starter Set ($89,95) and Temperature Module/Light Module are aimed at children from 4 to 12 years of age, allowing the user to conduct more than 100 experiments
Yaacov Agam's Interactive Painting (price to be announced) is a package developed by wellknown kinetic artist Yaacov Agam, which helps the user generate original art by computer
Find It! is a series of visual perception activities and puzzles for children of all ages.
The ABC of CPR is a home health library of software, the first module of which, First Aid, is a two-part tutorial and simulation designed to help build awareness and background information for handling first-aid emergencies.
Wheeler-Dealer is an economic supply-and-demand game which lets the player learn how to handle a wide variety of business problems while becoming an auto industry magnate.
Simulated Computer, which shows what goes on inside a computer, and Telly Turtle, a pictorial pre-Logo version of the turtle graphics concept, are two more titles in the Milestone Series.
• Atari Educational Software: Two new software packages for children 4 to 12 years old were introduced, Letter Tutor and Word Tutor, priced at $39.95 each.
Atarisoft's New Titles
Atarisoft, the third-party software publishing division of Atari, Inc., announced numerous titles for the Commodore 64 and VIC-20, the Apple II family, and the IBM PC.
Also, for the IBM PCjr, Atarisoft has introduced Centipede, Donkey Kong, Moon Patrol, and Pac-Man.
Suggested retail price for the Atarisoft games on disk is $34.95, and for cartridge, $44.95.
7800 ProSystem Exhibited
Atari also showcased its new high-end 7800 ProSystem videogame console ($150 retail), which Atari says has the most advanced color graphics of any home computer or videogame currently available.