The Christmas Of The Computer?
Kathy Yakal, Editorial Assistant
In December 1982, Time gave the computer its annual "Man of the Year" award. Now Christmas of 1983 is being touted as the big one for these new machines, due to the market shake-out and radical price cuts over the last 12 months. Here's a review of the events of 1983 and a preview of how this Christmas is shaping up for the home computer industry.
July is the month when many retailers begin making their Christmas plans—products are ordered for the busiest shopping season of the year.
In the summer of 1983, it certainly looked as if this might be the Christmas of the computer. The home computer market was in the midst of a big shake-out, and a few industry leaders had emerged. Competition, improved technology, and lower manufacturing costs had put the home computer well within the budgets of many American consumers. Announcements of some flashy new products and even further price cuts at the summer Consumer Electronics show in Chicago sent retailers and distributors scurrying to place huge orders.
Christmas notwithstanding, the emphasis on computers in education could have also meant big sales for hardware and software manufacturers in the back-to-school market. But in order for that to happen, hardware should have been in place and in great supply by August. It wasn't. Not one of the major hardware manufacturers seemed to be in a good position at that time to ship its products, due to production delays.
Let's back up a bit and look at what led up to this year's scramble.
Half The American Households
The personal computer industry is, of course, based on supply and demand. According to projections released at Future Computing's Second Annual Home Computer Market Forum in San Francisco, the viable hardware suppliers right now in the low end of the market seem to be Commodore, Atari, Texas Instruments, Timex, and Radio Shack. Future Computing (FC) reports that estimated monthly shipments by these companies are: Commodore, 160,000; TI, 100,000; Atari, 65,000; and Radio Shack, 35,000.
End users create the demand. Many studies have been done on just how high that demand is. Roughly, 1 out of every 20 households owns a computer now, but 3 out of 20 want to buy within the next year. By the end of the 1980s, more than half the American households are expected to have one, according to FC's study.
There are lots of reasons why people want to buy computers. Keeping up with the status quo. The fear that if their children don't have a computer at home, they will be left behind in school. That eternal desire to get organized once and for all. And, of course, videogames.
How people choose which computer to buy has also been the subject of much study. Some rely on the recommendations of salespeople in computer stores, but that has become increasingly difficult. Computers often appear on the shelves of mass retailers and discount houses where employees may not know a lot about the product. Others depend on the media for their information: computer books, magazines, and television shows. Probably the most common method is advice from friends.
Complicating Things
There is a third aspect which complicates the issues of supply and demand: software.
Third-party software publishers often do not want to start developing and marketing software for a computer until there is a healthy installed base. But this is a software-controlled industry:
Offbeat Gifts And High-Tech Whimsy
You've already seen the beginnings of it. T-shirts and bumper stickers with clever computer sayings on them. People's faces digitized and put on buttons. Little foam bats to "beat" your computer. High-tech whimsy.
Several companies have introduced products in this lighter vein that you may want to consider for gifts this year.
The Computer Tie
Designed to interface your wardrobe with your computer, these ties are woven in a navy blue silk and polyester blend with the words BIT/BYTE/FLOPPY/HARD/ RAM/ROM/MICRO/MINI written in a continuous pattern on them. One size fits all. $15.95. (Tie-One-On, Inc., P.O. Box 40225, Philadelphia, PA 190106)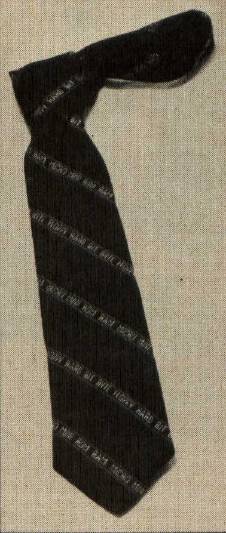 Milk Chocolate Diskettes
Sweetware, Inc., which specializes in edible reproductions of high-technology objects, has just introduced what they consider the ultimate high-tech gift: the Milk Chocolate Eat-Only Diskette. The diskettes come in pairs (a half-pound of chocolate) in a gift box.
Company vice president Alan Levu says that the chocolate diskettes make an ideal gift for anyone who uses computers, and even dedicated computer haters will get a chuckle out of them. They're guaranteed "user-delicious."
Sweetware sells the diskettes by mail order and through department stores and computer retailers. (Sweetware, Inc., 516 Shelburne Rd., S. Burlington, VT 05401)
The bitCard
These software packages/greeting cards are actually graphics and text adventures that relate to a specific holiday or event. The first in a series of bitCards, "A Christmas Adventure," can be customized with references to the recipient, and programmed to deliver a personal holiday greeting to him in whatever words the sender wishes. This message appears as part of an animated graphics scene — the player's reward for completing the adventure. The bitCard draws the player into a fantasy world in which he is a participant.
Available for Apple II + /e, 48K disk; 16K cassette for Atari 400/800, TRS I/III/CC, and Commodore 64. Cassette version also available for 5K VIC-20 and VIC-20 with 8K RAM expansion. $16.95 all versions. (bitCards, 120 South University Drive, Suite F, Plantation, FL 33317. bitCards is a subsidiary of CHARTSCAN DATA, Inc.)
Computerized Greeting Cards
Another way to personalize your greeting cards by using your computer is available from Compucards. The package consists of Christmas cards and envelopes with continuous tab feed and clean edge perforations that let you write a message on each card, address it, and print it out. The accompanying diskette contains an upgraded version of the public-domain program Tinytext, which has message-merge capabilities and a separate mailing list program. Both programs come with instructions on diskette.
For Atari computer owners (800 with 48K and disk drive). Package of 20 cards and envelopes, $9.95. Diskette, $5. (Compucards, P.O. Box 894, Stone Mountain, GA 30086)
Many people do not want to buy a computer until there is a lot of software to support it. It's a vicious circle. Those computer manufacturers that managed to survive the shake-out did so partly by having enough in-house software available to please consumers until third-party packages could be developed.
Pipe Dreams
Let's recap the highlights of 1983.
• Coleco introduced a prototype of a new personal computer called Adam at the summer Consumer Electronics Show. Slated to retail at under $600, this system consists of an 80K computer with detachable keyboard, high-speed tape drive, letter quality printer, and built-in software.
• Atari discontinued its 400 and 800 models and shelved the 1200XL. A new line was introduced at the summer CES: the 600XL, 800XL, 1400XL, and 1450XLD. A good number of new peripherals and some corporate restructuring were also expected to help capture a greater percentage of the market share.
• Commodore slashed its hardware and software prices and announced several new software packages midyear. Commodore 64s have been selling for under $200, VIC-20s for under $100. Peripheral prices have also been reduced dramatically, making Commodore's personal computer packages some of the most attractive in the market.
• Rumors began circulating about a new IBM personal computer called the Peanut, which was expected to retail for under $600. Industry leaders had predicted that IBM would wait for the home computer market to shake out under them before they introduced a competitively priced product; late 1983 seemed to be that time.
• Mattel Electronics announced a home computer system called the Aquarius and a computer adapter that would turn the Intellivision game machine into a computer. Both machines were to have a number of peripherals.
A Few Snags
All of these new products could have meant a very healthy holiday season for the home computer industry. But manufacturers encountered a few problems between summer announcements and fall shipping schedules.
Coleco's Adam, after a couple of earlier delays that kept it from making its August debut, finally received FCC approval in early October. Production models were expected to be in the stores by mid-October, possibly too late to make a dent in the Christmas market. Some retailers gave up and began cancelling orders in early fall.
Commodore's hardware manufacturers have not been able to keep up with the demand. Disk drives vanished entirely for a few weeks in the fall, reappearing again in early October. Commodore 64s were in short supply and began evidencing some technical problems; some retailers have reported unusually high return rates. Software is plentiful, but so are back orders on hardware. Many retailers still believe there is a good chance that it will be a Commodore Christmas.
Atari still had not brought out any of its new XL line by mid-October. A spokesman said that the 600XL and 800XL should be out in time for Christmas, and that the 1400XL and 1450XLD would probably be ready for shipping in the first quarter of 1984. The add-on keyboard for the 2600 game machine, which is not yet available, is apparently still being considered.
Texas Instruments suffered tremendous financial losses in the first two quarters of 1983. They lowered their prices and embarked on an enormously expensive ad campaign to capture the Christmas market, but they had already lost a lot of the market to Commodore and Atari. Their new strategy is to emphasize the quality and educational value of their machines.
IBM's Peanut failed to appear in time to capture any great percentage of the potential holiday buyers. Speculation is that the debut had been put off until January.
The Mattel Aquarius Home Computer System is being distributed—minus several of the announced peripherals—in only four markets: Los Angeles, Chicago, Atlanta, and Detroit. The computer adapter, also without some of its add-ons, is still expected to be available around Christmas.
Massive layoffs by Atari, Texas Instruments, and Mattel, as well as all of the no-shows, did nothing to instill public confidence.
Some Good News
Availability of hardware is not the only determining factor in how successful this Christmas will be for the industry.
"People need to remember that we've crossed the bridge over to what is now a software-driven industry," says Dan Schaefer, vice president of marketing for Warehouse One, a Norwood, Massachusetts, software distributor. "People are no longer so enticed by fancy keys on computers—they want to know what they can do with their computers, what kind of software will support it."
Schaefer is not nervous at all about losing business this year because of absent hardware. "There's a tremendous installed base of Ataris, Commodores, TIs, and IBM-PCs," he says. As of October 1, Warehouse One began keeping their main distribution center in Kansas open until midnight on weeknights and all day Saturday, and offering next-day delivery, to help retailers keep up with the Christmas demand.
"Last Christmas was enormously successful for retailers, and that was at a time when the economy was terrible," Schaefer says. "Considering the economy this year, and the demographics of the average computer buyer, this should be an exceptionally good one."
The tardy arrival of this year's new hardware does not particularly surprise Schaefer. "Anytime a new industry emerges, this happens. Products are announced long before they are actually available. The hope is that if the product sounds good enough, people will hold off buying something that already exists until they see what this other company comes up with.
"Some people in this industry have a tendency to dwell with glee on other people's failures," says Schaefer. "This is an extremely dynamic industry: it changes every day. There is still plenty of opportunity for the smart businessman."
So consumers may be a bit disappointed by potentially limited choices this December, but at least one sector of the home computer industry is looking forward to a very successful holiday season—software publishers and distributors.