---
Drawing By Touch
---
Koala Technologies has introduced a touch tablet that allows computer users to draw directly on the video display screen, bypassing the keyboard.
The Koalapad Touch Tablet, available in versions for the Apple, Atari, Commodore 64, and IBM computers, weighs about a pound, and connects to the computer through a joystick port.
It can be used as a sketch pad, as a custom keypad, or as a game controller.
Though other applications are available, the Touch Tablet is packaged with Micro Illustrator from Island Graphics. This combination allows the touch pad to be used as a drawing board. Images can be drawn with a finger or stylus, and shapes, colors, shadings, and various "paintbrushes" can be selected from a menu.
The touch tablet and Micro Illustrator package sells for $125. Additional application programs will sell for about $50.
Koala Technologies Corp.
4962 El Camino Real, Suite 125
Los Altos CA 94022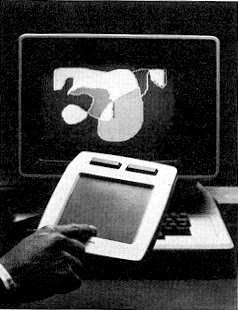 The Koalapad Touch Tablet can be used
for drawing or as an auxiliary keyboard.