Radio Shack Portable Computer
Radio Shack has introduced a portable computer that includes built-in software, a built-in modem, and a full-size typewriter keyboard.
The TRS-80 Model 100 features instant power-on access to five ready-to-use programs contained in the 32K ROM. Programs are easily selected from the main menu by positioning the cursor and pressing ENTER.
The Text program allows the user to create and edit text files. Schedl serves as a note file, allowing the user to store and locate dates, times, appointments, or information. A character-by-character search function provides total recall.
Addrss organizes names, addresses, and telephone numbers. Telcom is the system's built-in communications program, which includes a direct-connect, auto-dial modem, and RS-232 interface. Telcom interfaces with Addrss to locate phone numbers.
The fifth built-in program is BASIC.
The Model 100 measures 2 × 11 7/8; × 8½ inches, weighs about four pounds, and includes an 8-line, 40-character liquid crystal display. The computer can be powered by four AA batteries for about 20 hours, or can be used with an AC adapter. Built-in nickel cadmium batteries maintain memory for up to 30 days even with the power turned off.
The Model 100 is available with 8K RAM for $799, or with 24K RAM for $999. Optional 8K RAM add-ons can expand either version up to 32K.
Tandy Corporation/Radio Shack
1800 One Tandy Center
Fort Worth, TX 76102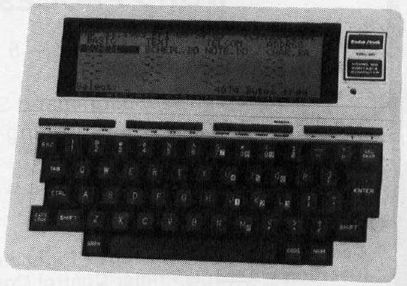 The TRS-80 Model 100 Portable Computer.
New Product releases are selected from submissions for reasons of timeliness, available space, and general interest to our readers. We regret that we are unable to select all new product submissions for publication. Readers should be aware that we present here some edited version of material submitted by vendors and are unable to vouch for its accuracy at time of publication.