Arcade-Style Joystick
Newport Controls has released its Prostick II arcade-style replacement joystick for Atari 400 and 800, Commodore VIC-20, and various other videogame/ computer applications.
The Prostick II is as durable and responsive as its predecessor, the Prostick Model 150. However, the case has been redesigned for easy hand-held operation, and the solid steel, short-throw control shaft with an arcade-style ball on the top gives the user precise, fast action.
The Prostick II includes a switchable 4-way/8-way gateplate. Setting the gateplate indicator to the 4-way position allows only horizontal and vertical motion, improving response for maze-type games. Setting the gateplate indicator to the 8-way position offers the regular precise 8-position action.
In addition, the Prostick II comes equipped with two "softtouch" firing buttons which have been moved to the top end of the base, allowing either right or left-hand play.
The $24.95 Prostick II is backed by a five-year limited warranty.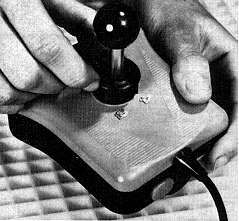 Newport Controls' Prostick II features
a switchable gameplate, allowing 4-way
or 8-way movement.
Newport Controls
15425 Los Gatos Boulevard
Los Gatos, CA 95030
(408)358-3439