Video Games For The VIC-20
Tronix Publishing has introduced three fast action video games for use with the Commodore VIC-20 home computer.
The new games are SWARM!, Sidwinder, and Galactic Blitz.
Created by designer Jimmy Huey, the three games feature frenetic action, colorful graphics and sound effects, and all are written in VIC-20 machine code. All the games are responsive to joysticks, and SWARM! works with a trackball as well.
SWARM! players must contend with deadly android wasps that are aided by various alien creatures. The wasps and aliens jump, fly, crawl, and hurl themselves at players, and any contact insures instant destruction. SWARM! offers 40 levels of play. Suggested list price is $29.95.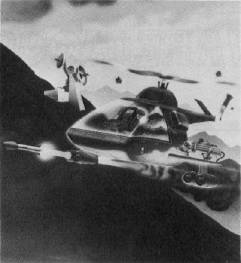 Sidewinder for the VIC from Tronix Publishing.
In Sidewinder, players lead their squadron of skilled helicopter commandos into deadly battle with killer pods in outer space. The Sidewinder forces go head to head with alien oblitojets while also dodging stalker bombs at high speed. Complete with a firing button and warning buzzers which sound when the enemy presses in, Sidewinder offers ten battle levels. It is priced at $29.95.
Galactic Blitz pits the player against a squadron of killer aliens who attack en masse. The aliens include Heartattacks, Pearons, Energridders, Beheadhinds and Towelships. Galactic Blitz offers 15 play patterns, the price is $24.95.
Accompanying each game is a four-color, self-displaying package for the games which holds 12 products.
Tronix Publishing, Inc.
701 West Manchester Blvd.
Inglewood, CA 90301
(213)761-8440