New Products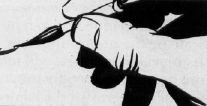 Spinnaker Software Corp. Markets Home Learning And Strategy Games For Atari And Apple
Two software design companies, Design Ware and Computer Learning Connection, are finalizing the initial Spinnaker product line, aimed at providing both education and entertainment for children in a home setting.
Working closely with Spinnaker, Design Ware and Computer Learning Connection have prepared four game products which will be published by the new company via retail microcomputer stores throughout the country.
The two Spinnaker learning games authored by Design Ware, a San Francisco-based courseware development company, are designed for children ages four to nine and will foster understanding and enjoyment of the uses of a personal computer. The games attempt to balance amusement and learning and require a minimal amount of text material.
The Spinnaker learning games developed by Design Ware include Face Maker and The Story Machine. Face Maker, intended for children four to eight years of age, provides an animated format to familiarize a child with the graphics capabilities of a computer. By choosing from a varied menu of eyes, ears, noses, mouths, etc., the child composes a face which he can then animate with a series of expressions, including smiling, winking, and wiggling of ears.
The Story Machine provides an opportunity for children ages five to nine to develop and strengthen their sentence and paragraph skills.
Sentences and paragraphs, composed by the child from a substantial list of nouns, verbs, prepositions, and other parts of speech, are animated with full color graphics and sound. The Story Machine will also provide keyboard practice and introduce the child to the editing capabilities of the computer.
Computer Learning Connection, located in Cambridge, Massachusetts, is producing the first two entries of a strategy game series for Spinnaker. The Snooper Troops Series will be composed of mystery games in which the player (ages ten to adult) becomes a private detective. In trying to determine which of eight suspects committed the crime, the player strengthens his skills in reasoning and developing hypotheses as he drives around town, questions witnesses, searches houses for clues, and accumulates information via the Snoopnet computer.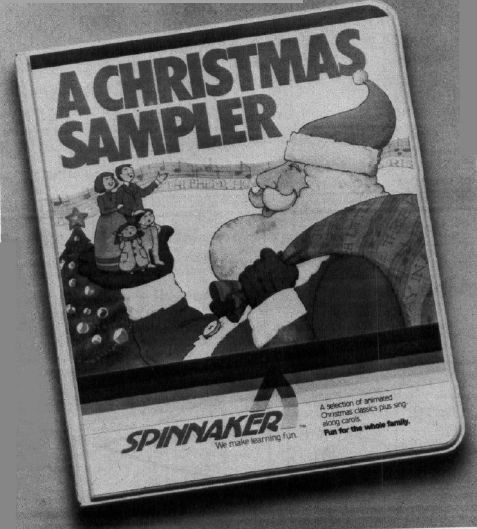 Spinnaker's holiday software
The Spinnaker games will be marketed nationally on a major scale by the publishing company. Its marketing efforts will include the design and production of a distinctive array of packaging for the new games, which will provide maximum protection for the discs over a long time period.
The company has also introduced a holiday package. A Christmas Sampler brings to the entire family a variety of holiday classics with full-color graphics and sound. Interspersed with animation, the graphic depictions of A Christmas Story, The Night Before Christmas, and a selection of Christmas carols are accompanied by screen texts for easy follow-along by younger family members. Christmas music adds a third dimension for holiday gatherings.
This software is available for the Apple II and Atari 800 (48K) or IBM PC (48K) with disk drive. A color monitor is recommended.
Spinnaker Software
26 Brighton St.
Belmont, MA 02178
(617)484-8444