SSM Introduces Four Function Serial/Parallel Interface Board For The Apple II
SSM Microcomputer Products Inc., a manufacturer of board level products for the Apple II, has introduced an enhanced version of its AIO serial/parallel interface board.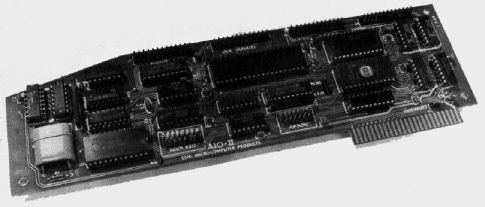 The new version, designated the AIO-II, delivers significantly improved performance, and combines several new features. This highly flexible, full function serial/parallel interface eliminates the need for any other I/O boards by combining two boards into one compact unit.
Among the enhancements are the AIO-II's ability to perform four independent interface functions, including serial modem, serial terminal/printer, parallel Centronics-compatible printer, and a general purpose parallel port.
The AIO-II permits simultaneous output to both one serial and one parallel device using the standard Apple control code protocols. Additionally, the AIO-II's advanced design techniques eliminate the need for "phantom" slot assignments, special setup requirements, or hardware modifications.
The novice user can easily install the AIO-II with jumper options, while more experienced users may override the jumper set-up with control codes identical to Apple parallel card connections. All operations are transparent, requiring no additions user-written software.
The AIO-II's on-board firmware provides all necessary drivers, including terminal communications capability, and it will operate in any Apple II expansion slot (except slot 0). Optional drivers are available which will support Apple Pascal and Microsoft Softcard™.
The AIO-II package includes manual, jumpers and wiring information to support a wide variety of printers, including Epson, Anadex, Centronics, IDS, Okadata, NEC, Diablo, Qume, and more.
SSM Microcomputer Products, Inc.
2190 Paragon Dr.
San Jose, CA 95131
(408)946-7400