REVIEWS
REDISCOVER A CLASSIC • CREATE PRESENTATIONS UNLEASH ARTISTIC TALENTS • FIND THE RIGHT WORD
WORDSTAR 6.0
Big but not unwieldy, powerful but not too complex, packed with desktop publishing features and advanced integration capabilities for power users—WordStar 6.0 is all these things and more. If you know the WordStar interface but haven't taken a look at the program in a few years, you'll welcome its new power and versatility. If you're unfamiliar with this word processing classic, fasten your seatbelt.
Over the years, WordStar has grown from a friendly little CP/M program occupying part of a disk to an MS-DOS power package that comes on 21 floppy disks. What keeps WordStar fast, sleek, and manageable—rather than lumbering and forbidding, as you might expect—is a sensible set of strategies, including selective installation of features, numerous default settings, clever memory management, selective help levels, and nesting and chaining capabilities.
WordStar's tower of powerful disks contains all you'd expect in a first-rate word processor: spelling checker, thesaurus, cut and paste, find and replace, undelete, macros, mail merge, page preview, footnotes, endnotes, word counting, and a multitude of formatting options. Numerous additional features enhance and simplify your routine word processing, such as vertical centering (no more counting lines to center your correspondence), printing from the keyboard (no more going to typewriters to address envelopes), and one I particularly like, the definitions dictionary, which helps you pick just the right word from the thesaurus. An extra-window capability lets you compare documents or passages in the same document and cut and paste with ease. Then there are WordStar's dot commands, which control everything from headers and footers to page numbering and sheet feeding. In short, you have tremendous control over the writing process and product.
More advanced features make this a program you can grow into. WordStar lets you insert work sheets from Lotus 1-2-3, Symphony, or Quat-tro, as well as files from DBase. The Inset program included with the package puts graphics anywhere in your text. You can use a variety of fonts if you have a printer that supports them. WordStar supports scalable fonts on the HP LaserJet III, Canon LBP-4, and PostScript printers; and you can kern if you have PostScript or certain HP LaserJet printers. Save time with WordStar paragraph styles, which let you preset print attributes, margins, tabs, line height, fonts, and more. Instead of starting over with every document, just choose an appropriate paragraph style. WordStar's page preview lets you see how fonts, graphics, and other features of a document will look before you go to the trouble of printing. As you can see, these are features that people in business can take advantage of to create highly polished, professional documents that get results.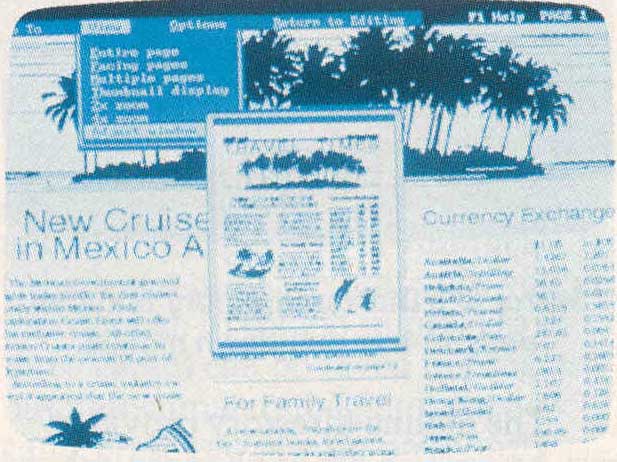 Check graphics, fonts, and more in WordStar's Advanced Page Preview.
As if all this weren't enough, you also get several companion programs. With MailList, you create form letters and print envelopes, labels, Rolodex cards, and reports (for example, a phone list). PC-Outline helps you plan writing and keep track of your work; ProFinder is a handy DOS shell; Star Exchange allows file conversions between WordStar and several other word processors; and TelMerge is a sophisticated telecommunications package that allows file transfers, E-mail, and script files for easy access to online services.
Obviously, everyone won't take advantage of every feature of the program, and that's why you shouldn't let all the disks disconcert you. Seven of the disks contain printer information, and you'll use only a small part of it. What's more, the straightforward installation program lets you install only what you need. There's even a way to set up a bare-bones version of the program to run on a two-floppy system in 384K (Run README.COM), although the program is really optimized for use with a hard disk.
A mere novice can take advantage of this full-featured program, thanks to a great tutorial disk, a choice of interfaces, built-in defaults, and excellent help and documentation. Beginners will want to install the program to use the pull-down menus, which allow you to highlight and choose instead of using the old control-key combinations. WordStar comes with default settings for nearly every feature—even several paragraph styles—so that beginners won't have to change or customize settings till they're ready.
Context-sensitive online help is always available, and WordStar provides four excellent manuals. I particularly like the step-by-step examples of applications, which showed me how to easily create a newsletter.
The classic menus are still there to give you the touch-typing speed and convenience for which WordStar is famous, and you can still set your help level to include or exclude particular menus. You can also use your function keys to execute oft-used commands. Throughout the program, WordStar offers a tremendous degree of flexibility, allowing you to customize it according to your likes and needs.
Clever memory management keeps WordStar fast, despite its great size. It resides in memory, and if you have enough memory, the spelling checker and text files can run RAM resident. With enough memory, you can print one file while editing another. A RAM usage display helps you make the best use of the program.
If you work with long documents and dread navigating long files and waiting for saves or finds, you'll love the nesting and chaining feature. It ties together several small files and provides continuous pagination; this feature has saved me untold time and effort. WordStar also lets you place markers in files and specify a particular page to move to so that you won't waste time creeping paragraph by paragraph through your document. Need an index? WordStar can index selected words or every word in a document. The program can also simplify your creation of a table of contents.
Of all the versions of the program I've used, this is the fastest and easiest. If there's any significant shortcoming, it's the lack of better mouse support; only a Logitech mouse driver comes with the program, and you can use the mouse only with menus. This may discourage some users, but not the touch-typists who've enjoyed and remained faithful to this program for years. This latest version of WordStar makes it a contender among high-end word processors. It might very well attract new converts.
MIKE HUDNALL
| | |
| --- | --- |
| Ease of Use | **** |
| Documentation | ***** |
| Features | **** |
| Innovation | ***** |
IBM and compatibles, 384K (512K to use Advanced Page Preview, outliner, or graphics), graphics card for Advanced Page Preview, two floppy drives or one floppy and one hard drive—$495
WORDSTAR INTERNATIONAL
201 Almeda del Prado
Novato, CA 94949
(800) 227-5609
(415) 382-8000