HOME OFFICE
COMPUTE CHOICE
TONY ROBERTS
IF YOU'VE GOT ACCOUNTING SAVVY, THIS PROGRAM OFFERS YOU ALL THE TOOLS YOU'LL NEED TO KEEP A TOP-FLIGHT SET OF BOOKS FOR YOUR HOME OFFICE
In our dreams, many of us picture ourselves running businesses, making fortunes, and laughing all the way to the bank. That success, however, doesn't come easily. It requires a good idea, hard work, and careful control of every penny.
Even if an outside accountant is hired to help count the beans, the business owner must keep tabs on things as well. The owner needs a system of procedures and controls designed to keep financial data straight.
Pacioli 2000 is an accounting package that offers a growing business all of the tools it needs to organize a top-flight set of books. It's a full-featured program that you would expect to cost several times its $49.95 price. The package includes a general ledger, accounts receivable, accounts payable, billing, inventory control, purchasing, budgeting, and auditing functions.
The options available in each of these modules give you enough latitude to customize Pacioli 2000 to your business's needs. You can choose among five inventory costing methods, you can automatically compute finance charges due on past-due accounts receivable, and you can print checks, purchase orders, receiving slips, and invoices. All of these modules are organized in a single system, so data entered in one module is available to all the other modules.
Pacioli 2000, named for Fra Luca Pacioli, the inventor of double-entry accounting, has the flexibility to handle cash accounting, accrual accounting, inventory accounting, or accounting for a service-based company. If you're a real wheeler-dealer, this program will keep the books for up to 999 separate companies.
Pacioli 2000 comes with a three-part videotape to get you started. The tape includes a general section on accounting, a step-by-step section on how to use Pacioli 2000 itself, and a DOS tutorial. For those who prefer book learning, these three sections are covered in the manual as well. Although the accounting primer is aimed at those who have a scant knowledge of accounting, no short videotaped tutorial can turn a novice into a fearless number cruncher. The video does provide plenty of basic information, however, that will give Pacioli 2000 users a better understanding of what they're doing and why.
Help is available in most parts of the program, and it's often context-sensitive. If only a general help screen appears, there's an option to search the help index for the appropriate topic. An interesting feature of the help screen is the Date function. This permits you to change the program date without affecting your computer's system date. You can tell the program it's yesterday and finish up yesterday's transactions without changing your computer's clock settings. If you exit Pacioli 2000 without resetting the date, DOS will still know the correct time, your pop-up calendar will function normally, and you won't be late for that lunch date.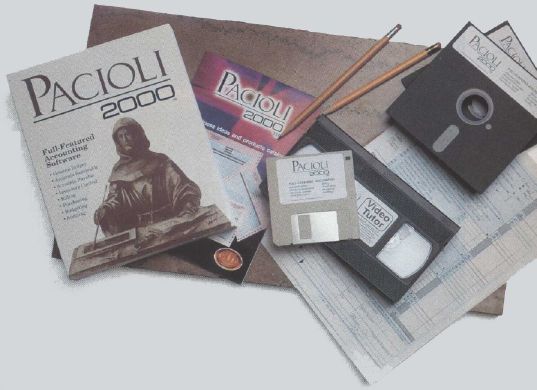 Pacioli 2000 lets you enter different transaction types from a single screen.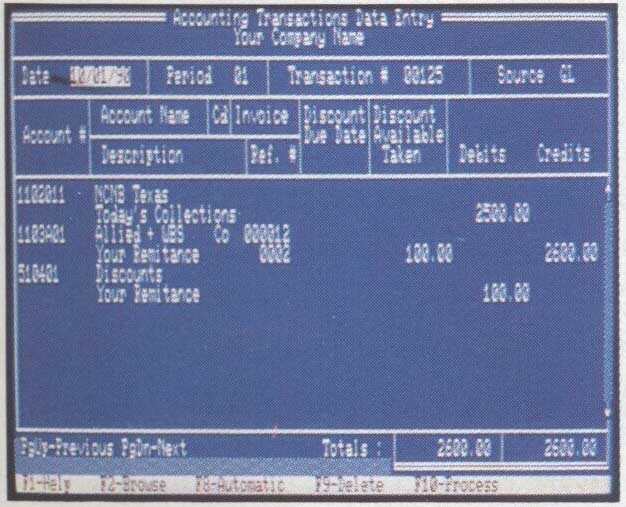 Once the system is set up and operating, it's easy and straightforward to use. However, unless you're familiar with accounting, setting up Pacioli 2000 is likely to be befuddling and confusing—but not by any fault of the program. Accounting involves difficult concepts and procedures that can't be fully absorbed in a quick scan of the manual or a short videotape session. You can't invent an accounting system on the fly when using Pacioli 2000. You need to know what you're doing, then use Pacioli 2000 to implement it.
One of Pacioli 2000's strong points is that it does things by the book. It's rigid and strict in what it requires of its operators. The system refuses to let you exit an incomplete transaction, gently prompting you to fill in the incomplete fields. Pacioli 2000 maintains a complete audit trail of all transactions, even aborted ones. Once transactions have been posted, you can't go back and change information. When you review your daily journal, you'll see every completed transaction, every voided transaction, and every adjustment.
Pacioli 2000 provides a complete chart of accounts that can be used by most businesses, and it's easy to add new accounts when needed. When you're prompted for an account number by one of the modules, you can either enter the number if you remember it or press F2 to browse through the account list. If you can't find what you're looking for, you can create a new account on the spot.
The key to using Pacioli 2000 is in creating new accounts. You create accounts for each vendor, each customer, and every product you buy or sell. As you create these accounts, you fill in an information screen that includes such entries as the customer's name and address, shipping information, and discount levels available to that customer. The next time you do business with that customer, creating an invoice is quick and easy: Simply type in the account number or select it from the accounts list, and the pertinent information is pasted into the invoice. Then type in the product numbers for what the customer ordered, and product descriptions and prices are filled in, and the appropriate discounts for that customer are applied.
You can operate Pacioli 2000 by using the keyboard, mouse, or both, but mouse support is limited in some areas. For example, when scrolling through the chart of accounts, you'll need to use the keyboard Page-Up and -Down keys if you want to move more than a line at a time. The scroll bars aren't as fully featured as you might be accustomed to.
This system is designed for daily use. Transactions are entered as they occur; then, at the end of the day, the printer goes to work, churning out the results of the day's activities. Invoices, packing slips, receiving slips, credit memos, account statements, and checks can be printed on forms available from M-USA. Then the daily journals are printed, reviewed, adjusted, and reprinted if necessary.
Once the daily journals are correct, the transactions are posted. Posting is the process of placing all of the day's transactions into the various accounts your company uses. During posting, several files are modified, and both the manual and the program are quite insistent that you back up your data files before posting. Pacioli 2000's posting process involves a fairly painless, though time-consuming, backup process that utilizes the DOS Backup command. The procedure is automated and requires only a key-press or two to complete.
Pacioli 2000 also can be used as a point-of-sale system, printing out invoices and receipts on the spot.
The system uses specially designed teal and gray, multipart, carbonless forms for invoices, statements, and checks. These forms and associated envelopes, cards, and labels are available by mail order from M-USA. Samples of each of the forms and checks are included in the package, so you'll be able to check with local printers to see if any of their stock matches that used by Pacioli 2000. M-USA claims to have the only official forms for use with the program, but purchasing forms locally, if they're available, is usually less expensive and faster.
By using Pacioli 2000's checks and forms, you can significantly simplify your bookkeeping work. Write a check or process an invoice, and the appropriate transactions are entered automatically in the daily journal. If you choose not to use the special forms and checks, you can still benefit from Pacioli 2000 by writing checks and invoices manually and then entering the transactions into the system. Pacioli 2000 will keep up the daily journal and general ledger. A disadvantage of this approach, besides time lost, is that you increase the chance of error because data is entered twice.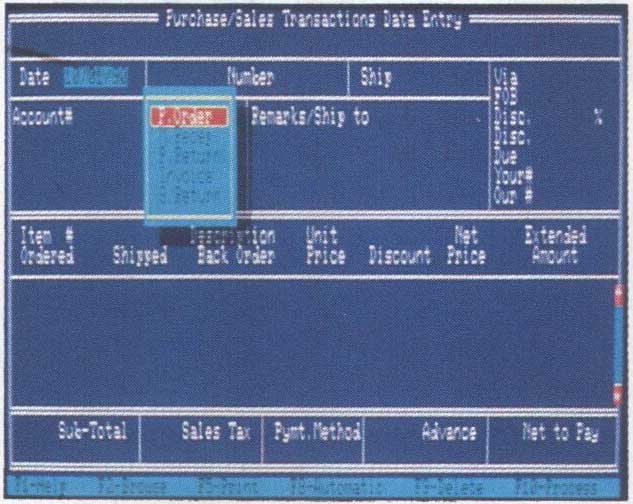 Track purchase orders and sales invoices—even with no inventory on hand.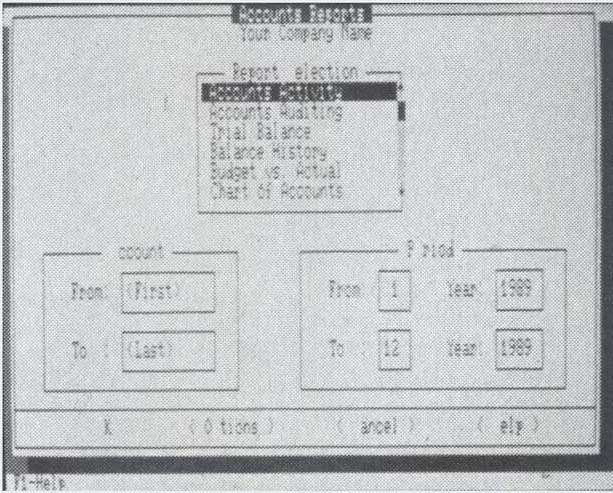 Pacioli 2000's dialog boxes can be accessed using the keyboard or mouse.
Pacioli 2000 is fairly rigid in its output. You can't adjust the check, invoice, or statement output formats. In the printer setup menu, the only options you can modify are the page length and the control codes for normal, compressed, and expanded type. A dot-matrix or other impact printer is required to print checks or forms, and the manual recommends using such a printer for reports as well. Laser printers aren't supported to any degree.
All forms and checks are sent to the LPT 1 printer port, and there's no provision for redirecting them. Reports, however, can be sent to the screen or be redirected to a file, which you can edit or print later.
While using Pacioli 2000, you'll amass a great deal of information about your company and its vendors and customers. The program's report section gives you the tools to manage that information. The system includes several predefined reports that will satisfy most of your needs, and it includes a report generator that can be used to arrange the information for more customized reports. Pacioli 2000 keeps up to 36 months of accounting data online, so reviewing recent history is as easy as looking at yesterday's data.
Pacioli 2000 puts a lot of accounting power into your hands. It's network ready, it offers a tiered password system to protect your data, and it allows you to enter terms and discounts on a customer-by-customer basis. The program also includes an auditing module to help you reconcile your checking accounts, verify the accuracy of your records, and keep an accurate count of your inventory. Pacioli 2000's budgeting function will help you create future budgets based on past performance.
There's a great deal of capability here for a relatively small price. With Pacioli 2000, small and growing businesses can set up an accounting system without worrying that they're spending a lot of money on something that won't work for them. M-USA promises free customer support for registered users.
If nothing else, the experience of working with Pacioli 2000 and coming to understand your company's financial data will make you better able to hire an accountant to do the books. As the owner, you're responsible for everything, and you can't afford to give up control of something as important as your money.
| | |
| --- | --- |
| Ease of Use | *** |
| Documentation | *** |
| Features | **** |
| Innovation | *** |
Pacioli 2000
IBM PC and compatibles with 640K. DOS 2.1 or nigher (DOS 3.1 or higher for network use), and hard drive—S49.95
Package includes two 5¼-inch and one 3½-inch disk, tutorial videotape. 354-page manual, sample forms and checks, and forms catalog.
M-USA BUSINESS SYSTEMS
18111 Preston Rd.
Suite 500
Dallas, TX 75252
(214) 931-0024