DESKTOP VIDEO
HERE AND NOW
HOWARD MILLMAN
Just as camcorders replaced 8mm movie cameras, within five years still-video imaging will banish 35mm cameras to the dusty shelves of the Museum of Vintage Technology. Long overshadowed by its more popular relative, the camcorder, still-image video remains an under-used technology. This is partly due to a misconception about its high initial cost. While the elaborate systems used by computer graphic artists and professional photographers (especially in the film industry) cost megabucks, savvy shoppers can assemble a consumer-grade system for about $1,000.
The system we assembled included Canon's Xap Shot camera, a ComputerEyes Professional image-capture board, Spinnaker's graphic-editing software Splash!, and the graphics-printing program Pizazz Plus. We also tested US Video's combination VGA and genlock video card. The results we achieved with our $1,000 video system ranged from fair to good. And with the addition of two more sophisticated editing packages—Tempra and Picture Publisher Plus—our results were nearly spectacular.
YOU CAN ADD A COMPLETE VIDEO SYSTEM TO YOUR IBM PC FOR ABOUT $1,000. HERE'S HOW.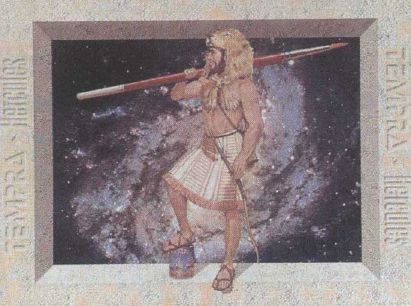 Zap—You're on TV
Manipulating complex graphic images creates heavy demands on a computer system. To avoid expiring from old age at the keyboard, you need a 286, 386, or PS/2 computer with 640K; DOS 3.0 or higher; a VGA card (preferably Super-VGA) with at least 256K (better yet, 512K or more); a multifrequency monitor; and a high-resolution mouse or trackball.
The $595 list ($500 street) price Xap Shot behaves much like other point-and-shoot cameras. The on-board electronic circuits determine the exposure, speed, and range to subject. A built-in LCD panel displays track numbers along with the mode (single shot or three per second), low-battery warning, and disk-related problems. A flash automatically fires in low ambient light. With its 2.8 lens, indoor pictures often require a flash.
The Xap Shot electronically records images on magnetic media. With its two-inch internal disk, the Xap Shot can be fairly described as a camera married to a portable disk drive. The resemblance is more than superficial, since the Xap Shot acts as a disk drive when displaying stored images on a computer or television. The images are filed by track number and retrieved for processing using the camera's advance and reverse buttons.
The jacketed disk accepts 50 images in the camera's 786 × 250 pixel format. Extra disks cost $10, or you can delete the images and reuse the disk.
After you've taken your pictures, the Xap Shot links to the ComputerEyes expansion card with a single coax cable (supplied by Canon).
Importing the image into the computer proved to be as simple as Mother Goose. Digital Vision's bundled software, Eyes, while not quite as lovable as it could have been, streamlined the task.
Using Eyes, you first preview any or all on-disk images before committing to a capture. The Xap Shot's drive takes about 20 seconds to travel through all 50 tracks. When you find the image you want to digitize, you simply hit a key. Depending on the display resolution selected, the software requires 10–25 seconds to digitize the Xap Shot's composite video signal and redraw it on the monitor.
With the image now digitized and displayed, you can perform some fundamental editing with Eyes—including globally raising or lowering the image's red, green, or blue components, as well as its contrast and intensity.
In addition to still video, the ComputerEyes board also captures frozen-frame video generated by a video camera. Capturing and editing full-motion video in realtime, however, requires both a digitizer and a signal synchronization device called a genlock. US Video's modular TVGA board lets you expand your system when and if the need arises. The company's separate genlock daughterboard and digitizer module (functionally similar to the ComputerEyes Professional) piggyback onto the main VGA card. With 512K, US Video's board provides a resolution of 1024 × 800 × 256 colors.
In addition to the Xap Shot's signal, ComputerEyes can also capture images generated by VCRs, videodisc players, and still-image cameras marketed by Panasonic and Sony. While the ComputerEyes board performs well for image capture, implementing advanced editing techniques requires more potent software.
Testing the Waters
Spinnaker's Splash!, a hybrid paint program and entry-level editing package, includes functions specifically designed for image capture and retouching. The program's icon-driven menu, coupled with its straight-forward features, makes it extremely easy to use.
Splash! includes the requisite basic editing techniques, including color fills, pattern copy/repeat, individual pixel editing, multiple patterns, brush sizes, and color swaps. Additionally, you can rotate, resize, and merge captured images.
You can experiment with the many samples included with the program, or you can import your own graphics. Although Splash! saves to disk in standard image formats such as PCX, TIF, and GIF, it imports only its own graphics format (SS). An odd omission, but not lethal. We used Digital Visions' software to import a TGA graphic, saved it in SS, and subsequently loaded it into Splash!.
Another limitation is Splash!'s maximum image resolution of 320 × 200 (VGA or MCGA). As a result, the image details and menu icons appear fuzzy. (Images displayed in a 640 × 480 resolution appear much sharper, but these higher resolutions are non-standard and usually require special video drivers). Also, some of the program's more advanced features, such as color blending and the alternate canvas, need clearer instructions or perhaps a simple tutorial.
THE HIGH COST OF COLOR
Electronic recording devices, including VCRs and still-video cameras, generate analog signals. The number of colors in an analog signal ranges to infinity. When converting the camera's analog signal into a digital form, video capture boards reduce the number of colors in the signal to either 16 or 256. Why? Because, in a digital format, having more colors requires more memory and incremental technology. That translates into higher prices and consumer resistance. High-end realtime digitizers from Everex, Truevision, and Matrox, for instance, cost $2,000 or more.
Despite these limitations, Splash! lives up to Spinnaker's reputation for software that's easy to learn, capable, and—with a street price of $60 ($99.95 list)—inexpensive.
Taking the Plunge
At four times the price of Splash! ($395 list or $300 street price), the next level in editing software delivers five times the muscle. In fact, Mathematica's Tempra integrates all the essential paint features with commercial-quality image-manipulation, special-effects, and text-overlay features.
With its multiple icon-based menus, backed by a logically organized manual and sample images, Tempra accomplishes the handholding necessary to flatten its learning curve. The program's seemingly endless array of editing features includes antialiasing (to smooth jagged lines), regional or global masking (to protect specified colors or locations), selective color swaps, color-contingent animation, image-warping with perspective, and multiple Bitstream fonts with the international extended character set. The program also automatically uses available expanded memory to execute memory-intensive functions and provides a volatile Undo buffer.
Tempra's intended market is serious hobbyists and economy-minded pros. Unfortunately, this means limited printer support. Presently, the program supports just Hewlett-Packard LaserJets and compatibles and two thermal color printers.
Dive Right In
Tempra may provide all the editing muscle you'll ever need. If, however, you decide to "go pro," you'll need the more sophisticated and exotic features found only in professional editing applications.
Astral Development's $695 ($500 discounted) Picture Publisher Plus weighs in as one of the least expensive yet comprehensive professional editing applications available. Here, the term least expensive is relative.
For example, Publishers Plus runs under Microsoft Windows ($125 street price). And since time is money for professionals, add two megabytes of extended memory ($200–$600) to keep the current image in faster volatile memory.
This investment provides access to special effects such as texturizing, posterization, highlighting/shadowing, mosaics, multiple imported-image collages, interpretive resolution changes, paint smears, scatterprinting, vignettes, and silhouettes. Additionally, Publisher Plus imports scanner images (it contains a universal scanner interface) and captures images directly from selected high-end digitizer boards.
SETTING STANDARDS
When IBM defined the 256-color VGA graphic standard, it stopped at 320 × 200 resolution. While every major video-board manufacturer adheres to that standard, it's inadequate for image editing. At least a dozen strategies from as many vendors exist to extend VGA up to 1024 × 768 resolution with 256 colors. Therein lie the seeds of chaos.
Implementing these SuperVGA standards requires cooperation between software publishers and board manufacturers. Within certain limits, these two groups do collaborate. As a result, most image-editing software supports the extended modes of selected VGA boards made by Video Seven, ATI, Orchid, Paradise, and STB.
One caveat: Before upgrading your video card or purchasing editing software, make sure that the hardware and software are compatible.
Publisher Plus includes two tutorials and numerous sample images along with detailed step-by-step installation and operation instructions.
The original Picture Publisher (without the Plus) worked exclusively with gray-scale images (256 shades from black to white). The present manuals still emphasize gray-scale imaging and deal with color imaging in an all-too-brief addendum. Considering the wealth of features in Picture Publisher Plus, clarity of instructions is essential. According to the publisher, updated manuals to accompany a more color-oriented revision should be available this December.
You've captured and edited the image—now you want to do more than just display it on a monitor or television. You want to print it. One option is to purchase Hitachi's $1,400 entry-level color thermal printer (model VY-150A). You might also consider Hitachi's $4,000 computer-compatible VY-200A.
One less-expensive option involves using the printer you already own. Application Techniques' Pizazz Plus enables you to do exactly that. A well-behaved RAM-resident graphics-printing utlity, PZ + captures text or graphics screens and provides extensive printing control along with some elementary image-editing features. One of the best of its editing features provides for printing unadorned black-and-white graphics in multiple shades of gray.
With more than 400 drivers, PZ + lets you print graphic images on a wide variety of dot-matrix, laser, thermal, monochrome, and color printers. This $149.99 ($70.00 street price) utility will prove invaluable if your graphics software omits your particular printer.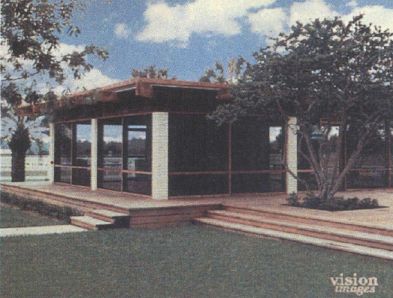 This is the original video Image of a building.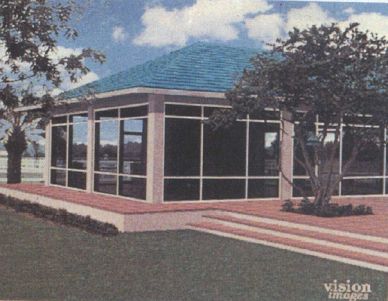 Using Tempra, you could add an arching roof to the building.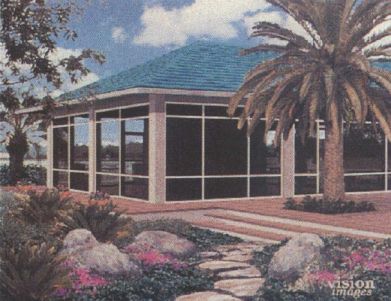 Or you could add colorful landscaping and a palm tree.
Yet a third option yields optimum full-color printouts while avoiding a sizable capital outlay. Have a graphics service bureau print your image from disk. Costs range from $10 to $25 per image.
TV or Not TV
With traditional point-and-shoot cameras available for about $100 and superb single-reflex 35mm cameras available for less than $500, why spend $ 1,000 (and eventually more) for electronic photographs? The answer depends on your purpose. If you simply want photos for the family album, then wait until prices decline as they inevitably will. If, however, you need a photograph for a newsletter or catalog, a client, or those times when "good enough" just won't cut it, you may be ready for still-image video.
VIDEO TO GO
For more information about the products mentioned in this feature, contact the companies listed below.
ComputerEyes Professional
Digital Vision
270 Bridge St.
Dedham, MA 02026
(617) 494-1200
Picture Publisher Plus
Astral Development
One Londonderry Sq.
Londonderry, NH 03053
(603) 432-6800
Pizazz Plus
Application Techniques
10 Lomar Park Dr.
Pepperell, MA 01463
(508) 433-5201
Splash!
Spinnaker Software
One Kendall Sq.
Cambridae, MA 02139
(617) 494-1200
Tempra
Mathematica
402 S. Kentucky Ave.
Lakeland, FL 33801
(603) 432-6800
TVGA Card
US Video
One Stamford Landing
62 Southfield Ave.
Stamford, CT 06902
(203) 964-9000
VY-150A and VY200A Color Thermal Printers
Hitachi Sales
401 W. Artesia Blvd.
Compton, CA 90220
(213) 537-8383
Xap Shot
Canon
One Canon Plaza
Lake Success, NY 11042
(516) 488-6700