NEW PRODUCTS
EDITORS
Backup Zinger
Central Point Software is now offering the backup program in its PC Tools Deluxe Version 6.0 package as a stand-alone program—Central Point Backup.
The new interface in Central Point Backup, the most graphical in any character-based DOS backup program, makes it easier to select files and options and thereby encourages you to perform regular backups. You can save the program's options and selections, making it easy to launch subsequent backups and restore your data directly from the DOS command line. With the built-in scheduler, you can perform unattended backups. To help ensure data integrity, the program offers complete bit-for-bit verification of all backed-up data, as well as a Compare feature, which checks the backup against current files. National Software Testing Laboratories tests have shown Central Point Backup to be the fastest backup program on the market. The program also compresses data by as much as 60 percent without increasing backup time.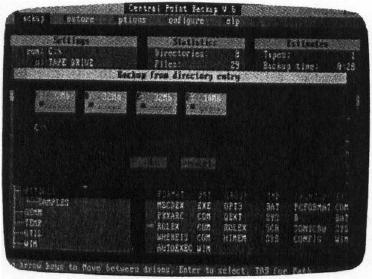 Central Point Backup has an easy-to-use interface that simplifies backups.
Central Point Backup lists for $99, and you can upgrade to PC Tools Deluxe for an additional $50.
Central Point Software, 15220 NW Greenbrier Parkway, #200, Beaverton, OR 97006
Reader Service Number 351.