Where in TV Guide Is Carmen Sandiego?
That dastardly international thief, Carmen Sandiego, is back. But don't look for her in your local software store; she was most recently spotted hiding out near Mr. Rogers' neighborhood.
Starting in the fall of 1991, Carmen will have her own television show on PBS, developed by WGBH of Boston, WQED of Pittsburgh, and Broderbund. In this educational game show, three teams will race to recover an exotic treasure swiped by the infamous Carmen Sandiego and then to catch Carmen herself. To locate Carmen and the loot, the detective teams must answer geography-related questions and deduce locations from clues disclosed on an electronic game board.
"One in seven Americans cannot locate the Soviet Union or Pacific Ocean on a map of the world," explained Kate Taylor, WGBH's co-executive producer of children and family programs. "'Where in the World Is Carmen Sandiego?' will make geographic information exciting through the engaging game-show format."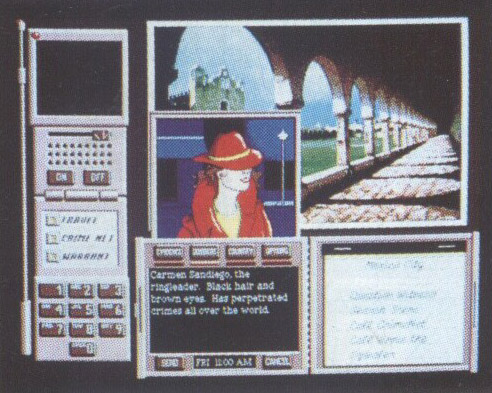 You've chased Carmen across Europe; now you have to figure out what channel she's on.
Carmen's half-hour game show will be seen Monday through Friday on most PBS affiliates. Meanwhile, the Carmen Sandiego series of educational computer games, introduced in 1985, has sold nearly 2 million copies. Brøderbund isn't saying where Carmen's next computer caper will take place, but industry talk has it that Carmen's next heist may take place in outer space.
—DENNY ATKIN