LAKERS VERSUS CELTICS AND THE NBA PLAYOFFS
Think of the NBA Playoffs, and the Los Angeles Lakers and Boston Celtics usually come to mind. That's why Electronic Arts chose to highlight these two teams in its new computer basketball game, Lakers versus Celtics and the NBA Playoffs.
In addition to the 1988-89 Lakers and Celtics clubs, you can choose from 6 of the remaining 14 teams that participated in last spring's NBA Playoffs or from last year's two All-Star squads. Match up any of these teams in a head-to-head arcade clash and try to make your way through the NBA Playoff bracket and become World Champion.
This five-on-five game features outstanding graphics, and players on every team, including substitutes, are displayed in detail and dressed in official team colors with the appropriate uniform number. Unlike other basketball games, where all the players look alike, Lakers vs. Celtics features seven-footers that tower over shorter guards, and distinguishing characteristics such as Kareem Abdul-Jabbar's and James Worthy's goggles.
The animation also gets high marks. Kareem actually performs sky hooks, Isiah Thomas finger-rolls the ball into the hoop, while Michael Jordan does a three-sixty slam down the lane.
Although the game looks good, the sound is less spectacular. Even though the game supports three sound boards, there's no crowd noise, and the sound of the ball bouncing around the basket sounds unnatural. The only realistic sound effect is the horn ending each period. That's not much support.
The game follows official rules, including a 24-second shot clock, 10-second backcourt violations, 5-second inbound violations, overtime, traveling calls, backcourt violations, offensive and defensive fouls, and out-of-bounds rulings.
Game-control options are simple. There are no plays to call. On offense, you can dribble in any direction, pass to a teammate, pump-fake a shot, and shoot. Defensively, you can steal, block a shot, and switch to the defender closest to the ball. A joystick is recommended because, when you're using the keyboard, you can't direct your passes to a particular teammate.
With single games, you can compete in cither the arcade or the simulation mode. Tournament games are always in simulation mode, and players can get tired in this mode. You must wisely substitute for fatigued players or your team's performance will suffer. Substitutions can be made only during timeouts or between periods.
The team roster screen shows facts such as each player's name, number, and statistics from the 1988-89 season. These stats are used to determine how well each player performs in the game, but there are no current stats resulting from your gameplay. There's no way for you to know how many points Larry Bird scored or how many rebounds Jabbar pulled down unless you keep the stats yourself.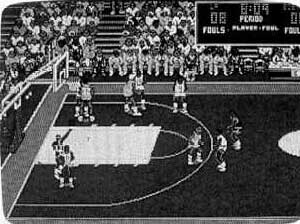 Watch the five-on-five battle in Lakers Versus Celtics and the NBA Playoffs.
Some other minor quirks include the facts that the teams never change baskets and players don't foul out. But if you remember that this is an arcade game rather than a simulation, these facts won't affect your enjoyment.
One last word on realism, since these teams are modeled after real teams. The 1988-89 Lakers did have the best record last season, but they lost the title to Detroit. Last year's Boston club barely qualified for post-season play. If EA wants to play up the rivalry between the two teams, it should release some disks with great teams of the past. Watching Bill Russell and John Havlicek do battle with Wilt Chamberlain and Jerry West would really appeal to computer roundball fans and make a rousing, in-your-face dunk of a sequel.
MICKEY McLEAN
IBM PC and compatibles—$49.95
ELECTRONIC ARTS
1820 Gateway Dr.
San Mateo, CA 94404
(800) 245-4525