THE PLAYROOM
Your imaginative six-year-old is sick of his toys. Your four-year-old refuses to learn to count past 3. Your precocious two-year-old wants to learn to spell. What's a parent to do?
Buy The Playroom from Brøderbund, and watch the toys come to life to teach and entertain your preschoolers. With a little help from Mom or Dad, a six-year-old shouldn't have trouble with any of the game elements in this package. A four-year-old might need to sit on your lap and play it with you. My two-year-old couldn't do it himself, but he enjoyed telling me what he wanted to do.
The fun begins with the opening screen. There are toys in the toy box, books on the shelves, a computer on the child-size table, a bed, a clock, a radio, and a few things never seen in any ordinary, real-life kid's room. Move your pointer around the room and interesting things begin to happen. Some of the playroom surprises are accompanied by digitized sounds, an added plus that doesn't require any special hardware. Six game options—the ABC Book, the Mixed-Up Toy, the Spinner Toy, the Mousehole, the Cuckoo Clock, and the Computer—await children exploring this playroom paradise.
The ABC Book was far and away my favorite game option. You are presented with a choice of two scenes, either a medieval castle or a modern street. Select a letter, and a picture beginning with that letter appears. By clicking on the picture, your child can place it in the scene. Removing a picture is as simple as selecting it and moving it to the trash can; remove all the pictures by selecting the garbage truck. You can print out completed pictures, too.
Another creative game option is the Mixed-Up Toy. You're presented with a toy that's divided into three parts: head, body, and legs. Select the head, and every time you strike the Enter key, a new head appears. The same thing happens with the body and legs. There's also an option you can choose that will mix up the toy for you. I can see two small boys getting together with this option and having a laugh riot over the crazy combinations they come up with.
The Spinner Toy is a simple counting game with four difficulty levels that are based on how high your child can count. Pepper the Mouse sleeps in the lower left corner until you wake him up. Then he begins to play with you; for example, he may display three ducks and ask, "How many?" If your child selects the correct number from the spinner, the ducks will stand on their heads and make noises.
The Mousehole is a more complicated counting game that requires some ability to add and subtract, as well as to think strategically. This game offers three skill levels based on how high your child can count. I played the lowest level against the computer and was pleased to notice that the computer got consistently awful rolls, allowing me to win easily. This gives young, inexperienced players a necessary edge while they learn to play the game.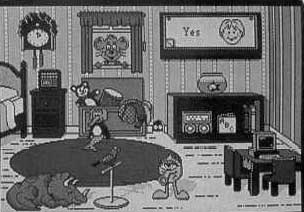 The Playroom is a child's paradise chock-full of toys and activities.
The Cuckoo Clock game is supposed to teach kids how to tell time, but, unfortunately, it isn't very interesting to play. The clock displays analog time, digital time, and the time in words; and it contains a graphic showing what Pepper the Mouse does at that time. The game is played by selecting different times on the analog clock.
The Computer is a spelling game and is also supposed to familiarize your child with the keyboard. But you don't directly use the keyboard when playing. It seems to me that a hands-on approach would have been the best way to get comfortable with the keyboard. Instead, you get a graphic representation of a keyboard and access it with a pointer, which is a slow and frustrating process.
The documentation that accompanies this package is simple, but all you really need to know is how to load the program. Once your child starts experimenting, directions won't be necessary. Also noteworthy are the creative suggestions on how to do more with the games away from your computer.
Great graphics, effective sounds, and creative interaction combine to make The Playroom a great teaching tool that's also great fun.
BETH ANN MURRAY
Apple II—$39.95
IBM PC and compatibles—$44.95
Macintosh—$49.95
BRØDERBUND
17 Paul Dr.
San Rafael, CA 94903-2101
(415) 492-3200