GLORY DAYS
THE COMPUTER-INSPIRED FANTASY FOOTBALL SEASON THAT PROVED YOGI BERRA WROING—IT AIN'T OVER EVEN AFTER IT'S OVER
MICKEY McLEAN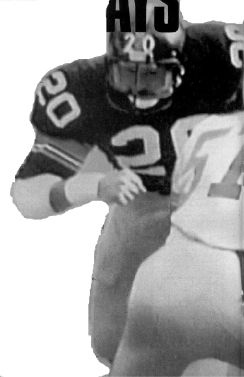 Almost every football fan has argued with family and friends over which was the greatest team to ever grace the gridirons of the National Football League Maybe you're in your 40s and remember how Green Bay dominated the league in the 1960s, but your teenager insists that the Pack couldn't touch the 49ers from the 1980s. Steve Sabol, president of NFL Films, envisioned a project that would bring those dream match-ups to life. All it took were some personal computers, a comprehensive football simulation, months of hard work, and the vaults of the most impressive sports library ever amassed.
If Sabol had tried to round up members of the Lombardi-era Packers to play 49ers still in their 20s and 30s (maybe in a football stadium built in a rural cornfield) the older Packers would've thought him insane. Even if the pride and competitive spirit were there, time had blurred the agility and strength. To ensure that the competition would be fair and impartial, Sabol looked for a way that these teams could play against one another while still at their peak of performance.
Time Travel
Instead of calling on a mad scientist to develop a time machine, Sabol enlisted the help of Bob Krutz, president of XOR, and his popular computer football simulation, NFL Challenge, which is licensed by the NFL and the National Football League Players Association. The software program impressed Sabol with its accuracy. He notes that it has predicted the final score of the last four Super Bowls within a few points of the actual tally. Sabol was also pleased that NFL Challenge would allow him to match up great teams, in their prime, in fantasy games on a truly neutral site—a PC.
"I looked at other simulations, but NFL Challenge was by far the most detailed," Sabol says. "It gave us all the possible stats with the game printouts and sometimes was more detailed than we needed." Sabol is quick to point out that, although he provided the final visual product through film editing, none of it could've been possible without the help of computers and XOR's software.
"It would've never happened without computers," Sabol says. "Computers were the basis of the whole Dream Season. We needed an impartial source, and computers provided us with credibility and gave us the high-tech element. We just added the flesh and personality."
Although computer simulations can be extremely realistic and provide fascinating results, for Sabol it still wasn't enough. He needed a way to present the simulation to an audience. For that, he called upon his experience at NFL Films.
NFL Films is the largest and most exhaustive film library in sports. If it happened on a professional football field in the last 40 years, you can bet NFL Films has it recorded on film. Sabol knew that an exhaustive search would turn up appropriate film clips, and that a careful edit could bring those clops together to make it appear that two teams such as 1966 Packers and the 1984 49ers would actually be playing against each other, just as was possible on the computer.
But Sabol wasn't interested in just a one-time match-up between two teams. He wanted to settle the question of what was the best team of all time. To do that, he would need to play out a complete season, with 20 of the best teams in NFL history vying for the title.
Seasons of Dreams
Sabol first had to determine which teams would vie for the mythical championship. He consulted the Pro Football Hall of Fame and other experts for a list of the 20 best teams to have played since 1950, and placed those teams into four divisions. The criteria for selection mandated that each team must have won an NFL or AFL championship. After the teams were chosen, six games were scheduled for each team; the Dream Season became reality.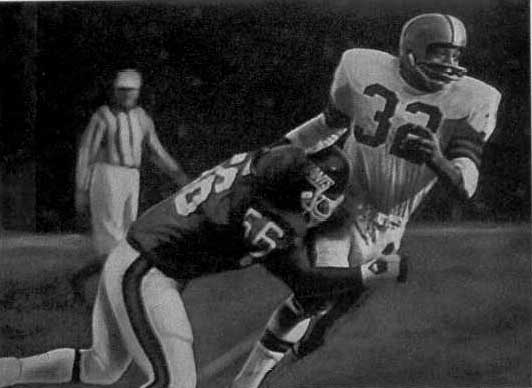 Only in a Dream Season would Cleveland's Jim Brown (32) face Lawrence Taylor of the New York Giants. (© NFL Films, Inc.)
At that point, Bob Krutz at XOR took the ball. It was up to him to gather the statistical data necessary for use with NFL challenge. XOR constantly updates data on current NFL stars for its season disks; therefore, Krutz had no problem compiling information for teams from the recent past. For teams that played prior to the release of NFL Challenge, Krutz used data from XOR's All-Star and Greatest Teams disks. The Greatest Teams disks feature the best players from each franchise. But even with that extensive amount of team and player information, there were still some holes. To help fill them in, Krutz enlisted the aid of local NFL experts (XOR's offices are located in Minneapolis) to research the remaining player ratings. The final product was not only used for the Dream Season but also became available for use by NFL Challenge players as The Dream Teams Disk.
Krutz played every game on each week's schedule 100 times. Whichever team won the most games was deemed the winner. Krutz then browsed through the results and selected one game that was representative of the score and statistics found in the majority of the games played. He then sent a play-by-play printout of the representative game (45–50 pages long) to Sabol at NFL films' New Jersey offices.
If You Build It, They will Watch
Each week, Sabol and his crew at NFL Films picked one game as a feature game. They then gleaned from their archives the appropriate footage to create a fantasy game that fans could watch on ESPN.
"We would feed NFL Films a book of statistical results for each week of the season," Krutz says. "They would go through the stats and build it out of that. And they did a remarkable job putting it together."
Sabol and crew pulled over 150 miles of film footage out of the NFL Films vaults. The footage included from 15 to 20 games between each week's two feature teams and took over two months to edit, translating into almost 16 months of work to complete the entire season.
"It was like putting together a jigsaw puzzle," Sabol says. "To be accurate, we had to take into account weather, stadiums, playing surfaces, and uniforms.
It wasn't always possible to make a 100-percent-perfect duplication of the computer game, but Sabol came remarkably close. First, he searched through film of all the games the two clubs actually played against each other, and then he went through all the film from the year each team played, plus the year before and the year after.
"We tried to find a play similar to what the simulation called for, or we would find an appropriate beginning and end to the play." Sabol says.
Krutz says that Sabol remembered some plays from experience. "He is a walking encyclopedia of NFL Football." Krutz says. "He seems to remember almost every big play ever made."
Overcoming Obstacles
One problem Sabol encountered while working on the project involved the 1972 Dolphins, which featured Bob Griese at quarterback.
"Bob Griese, later in his career, began to wear glasses," Sabol says. "We thought about having him have a bad first half, then go in at halftime, put on his glasses, and have a great second half. But we didn't want to make a joke out of these games."
Helmets, which covered players' identities, and the air-brushing of uniform numbers solved many of Sabol's problems, but one feature game provided some unique obstacles.
"The most difficult game we did was the '66 Packers against the '84 San Francisco team," Sabol said. "None of the players ever played against each other. The stadiums, uniforms, and the film stock we used were different. That one game took over two and a half months to complete. But it was magic seeing Walsh versus Lombardi."
That game also featured several special touches that Sabol and crew added to the telecasts to provide further realism.
"That is really Vince Lombardi's voice you hear during the game." Sabol says. "It's also actually Bart Starr's voice calling the signals."
Sabol believed that what made the games seem even more realistic were the sideline close-up shots that revealed the reactions of players and coaches.
Play It Again, Steve
Many of those reactions didn't come from the past, however. A lot of ex-players and coaches were very vocal about their "computerized" performances.
"Some players and coaches were upset when their teams lost." Sabol says. "We set out to make it realistic, but maybe we did too good a job.
"Hank Stram [coach of the 1969 Kansas City Chiefs] has been a friend of mine for 20 years, and when he saw his team get beat by the '76 Oakland Raiders, he asked me, 'What kind of trash are you putting into that computer?' "
Several players also disapproved of the game results and botched plays. "These guys were feeling a sense of frustration," Sabol says. "They were watching themselves in action and couldn't do anything about it."
Despite the grumbling, coaches and players from these championship teams went on camera and pretended that the game was for real, providing insight into their game plans and revealing how they might handle an opponent who was from another era.
The schedule maker provided some interesting match-ups and created some bizarre conflicts of interest. For example, when the 1959 Baltimore Colts faced the 1969 New York Jets, Weeb Ewbank stood on opposite sidelines, coaching both teams. Chuck Noll found himself playing for the 1955 Cleveland Browns while coaching the 1978 Pittsburgh Steelers. Norm Van Brocklin played quarterback for both the 1951 Los Angeles Rams and the 1960 Philadelphia Eagles, while Paul Warfield lined up at wide receiver for both the 1964 Browns and the 1972 Dolphins.
Network Coverage
The final product of all the computer games and diligent film work ran on six consecutive Sunday nights on ESPN last September and October, then culminated in the Dream Bowl on October 29. During the season, real-life Philadelphia Eagles announcer Merrill Reese provided the play-by-play, while Sabol offered his on-the-air analysis. At halftime, ESPN's Chris Berman relayed scores and highlights of other dream games from around the league, explaining that black-and-white footage was the result of some technical difficulties.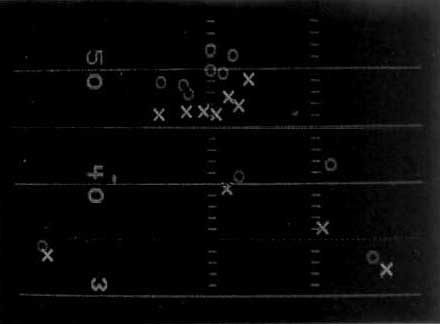 Before they were augmented by film, the fantasy football games were played out using XOR's NFL Challenge.
"ESPN provided us with great publicity," Sabol says. "They showed a great sense of adventure by airing it, and it worked."
When the regular season came to a close, the 1978 Pittsburgh Steelers had captured the East division; the 1984 San Francisco 49ers, the West; the 1976 Oakland Raiders, the North; and the 1972 Miami Dolphins, the South. In the Fantastic Four playoffs, the Steelers defeated the 49ers, while the Dolphins downed the Raiders. Then it was on to the Dream Bowl.
Don't Step on My Blue Suede Cleats
Most Super Bowls have been super yawns, but the Dream Bowl poured on the excitement from beginning to end. Before the game, Dream Bowl organizers brought Elvis back from the dead to toss the coin. And to top off that rousing beginning, Pittsburgh running back Franco Harris plunged over the goal line from three yards out on the last play from scrimmage to give the Steelers a 21–20 Dream Bowl victory over the Dolphins. (The 1972 Miami team didn't lose a single game in reality. It's the only team in NFL history to have finished a season with a perfect record.)
Although the game appeared to have been won at Pittsburgh's Three Rivers Stadium, in actuality it was played out in Minnesota on Bob Krutz's PC, where the computerized Steelers prevailed in 52 of 100 simulated games.
Son of Dream Season?
Sabol and Krutz are still recovering from the tedious Dream Season project and have no plans to repeat the experience. "There will be no sequel," Sabol says. "We'll wait at least ten years before we try anything on this scale again."
At the Snap
For more information on products mentioned in this article, contact XOR, 7607 Bush Lake Road, Minneapolis, Minnesota 55435; (800) 635-2425.
NFL Challenge (version 2.01)
IBM PC and compatibles—$99.95
NFL Challenge (version 1.03)
Macintosh with one megabyte of RAM—$99.95
The Dream Teams Disk
IBM PC and compatibles—$19.95
There is a possibility, however, that we'll see some special projects, including one-time match-ups between teams such as this year's Super Bowl champion against the Dream Bowl winner.
So, while we watch another decade of great players, super games, and dramatic comebacks, we can hope for another glimpse into the world of computerized fantasy football. And by the way, if you missed the telecast of the Packers and the 49ers during week 2, the old-timers did well for themselves, defeating the 1984 Super Bowl champions 28–21.
Mickey McLean is an editorial assistant at COMPUTE! Publications. He holds the sports trivia title in our office.