CERTIFICATES AND MORE
Need to tell someone they're special? Want to reward your Scout troop for outstanding service? Looking for a form to keep track of your sixth graders' test scores? With Certificates and More you can create and print original certificates and charts for all of the purposes above, plus much more.
More than a mere award maker, the program features variations on the certificate theme. You can create calendars, checklists, board games, bingo cards, flashcards, greeting cards, charts, and other items by selecting a template and filling in your own information.
If you want to create a certificate from scratch, a number of options are offered. You can choose horizontal or vertical alignment, one of 20 borders, items from 19 categories of clip art, and numerous fonts.
You can rotate your certificate left and right and flip it vertically and horizontally. Using these functions, you can place clip art and text virtually anywhere on the page. A mouse is much easier to use for positioning than the directional cursor keys.
The clip-art categories include the usual assortment of animals, transportation, holidays, people, and seasons, as well as banners and medals that you can fill in with text or other graphics. All of this really makes a sheet of paper look important.
The nine fonts in 15 sizes comprise a good selection from which to dress up a certificate. They range from Baby Bold to Venice and are easily entered and deleted.
Most people will use this program at school and at home. Some ideas might be garage-sale announcements, chore charts for family members, and club or individual recognition awards.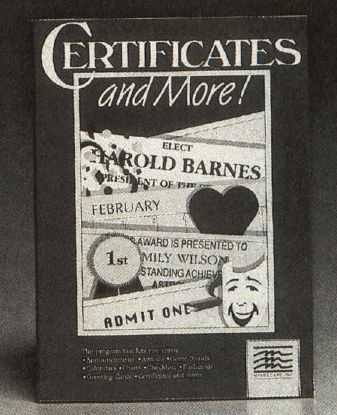 Use Certificates and More to reward someone for a job well done.
The program and manual were originally created for Apple computers, and, although the program was revised for IBM PCs and compatibles, the manual was not. Mindscape included an IBM/Tandy Reference Card that points out the differences between the two versions. Unfortunately, those differences are so great that the manual becomes almost irrelevant. Then again, the program is so easy to use that this is but a small problem.
Finally, the program is copyprotected. Because it's so reasonably priced (the lab-pack version of the program, which contains five copies, costs just $99.50), Mindscape probably feels that complaints about copy-protection are unwarranted. But it certainly makes operating the program more cumbersome than it needs to be.
At less than $50, Certificates and More is a good buy. It does what it promises, and quickly, too. Once I was familiar with the program, it took very little time to design a certificate. Printing certificates, in any of the four sizes, also proved easy. Pick up this package for an easy and creative way to reward that person in your life for a job well done.
LYNNE FREY
Apple II—$49.95
IBM PC and compatibles with CGA—$49.95
Certificate Collection (55 predefined certificates)—$19.95
MINDSCAPE
3444 Dundee Rd.
Northbrook, IL 60062
(312) 480-7667