MIND AND BODY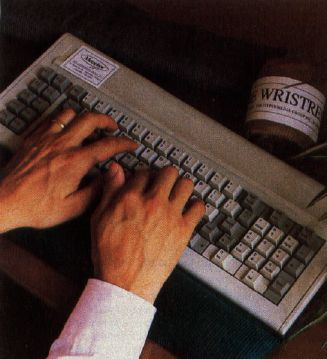 Use this cushion to rest your wrists while you type away.
Productivity's fine, but you need to have fun, mental exercise, and tasty treats, too. You can find several resources for computer novelties and brain-stretching games. The ones we've listed are just the tip of the microchip iceberg.
Chocolate Byte
The Chocolate Software Company
$12.95
Okay, so not every gift has to be useful. At least this 5¼-inch chocolate disk is in good taste. When you've finished processing the disk, you can use the case to hold five nonedible disks. The company also sells 3½-inch disks, keyboards, and computers—all made of chocolate.
Count Disk Computer Dart Gun Game
Count Disk
$19.95
Vent your high-tech frustrations by booting up a dart board. Count Disk's Computer Dart Gun Game includes a toy dart gun, six suction-cup darts, and a game disk with several dart-board designs that are displayed on your PC's screen. You get a free membership in the Count Disk Club with the game.
Neurobics
Ocean Isle Software
$44.95
Neurobics tests and develops your intelligence. The program features logic puzzles, pattern recognition, and other puzzles. A good gift for the Sherlock Holmeses and Albert Einsteins on your list.
Strike Force Navigator
Advantage Ace
$8.95
People who love to fly, drive, sail, or otherwise tool through simulated landscape will appreciate a navigation aid like the Strike Force Navigator. Made of clear plastic, this compass helps you find your way as you play vehicle simulators.
Wristrest
Metaphor
$12.95
Can you still hear your typing teacher yelling at you about the position of your wrists? Metaphor has designed a soft corduroy-covered cushion that you can rest your wrists on while you type.