ROOM BY ROOM
USE YOUR HOME COMPUTER IN EVERY ROOM OF YOUR HOUSE
DAN GUTMAN
Amazing as it may seem, some people still don't know that the computer is the most utilitarian appliance in their house. These unenlightened souls think toasters, blenders, and dish-washers are more useful. They consider the home computer a toy, only good for blasting aliens or exploring dungeons.
Not so, and I'll prove it. Imagine for a moment that you have a computer in every room in your house and an unlimited budget for software. We're going to take a little house tour and see how the computer fits in each room just as well as a table lamp or a bedspread.
We're not talking about word processing and spreadsheeting here. Everybody knows you can do those things with a computer. Instead, I'll focus on unusual, often ignored, but frequently useful software. Maybe you'll see some new applications that have never even crossed your mind before.

On Your Left—The Dressing Room and the Nursery
Let's start upstairs, in the master bedroom, first thing in the morning. Here we find Dad in front of his PC compatible running Looking Your Best, from 1 Step Software. The old guy has occasionally matched a paisley tie with a polka-dot shirt, so someone gave him a special Father's Day gift this year: an image and fashion consultant on a disk. Dad simply tells Looking Your Best what kind of body type he has, and the program searches through 400 million choices for the clothing styles and colors that would look best on him. The whole process takes about ten minutes. And 1 Step makes a version for Mom, too.
Now, down the hall into the baby's room. Infants are probably too little to use computers, but Gerber—the baby-food people—make a PC program called Your Baby's Nutrition: From Infant to Toddler. Using the program, new parents can evaluate their baby's food intake in relation to the U.S. Recommended Daily Allowances. Besides analyzing baby's diet, the program charts your child's growth and compares it to statistics from the National Center for Health Statistics. When the first tooth breaks through, when baby takes those first steps, when the chicken pox invades the peace and quiet of the nursery, you can also record those special moments in Your Baby's Nutrition.
As we move to the other children's rooms, the computer action gets more creative. Kids love making things with their computers. Using Publishing International's Hometown U.S.A., they can print and assemble houses, banks, and churches—whole villages for all kinds of games and projects.
On Your Right: The Study and the Career Counseling Office
Our next stop is the teenager's room. Ambitious high school students can use their computers to prepare for the future. Plenty of well-known programs help prepare students for the dreaded Scholastic Aptitude Test. After their scores come in, students still need to pick a college. Two programs worth investigating are College Explorer, from The College Board, and The Perfect College, from Mindscape. Use these programs to find a small Midwestern school with a polo learn and a desirable mix of male and female students.
On the other hand, work may be the best path after graduation. In the quest for a good job, high school students can turn to The Perfect Career. As kids list their personal interests and skills, The Perfect Career narrows down a list of 650 jobs and finally presents them with a few ideal occupations.
Whatever job a young adult chooses, a good resume is essential, and a computer can help. The Resume Kit, from Spinnaker, asks questions about work experience, education, and skills; then it automatically puts the information into any of nine common resume formats.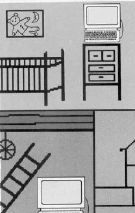 Across the Way: The Office
Step into the home office, where Mom may be running Family Matters, from Springboard Software. This program is the ultimate home organization tool. It records the family's medical, educational, and employment records, as well as crucial information about automobile maintenance, household appliance warranties, and even breeding data on family pets.
When Mom's sick or Dad's hurt, the kids can run to the home office and boot up FamilyCare, from FamilyCare. This doctor-on-a-disk asks questions about the patient's symptoms, searches its database to determine the most likely malady, and suggests a remedy. This is artificial intelligence in practical use. The program was designed by three doctors at Wayne State University in Detroit.
It may be a bit morbid to think about, but Mom and Dad may also be bequeathing all their earthly goods with WillMaker. from Nolo Press. Two-thirds of us never bother to make a will, which puts a burden on loved ones. With this user-friendly program, writing a will is simple and fast; and, you'll save hundreds of dollars in legal fees. Just make sure you're of sound mind and body.
And Downstairs: The Pantry and Living Room
Look in the kitchen. In place of the stacks of cookbooks, this household stores favorite recipes on the chefs computer. Recipe programs are often cited as examples of overkill in home computing, but a major publisher like Broderbund doesn't release Variable Feasts unless there's a significant market.
This program features 260 recipes from the Time-Life Foods of the World series. Besides offering recipes,Variable Feasts suggests matching side dishes, soups, appetizers, desserts, and wine. The computer also recalculates the recipes to serve the crowd you're feeding. Variable Feasts even prints out a shopping list for you.
Now that the menu is settled, you can figure out the nutritional content of the food. With a diet program such as Food for Thought, from Sunburst, or The Food Processor II. from ESHA Research, you tell the computer every morsel you put in your mouth, and the computed adds up all the calories, protein, carbohydrates, sodium, and various artery cloggers. If you're on a diet, this information is invaluable.
For a beverage, may we suggest Hugh Johnson's Wine Cellar, from the vineyards of Simon & Schuster? You may not know the difference between a muscatel and a Chateau Lafitte, but this program does. It lists hundreds of wines and matches them perfectly with your meal. For a nightcap, boot up Mr. Boston Official Micro Bartender's Guide, from Concept Development. It includes directions for a thousand drinks. Cheers!

In the living room, you can use your computer to customize virtually anything that can be printed on or even off paper. For some jazzy title screens on your home videotapes, try Video Title Shop, from Software Toolworks. Just whip up the screens on your PC and dump them into your VCR. You'll be mixing words with pictures faster than you can say Stephen Spielberg.
Before we call it a day, it's always relaxing to putter around in the basement awhile. If you've got a computer down there, you can use it to keep track of your league's bowling averages with The League Secretary, from Bowling Computer Systems. This program turns a weekly eight-hour chore into a fun job you can knock off in a few minutes. If you play Softball, tennis, or another league sport, you can set up next year's schedule for all the teams with Sports Scheduler, from Sports Software Association.
Maybe you're not into sports; you're more the sedentary type. If you have albums of rare stamps, boxes of mint-condition baseball cards, or cases of Early American coins, try Compu-Quote's software series. The programs catalog, organize, and calculate the current market value of any collection.
Through This Door: The Garage, the Gardens, and the Heavens
It's been a busy day, but our tour wouldn't be complete without a peek, outside.
In the garage, for instance, you'd feel better about your car if you knew your 16-year-old was running Keys to Responsible Driving, from Mindscape. Developed in consultation with the National Safety Council and AAA, the program is a prep course for passing the written driver's test. Did you know that a car moving 50 miles per hour will travel about 75 feet in one second? That's just one fact this program can teach you
License in hand, let your teenager help plan the next road trip with Roadsearch Plus, from Columbia Software. Tell the program your current location and your planned destination in the United States, and Roadaearch Plus will figure out the shortest practical route. The program also tells how many miles you'll travel, how much time the trip should take, and how much gas you'll need.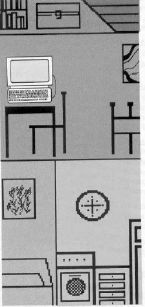 Look, in the backyard among the weeds and you'll see Mom running Ortho's Computerized Gardening, from Chevron Chemical. She plugs in her ZIP code, and the computer tells her which plants are most likely to thrive in her area. The program also records when to plant, fertilize, weed, and prune.
Is there a jogger in the family? A glance at the classified ads in a recent issue of Runner's World magazine turned up eight software packages designed specifically to help runners plan their training schedules. Check the back of any special-interest magazine for related software.
The family golfers can even use the computer to improve their games. Dr. Lou Riccio, a member of the USGA Handicap Research Team, has created Golf Analyzer. It points out weak points in your game so you can use your practice time more efficiently.
There's just one more place where we might find some interesting software: up on the roof. On cloudy nights, astronomy buffs can take their computers to the roof and boot up Tellstar, from Spectrum Holobyte. Not only does this program accurately display constellations, stars, and planets, but it also shows the appearance of the sky at night from anywhere on Earth on any dale through the year 3000.
Beyond This Old House: The Architect's Quarters
To top it all off, you can create your next house on a computer with a computer-aided-design program. In Design your Own Home, from Abracadata, you arrange basic geometric shapes to form buildings. Special disks are available for creating Colonial, ranch, Cape Cod, Tudor, and Victorian styles, as well as offices and interiors.
Once you've designed your dream house, you can control all the electronics from your computer keyboard. With an X-10 Home Control Interface, from X-10, you can program your house lights to switch on and off at specific times, you can automatically activate your appliances, and you can even start brewing your morning coffee before you wake up.
That wraps up our tour. Does anybody still think there's nothing to do with a computer in the home? See product box on page 62.
Dan Gutman is the author of a weekly syndicated column, I Didn't Know You Could Do That with a Computer! (COMPUTE! Books), and a book about baseball due out next season from Penguin.
Where to Find the Products
College Explorer
Apple II—$49.95
IBM PCs and compatibles— $49.95

The College Board
45 Columbus Ave.
New York, NY 10023 (212) 713-8000
Design Your Own Home
Apple II—$69.95
Apple IIGS—$88.95
IBM PCs and compatibles— $99.95
Macintosh—$99.95
Abracadata
P.O. Box 2440
Eugene, OR 97402 (503) 342-3030
Family Care
IBM PCs and compatibles—$99.00
Macintosh—$99.00
Lundin Laboratories
29451 Greenfield Rd. Suite 216
Southfield. MI 48076 (800) 426-8426 (313) 559-4561
Family Matters
Apple II—$49.95
IBM PCs and compatibles—$49.95
Macintosh—$49.95
Springboard
7808 Creekridge Cir.
Minneapolis. MN 55435 (612) 944-3915
Food for Thought
Apple II—$65.00)
Sunburst
39 WaihiiiBlon Ave.
Pleasantville. NY 10570
(800)431-1934
The Food Processor II
Apple II—$295.00
IBM PCs and compatibles—
$295.00
Mariniwh—$295.00
ESHA Research
PO Bos 13028
Salem. OR 97309
(503) 585-6242
Golf Analyzer
Apple 11—129.95
IBM PCs and compatibles—
$29.95
Lou Riecio
Box 9J, 315 E. 69th St.
New York, NY 10021
(212)988-2907
Hometown U.S.A.
Apple II—$39.95
Apple IIGs—$39.95
Commodore 64/128—$39.95
IBM PCs and compatibles—$39.95
Macintosh—$139.95
Publishing International
333 W El Camino Real
Suite 222
Sunnyvale, CA 94087
(408) 738-4311
The League Secretary
Apple Has—$245.00
IBM PCs and compatibles—$245.00
Macintosh—$245.00
Bowling Computer Systems
K24 Indiana
Wichita Falls. TX 76301
(817) 761-2018
Looking Your Best
IBM PCs and compatibles—$39.95
1 Step Software
510 Griffith Kd.
Charlotte. NC 28217
(704) 525-6688
Mr. Boston Official Micro
Bartender's Guide
Apple II—$29.95
Atari ST—$29.95
Commodore 64/128—$29.95
IBM PCs and compatibles—$29.95
Macintosh—$29.95
Concept Development
63 Orange St.
St. Augustine. FL 32OB4
(904) 825-0220
Ortho's Computerized Gardening
Apple II—$49.95
Commodore 64/128—$49.95
IBM. PCs and compatibles—$49.95
Chevron Chemical
6001 Bollinger Canyon Rd.
San Ramon. CA 94583
(415) 842-5537
The Perfect College
Apple II—$19.95
Commodore 64/128—$19.95
IBM PCs and compatibles—$19.95
Macintosh—$19.95
Mindscape
3444 Dundee Rd.
Northbrook. IL 60062
(312)480-7667
The Resume Kit
IBM PCs and compatibles—$39.95
Spinnaker
One Kendall Sq.
Cambridge, MA 02139
(617)494-1200
Roadsearch Plus
Apple II—$74.95
Commodore 64/128—$74.95
IBM PCs and compatibles—$74.95
Columbia Software
P.O. Box 2235
5461 Marsh Hawk
Columbia, MD 21045
(301)997-3100
Sports Scheduler
Apple 11—$99.95
IBM PCs and compatibles—$99.95
Spons Software
75 Recreation Park Dr.
Hingham. MA 02043
(617) 749-7880
Tellstar
Apple II—$14.95
IBM PCs and compatibles—$14.95
Macintosh—$19.95
Spectrum HoloByte
2061 Challenger Dr.
Alameda, CA 94501
(415) 522-1164
Video Title Shop I
Apple II—$39.95
Atari—$29.95
Commodore 64/128—$29.95
Video Title Shop II
Apple II—$19.95
Atari—$19.95
Commodore 64/128—$19.95
Software Toolworks
19808 Nordhoff Pl.
Chatsworth. CA 91311
(818) 885-9000
WiliMaker
Apple II—$59.95
Commodore 64/128—$39.95
IBM PCs and compatibles—$59.95
Macintosh—$59.95
Nolo Press
950 Parker St.
Berkeley. CA 94710
(415) 549-1976
X-10 Home Control Interface
Apple 11—$69.95
Commodore 64/128—$69.95
IBM PCs and compatibles—$69.95
Macintosh—$69.95
X-10 USA
185A LeGrand Ave.
Northvale, NJ 07647
(201] 784-9700
Your Baby's Nutrition: From Infant to Toddler
IBM PCs and compatibles—$15.00
Gerber
Fremont, MI 49412
800-4-GERBER